So, Logic Pro X 10.2.1 has arrived. Although an incremental update, there's tons of bug fixes and new workflow features. Jay Asher casts an eye and ear and roundup his favorite 10 Logic Pro additions.
Généralement avec Logic Pro mises à jour incrémentielles, vous savez que vous obtiendrez quelques corrections de bugs et derrière les améliorations de performances des scènes et des améliorations qui, bien que très bienvenue, ne sera pas particulièrement excitant. Mais celui-ci m'a surpris, car il ya beaucoup, y compris celui que je personnellement ai voulu depuis Logic 1.0 !!!
#1—New audio preference for multithreading live tracks to improve CPU performance when processing multiple live channels
Logic Pro X
#2 - Retina support and redesign of over 30 plug-ins
Découvrez Pic Pic 3 et 4 avec le plug-in de chorus.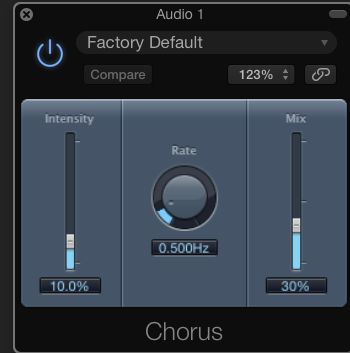 Pic 3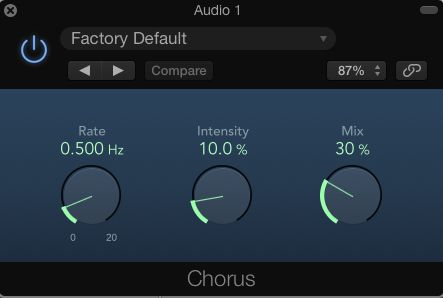 Pic 4
#3 - Go to position again remembers the last entered position
Heureusement l'ancien comportement a été restauré. Cela m'a rendu fou! Par example,
#4 - Apple loops can now be dragged into Alchemy and they will automatically conform to the current project tempo
Aussi, Alchemy fournit maintenant 11 effets spectraux pour le traitement du son dans le domaine fréquentiel. Cela ouvre toutes sortes de possibilités créatives.
#5 - New lane set in the Step Editor
L'éditeur de l'étape comprend maintenant un ensemble de Lane qui crée automatiquement des voies pour afficher tout le contenu dans une région, qui améliore grandement sa facilité d'utilisation. Voir Pic 5.
#6 - Export and bounce track improvements
Exporter la piste que les fichiers audio fonctionne désormais pour plusieurs pistes sélectionnées avec chaque exporté sous forme de fichier audio séparé. Dans le passé, vous aviez à faire un ou l'autre ou la totalité. Tracks rebond dans Place ont aussi travaille maintenant pour de multiples pistes sélectionnées. Cela rend beaucoup plus facile la création de souches.
#7 - Hide all empty tracks key command
Cette nouvelle clé command cache toutes les pistes qui ne contiennent ni les régions ou l'automatisation. Il est, cependant, pas attribué par défaut de sorte que vous aurez besoin de l'assigner à une touche de commande.
#8 - Region transpose in the Piano Roll
Maintenant, quand vous transposez une région en utilisant l'Inspecteur Région, vous avez la possibilité de voir les notes transposées dans le Piano Roll. Il suffit de cocher l'option correspondante via le Piano Roll
#9 - Over 600 new Apple Loops in a variety of genres
En outre, le navigateur de boucles affiche maintenant le contenu qui est disponible mais pas encore téléchargé que vous pouvez télécharger directement à partir du navigateur de boucles.
#10 - New metronome option to generate beat accents according to the beat grouping of the current time signature
Mes prières ont finalement été exaucées! Jusqu'à présent, si vous étiez en 4/4 le métronome serait battu quatre noires, ce qui est bien, mais par exemple dans le 12/8, il battrait 12 huit notes, qui, à un tempo rapide est incroyablement ennuyeux. Comme chef d'orchestre, je voudrais battre noires pointées et la plupart des stations de travail audionumériques permis que ce soit le cas avec leur métronome, mais Logic Pro n'a jamais.
Dans les paramètres du projet métronome, je vérifie Groupe et Beat décocher.
Double-cliquez sur la signature soit dans la piste Signature Global ou dans l'éditeur de partition et entrez le regroupement, dans ce cas 3 3 3 3, et voil
#11 Bonus - Audio Unit 3 support
OK, je mentais Voici une autre fonctionnalité qui ne vous apportera des avantages immédiats mais peuvent sur le long terme. Depuis Apple a supprimé le support VST dans Logic Pro et partit avec le format de plug-in de l'UA, de nombreux utilisateurs ont été frustrés par le canal MIDI par la limitation de l'instance 16. AU 3 éliminera cela et Logic Pro est maintenant prêt pour les développeurs de tirer parti de ce en nous donnant l'UA 3 versions de leurs moteurs bibliothèques.
Il ya beaucoup plus de goodies dans cette mise à jour, afin de vérifier it out!
Regardez notre
En savoir conseils, astuces et tutoriels