So, Logic Pro X 10.2.1 has arrived. Although an incremental update, there's tons of bug fixes and new workflow features. Jay Asher casts an eye and ear and roundup his favorite 10 Logic Pro additions.
Generalmente con Logic Pro aggiornamenti incrementali, sai che otterrete alcune correzioni di bug e miglioramenti delle prestazioni dietro le scene e miglioramenti che, mentre i benvenuti, non sarà particolarmente emozionante. Ma questo mi ha sorpreso, in quanto vi sono molti, tra cui uno che personalmente ho voluto da Logic 1.0 !!!
#1—New audio preference for multithreading live tracks to improve CPU performance when processing multiple live channels
Logic Pro X
#2 - Retina support and redesign of over 30 plug-ins
Scopri Pic Pic 3 e 4 con il plug-in coro.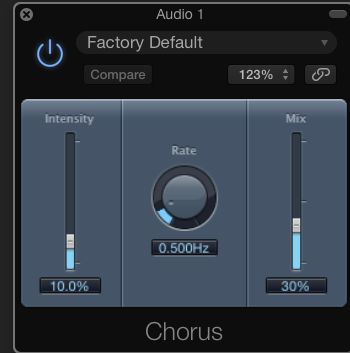 Pic 3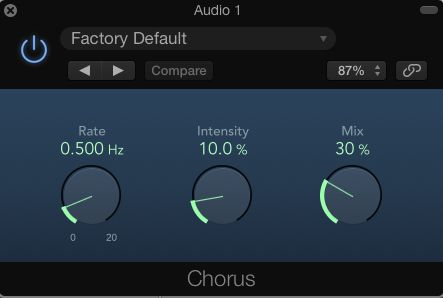 Pic 4
#3 - Go to position again remembers the last entered position
Per fortuna il vecchio comportamento è stata restaurata. Questo mi ha spinto noci! Per esempio,
#4 - Apple loops can now be dragged into Alchemy and they will automatically conform to the current project tempo
Inoltre, Alchimia ora offre 11 effetti spettrali per l'elaborazione del suono nel dominio della frequenza. Questo apre tutta una serie di possibilità creative.
#5 - New lane set in the Step Editor
L'Editor Passo adesso include un vicolo che crea automaticamente corsie per visualizzare tutto il contenuto di una regione, migliorando notevolmente la sua usabilità. Vedi Fig 5.
#6 - Export and bounce track improvements
Export Track Come file audio ora lavora per più tracce selezionate con ogni esportato come un file audio separato. In passato, si doveva fare uno o tutti. Bounce tracce in atto ora anche lavora per più tracce selezionate. Questo rende più semplice la creazione staminali.
#7 - Hide all empty tracks key command
Questo nuovo comando chiave nasconde tutte le tracce che non contengono né regioni o automazione. E ', tuttavia, non assegnati di default così hai bisogno di assegnarlo a un comando da tastiera.
#8 - Region transpose in the Piano Roll
Ora, quando si trasporre una regione utilizzando la Regione Inspector, si ha la possibilità di visualizzare le note trasposte nel Piano Roll. È sufficiente selezionare l'opzione corrispondente tramite il Piano Roll
#9 - Over 600 new Apple Loops in a variety of genres
Inoltre, il Loop Browser visualizza ora il contenuto che è disponibile ma non ancora scaricato che si può scaricare direttamente dal Browser Loop.
#10 - New metronome option to generate beat accents according to the beat grouping of the current time signature
Le mie preghiere sono state finalmente una risposta! Fino ad ora, se tu fossi in 4/4 il metronomo avrebbe battuto quattro note da un quarto, che va bene, ma, ad esempio in 12/8, avrebbe battuto 12 otto note, che ad un tempo veloce è incredibilmente fastidioso. Come direttore, vorrei battere semiminime puntate e la maggior parte DAW autorizzati che essere il caso con il loro metronomo, ma Logic Pro non ha mai.
Nelle impostazioni del progetto metronomo, controllo di Gruppo e deselezionare Beat.
Fare doppio clic sulla firma sia nel Signature Global Track o in Score Editor e inserire il raggruppamento, in questo caso 3 3 3 3, e voil
#11 Bonus - Audio Unit 3 support
OK, ho mentito Ecco un'altra caratteristica che non porterà beneficio immediato, ma può nel lungo termine. Da quando Apple ha abbandonato il supporto VST in Logic Pro e se ne andò con il formato plug-in AU, molti utenti sono stati frustrati dal canale 16 MIDI per limitazione istanza. AU 3 eliminerà che e Logic Pro è ora pronto per gli sviluppatori di sfruttare tale da darci AU 3 versioni dei loro motori biblioteche.
Ci sono molte altre chicche in questo aggiornamento, in modo da controllare it out!
Guarda il nostro
Imparare consigli, trucchi e tutorial