So, Logic Pro X 10.2.1 has arrived. Although an incremental update, there's tons of bug fixes and new workflow features. Jay Asher casts an eye and ear and roundup his favorite 10 Logic Pro additions.
Geralmente com a lógica de atualizações incrementais Pro, você sabe que vai ter algumas correções de bugs e melhorias de desempenho por trás das cenas e melhorias que, embora muito bem-vindo, não será particularmente emocionante. Mas este me surpreendeu, pois há muitos, incluindo um que eu, pessoalmente, queria desde Logic 1.0 !!!
#1—New audio preference for multithreading live tracks to improve CPU performance when processing multiple live channels
Logic Pro X
#2 - Retina support and redesign of over 30 plug-ins
Confira Pic 3 Pic e 4 com o Coro plug-in.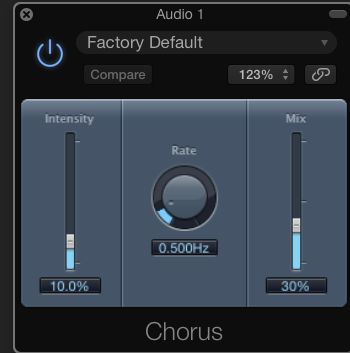 Pic 3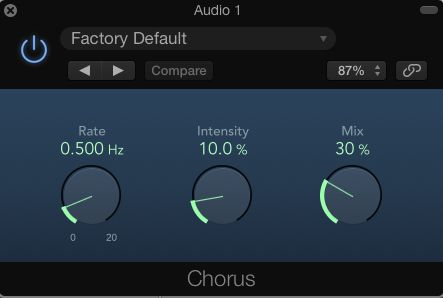 Pic 4
#3 - Go to position again remembers the last entered position
Felizmente o comportamento antigo foi restaurado. Isso me deixou louco! Por exemplo,
#4 - Apple loops can now be dragged into Alchemy and they will automatically conform to the current project tempo
Além disso, Alchemy agora oferece 11 efeitos espectrais para processamento de som no domínio da frequência. Isso abre todos os tipos de possibilidades criativas.
#5 - New lane set in the Step Editor
O Editor Passo agora inclui um conjunto de pista que cria automaticamente pistas para exibir todo o conteúdo em uma região, aumentando bastante sua usabilidade. Ver Pic 5.
#6 - Export and bounce track improvements
Exportação Pista como arquivos de áudio agora trabalha para várias faixas selecionadas com cada exportado como um arquivo de áudio separado. No passado, você tinha que fazer um ou todos. Faixas de rejeição no lugar também trabalha agora para várias faixas selecionadas. Isto torna muito mais fácil a criação de haste.
#7 - Hide all empty tracks key command
Este novo comando tecla esconde todas as faixas que não contêm qualquer regiões ou automação. É, no entanto, não atribuído por padrão, então você terá que atribuí-la a um comando chave.
#8 - Region transpose in the Piano Roll
Agora, quando você transpor uma região usando o Inspector Região, você tem a opção de visualizar as notas transpostas no Piano Roll. Basta marcar a opção relevante através do Piano Roll
#9 - Over 600 new Apple Loops in a variety of genres
Além disso, o loop do browser agora exibe o conteúdo que está disponível, mas ainda não baixou o qual você pode baixar diretamente do laço Browser.
#10 - New metronome option to generate beat accents according to the beat grouping of the current time signature
Minhas preces foram finalmente respondeu! Até agora, se você estivesse em 4/4 o metrônomo iria vencer quatro notas de um quarto, o que é bom, mas no exemplo 12/8, seria bater 12 oito notas, que a um ritmo rápido é incrivelmente irritante. Como maestro, eu iria bater notas de um quarto pontilhadas ea maioria dos DAWs permitiram que ser o caso com o seu metrônomo, mas Logic Pro não tem.
Nas configurações do projeto metrônomo, eu verifico Grupo e desmarque batida.
Dê um duplo clique sobre a assinatura quer na assinatura Global Track ou no Editor de Score e entrar no agrupamento, neste caso 3 3 3 3 e voil
#11 Bonus - Audio Unit 3 support
OK, eu menti Aqui é outra característica que não lhe trará benefício imediato, mas pode, a longo prazo. Desde que a Apple abandonou o suporte VST em Logic Pro e fui com o plug-in do formato da UA, muitos usuários têm sido frustrados pelo canal 16 MIDI por limitação instância. AU 3 vai eliminar isso e Logic Pro está agora pronto para os desenvolvedores tirar vantagem disso, dando-nos AU 3 versões de seus motores de bibliotecas.
Há muitas mais presentes nesta atualização, por isso confira!
Assista ao nosso
Saiba dicas, truques e tutoriais