The Marquee Tool is one of Logic's hidden treasures. If you haven't explored the marquee tool before, you'll be pleasantly surprised at how versatile it is and how quickly it can help you achieve cert
Der Marquee-Tool ist eine der verborgenen Schätze Logic. Wenn Sie nicht der Auswahlrechteck erforscht haben, bevor werden Sie angenehm überrascht, wie vielseitig sie ist überrascht sein, und wie schnell sie kann Ihnen helfen, bestimmte Aufgaben bei der Bearbeitung, Arrangieren und Mischen. In Version 9 wurde ruhig aktualisiert, damit es ein super Tool. Es ist immer mein Command-Klick-Tool und ich habe jetzt keine Notwendigkeit, zusätzliche Klicks von meiner Maus Aufruf der Schere Abfall. In der Tat, ich frage mich oft, wie ich jemals habe in Logic ohne sie!


Tipp 1 - Spielen von Position

Pro Tools konvertiert Logic möchten häufig in einem Bereich des Arrange klicken und die Abspielposition starten Sie die Wiedergabe von diesem Punkt aus. Anstatt die Navigation zu einem Ort mit Hilfe der Tastatur oder Klicken im Taktlineal die Abspielposition setzen, einfach überall mit einem Klick in den Arrange-Bereich mit dem Marquee Tool. Eine dünne vertikale Linie erzeugt wird. Play in Logic Transport, um die Wiedergabe von dieser Position beginnen.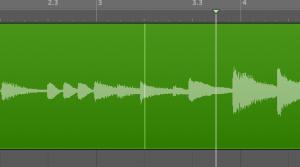 Click on the background using the Pointer tool to reset the Marquee selection.
Spitze
Der Marquee Tool ist besser bekannt für seine bequemer Weg, um einen Bereich innerhalb einer Region wählen ist. Werfen wir einen Blick auf, wie das funktioniert und was Sie können diese verwenden.
Verwenden Sie das Marquee Tool zu ziehen über eine Fläche von einer Region. Es wird hervorgehoben. Starten Sie die Wiedergabe, und nur diese Auswahl wird gespielt! Ein weiterer Tipp ist es, den Key Command Set Locators nach Regionen / Events / Marquee verwenden. Dies wird Zyklus der Marquee-Auswahl und bietet eine sehr komfortable Möglichkeit, nur den Teil des Arrange Sie Vorsingen!
Wenn Sie den Marquee Auswahlbereich nur zu schneiden, kopieren, löschen und stumm, wie unten beschrieben möchten, können Sie deaktivieren die Option für Logic, um die Wiedergabe aus dem Marquee-Auswahl zu beginnen. Einfach Control-Klick (rechte Maustaste) auf die Play-Taste in der Transport-und deaktivieren Play Marquee-Auswahl.
Spitze
There's a section of a region you want to cut out. What would you normally do? Change the Pointer tool to the Scissors tool? Then cut the region at two separate points? No need with the Marquee tool:
Drag a Marquee selection within a region and using the Pointer tool click in that selection area. The region is now split at the beginning and end points of the Marquee selection!
Außerdem sagen wir möchten, dass ein Teil der Region insgesamt zu entfernen. Erstellen Sie eine Marquee-Auswahl wie oben beschrieben und drücken dann die Entf-oder Rücktaste. Der ausgewählte Bereich verschwindet.
Warum hier aufhören, wenn wir eine bessere gehen kann ... Sie möchten eine Auswahl einer Region ohne ihn zu löschen stumm? Ziehen Sie, um einen Auswahlrahmen erstellen und drücken Sie die M-Taste auf Ihrer Tastatur zu spalten und mute den ausgewählten Bereich auf einen Schlag!
Spitze
Working with Automation in Logic can be very enjoyable. However, if you're working through a long piece of dialogue creating four nodes around a segment to adjust the volume or any parameter on that area can soon become time consuming. Enter the marquee Tool!

Aktivieren Sie Automation auf Ihrer Strecke. Wählen Sie den gewünschten Parameter zu automatisieren. Ziehen Sie einen Auswahlrahmen über den gewünschten Bereich und klicken oder ziehen Sie die Grenze zwischen zu vier Knoten (zwei auf jeder Seite des Marquee Selection) zu schaffen und gleichzeitig stellen Sie den Parameter-Wert für diesen Abschnitt nur.
Spitze
Neu in Logic 9 ist die Möglichkeit für die Pointer-Tool, um automatisch liefern Fade Werkzeug und / oder Marquee-Tool Funktionalität je nachdem, wo der Zeiger ist im Arrangierbereich.
To enable the Marquee Tool Click Zone open Logic's Preferences:
Logic Pro > Preferences > General
Unter der Registerkarte Bearbeiten ermöglichen Marquee Tool Click Zone.
Positionieren Sie nun das Werkzeug Zeiger über die untere Hälfte einer Region (oder eine Spur). Der Cursor verwandelt sich in das Marquee Tool. Bewegen Sie den Cursor über die obere Hälfte einer Region oder eines Tracks und Sie haben Ihre Pointer-Tool zurück.
Der Marquee Tool ist wirklich ein Logic-Workflow Phänomen. Ich hoffe, Sie genießen es zu benutzen.
Olav Basoski geht tief in die ganze "Marvels" des Marquee-Tool und vieles, vieles mehr in seinem ausgezeichneten Tutorial, Logic 406: Olav Electronica Workflow-Tricks .