The Marquee Tool is one of Logic's hidden treasures. If you haven't explored the marquee tool before, you'll be pleasantly surprised at how versatile it is and how quickly it can help you achieve cert
La herramienta Marco es uno de los tesoros ocultos de Logic. Si usted no ha explorado la herramienta de marco antes, se le gratamente sorprendido por la versatilidad que es y lo rápido que puede ayudarle a lograr ciertas tareas durante la edición, arreglos y mezclas. En la versión 9 se fue en silencio actualizado para que sea una herramienta estupenda. Siempre es un Comando + clic en la herramienta y ahora no tienen ninguna necesidad de perder clics adicionales de mi ratón llamando a la herramienta de tijeras. De hecho, a menudo me pregunto cómo me pudo pasar en la lógica sin él!


Consejo 1 - Jugar desde la posición

Pro Tools se convierte en la lógica a menudo desean hacer clic en un área de Organizar y tener la cabeza lectora inicie la reproducción desde ese punto. En lugar de navegar a un punto con el teclado o haciendo clic en la regla de compases para ajustar la posición del cursor de reproducción, simplemente con un solo clic en cualquier parte del área Organizar con la herramienta Marco. Una línea vertical fina se crea. Pulse el botón Reproducir en el transporte de Logic para iniciar la reproducción de esa posición.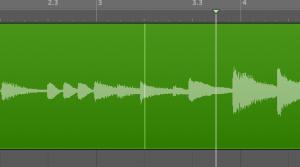 Click on the background using the Pointer tool to reset the Marquee selection.
Punta
La herramienta Marco es mejor conocido por su forma práctica de seleccionar un área de una región. Vamos a echar un vistazo a cómo funciona y lo que puede utilizarlo.
Utilice la herramienta Marco para arrastrar sobre un área de una región. Se puso de relieve. Iniciar la reproducción y que la selección sólo se reproducirá! Un consejo adicional es el uso de los localizadores de la tecla Comando Conjunto en pasajes / eventos / Marquee. Esto ciclo del marco de selección y proporciona una forma muy conveniente a la audición sólo la parte de los arreglos que quieras!
Si desea utilizar el área de selección de marquesina sólo para cortar, copiar, borrar y muda como se describe a continuación, puede desactivar la opción lógica para comenzar la reproducción desde el recuadro de selección. Simplemente haga control-clic (clic derecho) en el botón Reproducir en el transporte y desmarque Selección Juega Marquee.
Punta
There's a section of a region you want to cut out. What would you normally do? Change the Pointer tool to the Scissors tool? Then cut the region at two separate points? No need with the Marquee tool:
Drag a Marquee selection within a region and using the Pointer tool click in that selection area. The region is now split at the beginning and end points of the Marquee selection!
Por otra parte, supongamos que desea eliminar esa parte de la región en conjunto. Crear un marco de selección de arriba y luego pulse la tecla Suprimir o la tecla. El área seleccionada desaparece.
¿Por qué parar aquí cuando podemos hacerlo mejor ... Desea silenciar una selección de una región sin eliminarlo? Arrastre para crear un marco de selección y pulse la tecla M en el teclado para dividir y silenciar el área seleccionada de una sola vez!
Punta
Working with Automation in Logic can be very enjoyable. However, if you're working through a long piece of dialogue creating four nodes around a segment to adjust the volume or any parameter on that area can soon become time consuming. Enter the marquee Tool!

Permiten la automatización en la pista. Elegir el parámetro que desea automatizar. Arrastre un recuadro de selección sobre el área deseada y haga clic o arrastre la línea entre la creación de cuatro nodos (dos a cada lado de la selección de marquesina) y al mismo tiempo ajustar el valor de parámetro para que la única sección.
Punta
Nuevo en Logic 9 es la capacidad de la herramienta Puntero para proporcionar automáticamente herramienta de difuminado y / o la funcionalidad de la herramienta Marquesina dependiendo del lugar donde el puntero se encuentra en el área Organizar.
To enable the Marquee Tool Click Zone open Logic's Preferences:
Logic Pro > Preferences > General
En la ficha Edición de permitir que la herramienta Marco Zona Clic.
Ahora la posición de la herramienta Puntero sobre la mitad inferior de una región (o de una pista). El cursor se convierte en la herramienta Marco. Mueva el cursor sobre la parte superior o de una región o una pista y tienes tu herramienta de puntero de nuevo.
La herramienta de marco es en realidad un fenómeno de flujo de trabajo lógico. Espero que lo disfrute.
Olav Basoski se adentra en todas las "maravillas" de la herramienta de marco y mucho, mucho más en su excelente tutorial, Lógica 406: Electrónica Olav trucos de flujo de trabajo .