5 شگفت انگیز راه به استفاده از منطق ابزار متحرک
The Marquee Tool is one of Logic's hidden treasures. If you haven't explored the marquee tool before, you'll be pleasantly surprised at how versatile it is and how quickly it can help you achieve cert
ابزار متحرک یکی از گنجینه های پنهان منطق است. اگر شما دارای ابزار خیمه کشف نشده ، شما خوش چقدر همه کاره آن را شگفت زده و چگونه به سرعت آن می تواند کمک به وظایف خاص را در رسیدن به شما در هنگام ویرایش ، تنظیم و مخلوط کردن. در نسخه ی 9 بود بی سر و صدا به روز شده را به آن ابزار فوق العاده است. این است که همیشه ابزار کلیک کنید و فرمان من است و من در حال حاضر بدون نیاز به زباله کلیک اضافی موس من فراخوانی ابزار قیچی. در واقع ، من اغلب در تعجبم که چگونه من که تا کنون توسط در منطق بدون آن!


نکته 1 -- بازی از موضع

ابزارهای نرم افزار تبدیل به منطق اغلب مایل به مساحت ترتیب کلیک کنید و پخش شروع playhead را از آن نقطه است. به جای مرور به نقطه با استفاده از صفحه کلید و یا کلیک کردن در نوار حاکم برای تنظیم موقعیت Playhead ، به سادگی یک کلیک کنید در هر نقطه در منطقه ترتیب با ابزار های متحرک. خط عمودی نازک ایجاد می شود. مطبوعات در حمل و نقل منطق شروع به پخش از آن موقعیت بازی.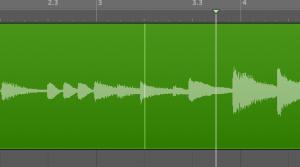 Click on the background using the Pointer tool to reset the Marquee selection.
نوک
ابزار متحرک بهتر است شناخته شده برای آن راه مناسب برای انتخاب یک ناحیه در داخل منطقه است. اجازه دهید نگاهی به در است که آثار و آنچه که شما می توانید آن را برای استفاده.
با استفاده از ابزار متحرک به کشیدن بیش از مساحت منطقه. این خواهد بود برجسته شده است. آغاز پخش و فقط این انتخاب برگزار خواهد شد! نوک اضافی این است که استفاده از Locators فرماندهی کلیدی تعیین شده توسط مناطق / رویدادها / دار متحرک. این چرخه انتخاب مارکویی فراهم می کند و واقعا یک راه مناسب برای استماع تنها بخشی از ترتیب شما می خواهید!
اگر شما مایل به استفاده از دار متحرک انتخاب منطقه تنها به برش ، کپی ، حذف و لال به شرح زیر ، شما می توانید گزینه ای برای منطق شروع به پخش از انتخاب مارکویی را غیر فعال نمایید. به سادگی کنترل کلیک کنید (راست کلیک کنید) بر روی دکمه Play را در حمل و نقل و لغو انتخاب بازی دار متحرک انتخاب.
نوک
There's a section of a region you want to cut out. What would you normally do? Change the Pointer tool to the Scissors tool? Then cut the region at two separate points? No need with the Marquee tool:
Drag a Marquee selection within a region and using the Pointer tool click in that selection area. The region is now split at the beginning and end points of the Marquee selection!
علاوه بر این ، اجازه دهید به شما می گویند می خواهید به حذف آن بخش از منطقه در دسترس نباشد. همانطور که در بالا ایجاد یک دار متحرک انتخاب و سپس دکمه حذف و یا کلید پسبرد. منطقه انتخاب شده ناپدید می شود.
چرا اینجا توقف هنگامی که ما می تواند به یکی بهتر... شما می خواهید به قطع انتخاب یک منطقه بدون حذف آن؟ کشیدن یک انتخاب مارکویی به ایجاد و با فشار کلید M در صفحه کلید خود را به تقسیم و لال منطقه انتخاب شده در یک سقوط کرد از بین بردن!
نوک
Working with Automation in Logic can be very enjoyable. However, if you're working through a long piece of dialogue creating four nodes around a segment to adjust the volume or any parameter on that area can soon become time consuming. Enter the marquee Tool!

فعال کردن اتوماسیون در مسیر شما. پارامتر را انتخاب کنید شما می خواهید به طور خودکار به. کشیدن دار متحرک انتخاب بیش از منطقه مورد نظر کلیک کنید و یا کشیدن خط بین برای ایجاد چهار گره ها (دو عدد در دو طرف انتخاب مارکویی) و به طور همزمان تنظیم مقدار پارامتر فقط برای آن بخش.
نوک
جدید در منطق 9 توانایی برای ابزار اشاره گر به طور خودکار ارائه ابزار محو شدن و / یا دار متحرک ابزار قابلیت های بسته به جایی که اشاره گر در منطقه ترتیب است.
To enable the Marquee Tool Click Zone open Logic's Preferences:
Logic Pro > Preferences > General
در زیر زبانه در حال ویرایش را قادر می سازد منطقه دار متحرک ابزار کلیک کنید.
در حال حاضر ابزار اشاره گر بیش از نیمه پایین از یک منطقه (یا مسیر) و موقعیت. مکان نما تبدیل به ابزار متحرک است. حرکت مکان نما در طول نیمه بالا و یا یک منطقه و یا یک مسیر و شما باید ابزار اشاره گر خود را به عقب است.
ابزار متحرک واقعا منطق پدیده گردش کار است. من امیدوارم که شما از استفاده از آن لذت می برم.
اولاو (Olav) Basoski می رود به عمق همه شگفتی از ابزار دار متحرک و خیلی ، خیلی بیشتر در آموزش عالی خود ، منطق 406 : اولاو (Olav) در کلاهبرداری گردش کار الکترونیک است.