Logic Pro X comes with more Apple Loops than you can shake a stick at. But often you'll want to take a loop and make it your own, give it your own sonic personality. Jay Asher shows 5 ways to do this.
In the early 1990s, Korg released a synthesizer named the Wavestation, which featured "Wave Sequences." It was an instant "must have" and subsequently many versions of it were released. If you simply depressed a key with one of the famous ones loaded, like "Pharoah's Jig" or "Midnight Run", you heard a tempo synced piece of music that sounded great and very complete on its own.
However, there were a limited number of included Wave Sequences and they quickly became very recognizable to discerning listeners. I remember watching one of my favorite TV shows and a very good composer, who had multiple shows on the air and therefore was probably caught in a time crunch, was simply using them naked as cues. I was appalled and always worked to edit the ones I used to personalize them, not the easiest of tasks on the Wavestation.
The same thing happened when Spectrasonics' software instrument with loop-based drums called Stylus RMX was released. These were easy to edit however.
I would edit them and people would ask me, "Jay, are you sure you are making them better?"
I would reply honestly, "I am not sure if I am making them better or I am making them worse, but I sure as hell I'm making them mine."
Well, now we have a wealth of good sounding royalty-free Apple Loops with Logic Pro X to use, and again, I have heard some used quite prominently unadorned, even on some big hit records. But while it is neither illegal nor unethical to do so, as a creative person, I recommend that you put at least a little time into making them "your own." Here are some easy to perform tips for doing so.
[gallery_page_marker title='#1 – CHANGE THE FX ON GREEN APPLE LOOPS' has_intro='true']
#1—Change the FX on Green Apple Loops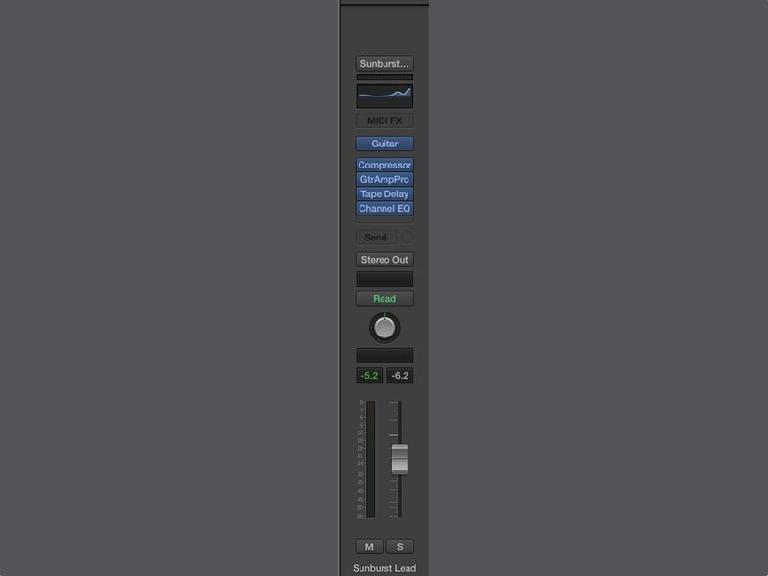 In the picture above, you can see a pretty cool heavily processed software instrument channel strip patch that was created by dragging in a pretty cool Apple Loop named Falling Star Guitar 01. Give it a listen:
This uses a software instrument named Guitar, which is a GarageBand instrument, and actually a dumbed down version of Logic Pro's EXS24 sampler. There are also FX plugins: a compressor, a Guitar Amp Pro, a Tape Delay, and a Channel EQ. Here is what it sounds like with all those FX bypassed.
Wow, that's different. I wonder what it would sound like if I swapped out the preset in Guitar Amp Pro for one of Logic's newer and IMHO better amp models in Amp Designer and added a Retro Chorus pedal?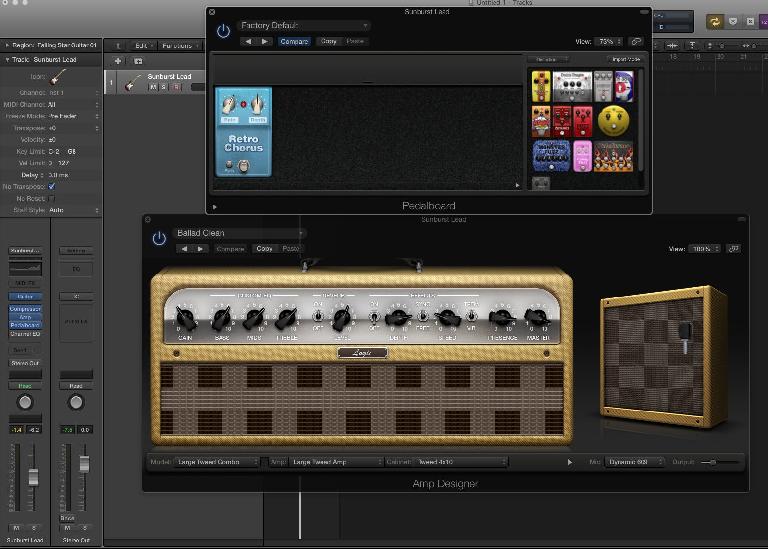 Love it!
[gallery_page_marker title='#2 – CHANGE THE SOUND SOURCE ON GREEN APPLE LOOPS' has_intro='false']
#2—Change the Sound Source on Green Apple Loops
Let's go a step further and swap the Guitar instrument for a plucked sound in Logic Pro's vastly under-utilized Sculpture instrument.
In the screenshot below you can see I have gone into the Plucked Instruments folder and chosen Namaste.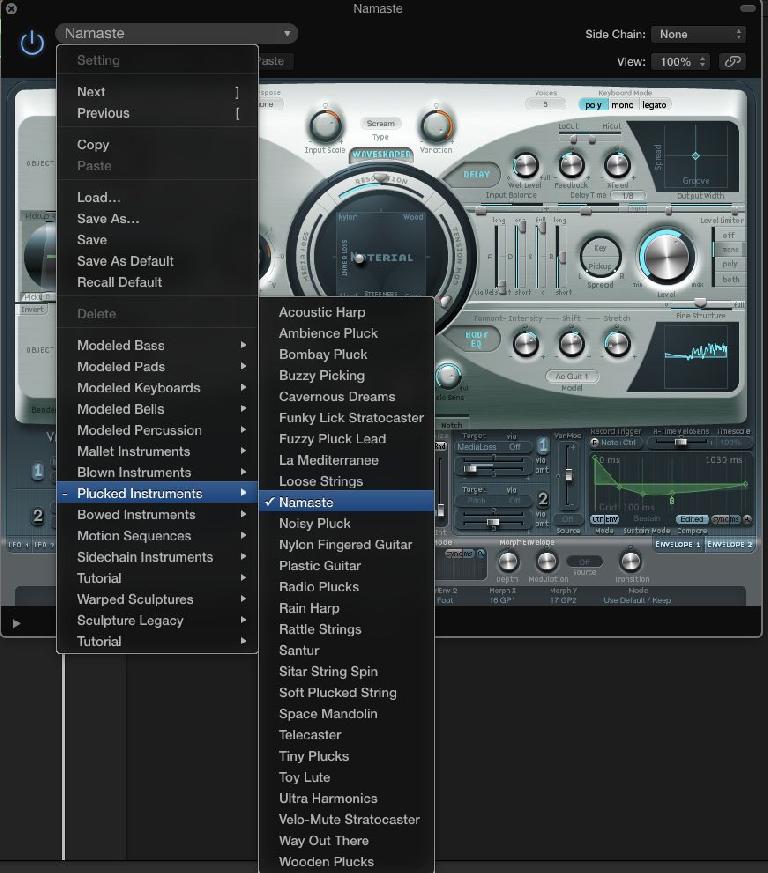 And now it sounds like this:
Very cool!
[gallery_page_marker title='#3 – CHANGE THE QUANTIZING' has_intro='false']
#3—Change the Quantizing with Flex on a Blue Apple Loop
Blue Apple Loops are audio loops and less easily manipulated than the software instrument based Green Apple Loops. But there is still a lot you can do with them.
Listen to the audio example below and you can hear a nice swingy little loop named Trip Hop Morse Beat 01.
Let's have some fun. Below, you can see that I have enabled Flex and had the loop analyzed with the Slicing algorithm, the preferred one for drums.

I go to the Region Parameter box and set the Quantize setting to 1/16 Triplet (1/24) and as you can hear below, now it really swings!
Of course, I could go further and start manipulating the Flex markers in the region to do some very detailed shifting and add some FX, so this is only scratching the surface.
[gallery_page_marker title='#4 – APPLE LOOPS INTO ALCHEMY ' has_intro='false']
#4—Drag the Apple Loops Into Alchemy
This new feature in the latest Logic Pro update opens up all kinds of creative possibilities. I have found a nice little Apple Loop named Last Episode Bells that you can hear below.
I create a software instrument channel strip and instantiate Alchemy. Notice that I have gone to Advanced Mode and cleared the default patch.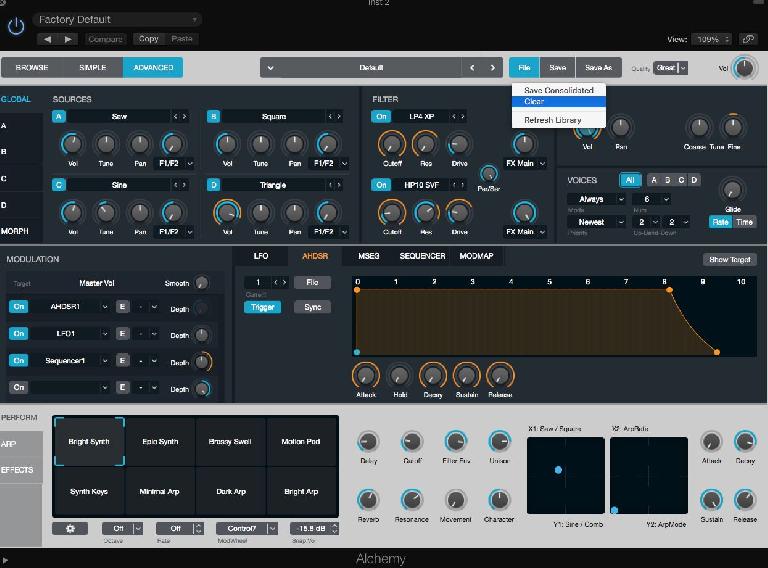 I then simply drag it to Source A in the Alchemy interface, as I have done.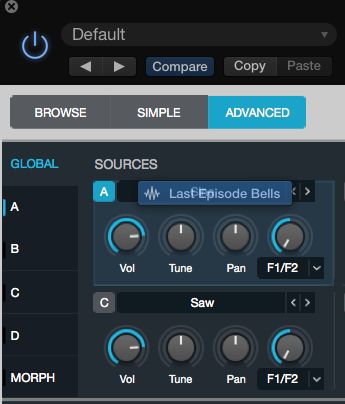 It is now a playable instrument, just as it is, but what if I load an additional sound source from Alchemy into Source B, as I am doing in the image below, retune it, pan them, and add a little reverb? You can hear it in the audio example.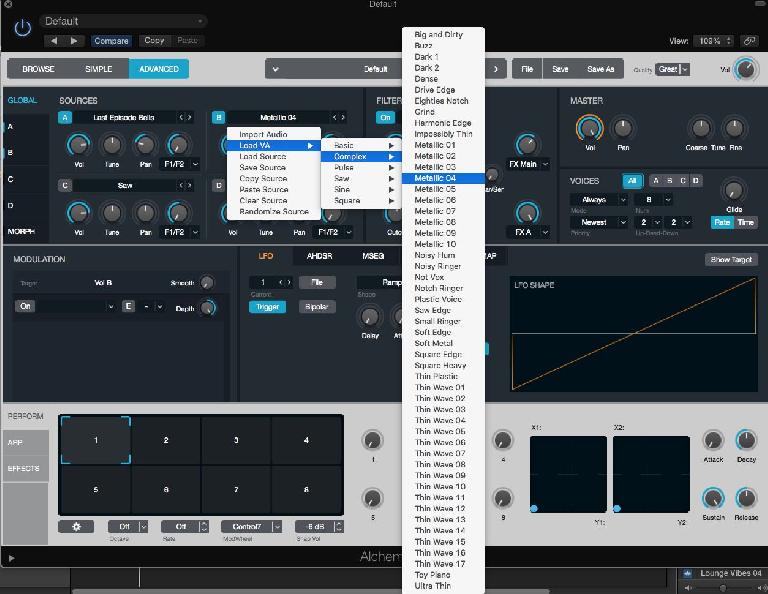 Once again, I am just scratching the surface. My own only limitations are my time and creativity.
[gallery_page_marker title='#5 – COMBINE ALTERED APPLE LOOPS ' has_intro='false']
#5—Combine Altered Apple Loops to Make Your Own Apple Loop
I decide that I can use the flexed Trip Hop loop with the Alchemy part together and it sounds cool, but it needs more. I can drag in some more Apple Loops of course, but hey, I am a keyboard player, so instead I play in a simple bass part and a second Alchemy instrument, add a few mastering plug-ins on the stereo output and the result is:
I can now bounce it with the option to add it to my Project Audio folder and simply drag it into the Loop Browser GUI, and it is mine to use in any project!
You can debate whether any of this was worthwhile and whether my changes to the Apple Loops made them better or worse, but what you cannot deny is, I made them "mine."
Have fun!
Learn everything you could possibly want to about Logic Pro X here.