While Logic's Score Editor presents an extremely comprehensive set of music notation symbols which composers need to mark up a Score, certain symbols are conspicuously absent. One such symbol is the "
While Logic's Score Editor presents an extremely comprehensive set of music notation symbols which composers need to mark up a Score, certain symbols are conspicuously absent. One such symbol is the "pedal up/down" symbol commonly used in piano music as well as for celesta and vibraphone parts.
In this article I'll explain how you can add this symbol to your Scores quite easily. But first, some background...
Deciphering the Lost Symbols
Editor's Note: For the sake of text formatting and our being able to read this excellent tutorial easily, I have been forced to remove the graphic symbols from the body of the text, which Peter had painstakingly added, and replace them with text equivalents. Please see the table below to compare the equivalent symbols from Logic's Score Editor with their text versions as used in this article: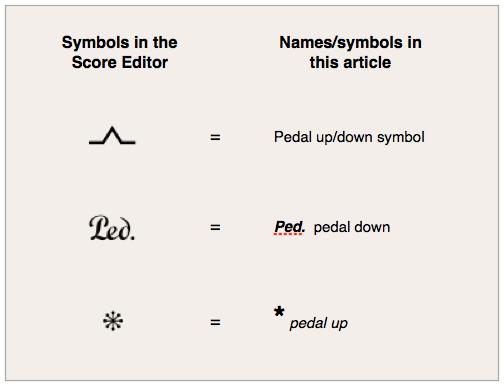 Back over to you Peter...
We All Have Our Ups and Downs

Figure 1
Sorry about that, but I'm a sucker for a bad pun. Anyway, and indeed, Logic offers the traditional Ped. and * pedal up symbols in the part box where all manually-entered symbols are located (see figure 1).
But there are several reasons why these markings are not always the most desirable to use. For one, when it comes to marking a quick "up/down" pedaling, the Ped. and * pedal up markings are not always suitable -- or small enough -- to be placed closely together (see figure 2). While you could reduce their size using the Resize Tool, they will end up looking crowded and awkward regardless. And the process of resizing -- and then realigning -- numerous pedal markings can be extremely time-consuming and tedious. In figure 3 we see what the alternative can look like with the method I propose below.
To Be Fair...
Logic offers two very easy ways to enter its own pedal symbols in the Score. First, from the Part Box: if you select Ped. in the Part Box and enter one into your Score with the Pencil tool, Logic then automatically selects the * pedal up symbol in the Part Box. You're now ready to enter the pedal down symbol with another click of the Pencil tool. Entering pedal markings, then, is as simple as clicking repeatedly in the Score with the Pencil tool to add alternating pedal markings. However, it is very difficult to place these markings precisely in the Score, thus requiring a lot of manual re-positioning afterwards.
The second way to enter pedal markings is to record them in by playing a sustain pedal connected to your controller. Logic will indeed display MIDI CC#64 (damper pedal) data as the traditional Ped. and * pedal up marks for you automatically. This is a wonderful time-saver, but the appearance of these marks in quick succession -- for up/down pedaling -- can look rather unsightly (again, see figure 2). Also, the pedal markings will be placed at the positions where you played them, and that may not necessarily mean that they'll be placed most appropriately for sheet music.
Despite these two relatively easy methods of pedal symbol entry, there is still the notion that up/down pedal markings might be the most appropriate ones to use in a Score. Besides, the editing required to position both Ped. and * pedal up for each up/down can be quite daunting!
Enter Christian Texier to the Rescue!
The solution I've come up with, both for halving the number of symbols needed to indicate up/down pedaling, as well as for being able to enter legitimate up/down markings came in the form of my discovering the website of Christian Texier where he offers an original, free font called "Electronica".
In his font, the letter "J" produces the up/down symbol we see in Figure 3, and which I have longed for in Logic for years!
Installing the Font
Once you've downloaded the font, refer to the "Read Me" file contained in the folder and heed Christian's copyright and usage provisos.
Next, double-click on the file called "Electronica.suit". Then click the button:"Install font". This will open a Mac app called FontBook and install the font for you.
Setting up a Custom Text Style in Logic to Access "Electronica"
The next step is to set up a custom Text Style by selecting Text > Text Styles... in the Score editor. This opens the Text Styles menu. Double-click on the first free blank space at the bottom of the list (see Figure 4) to create a new text style. You can give this new text style any name you wish, but as you can see, I simply named it "Electronica".
Click one more time on that line and the Font Panel will open. Select the Electronica font and a font size of 18 or 24 to start with.
Pedal Up/Down Symbol Entry
Now you're ready to start entering your new pedal up/down symbol!
Select the "A" in the Part Box and then select TEXT. Then click on a blank area in the Score.
In the Event Parameters box, find the Text parameter and select "Electronica" (or whatever you named your custom text style)
Use the Pencil Tool to enter a new text item into the Score and then hit the letter "J". Voila!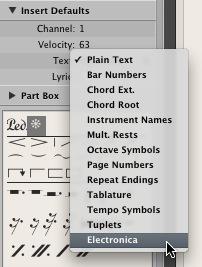 Figure 5 - The Event Parameters Box
TIP #1: If you need to increase or reduce the size of the pedal markings in your Score, simply revisit the Text Styles editor again and reduce the font size. It will then change the size of all of your Pedal up/down symbol markings globally for that project.
TIP #2: You can import this Text Style into other Logic projects using the Import feature.
We'd love to hear from you. Please drop the author a comment below with any questions and general musings...
You can also check out our full range of Logic tutorials here and the MIDI 101 Video Tutorial - which is essential viewing!