If your mix is sounding a bit flat or instruments feel hidden away it's time to employ some top tips to give your tracks more punch! Darren Burgos shows how to do just that in Logic Pro X.
في هذه المقالة، شر أن تظهر لك طريقتان لإضافة لكمة الى حسابك MIDI والصوت المسارات. لذلك كيف يمكنك أن تعرف عندما يكون هناك شيء يحتاج أكثر قليلا لكمة؟ [وف] جميعا هناك ... للفوز، البص، أو الصوت الأعلى بلاه يبدو كيندا، وفقط لا يبدو أن تخرج من هذا المزيج بما فيه الكفاية، أو يبدو بطيئا جدا أو تفتقر إلى الطاقة. دعنا ننظر إلى طريقتين للتأكيد على الهجوم على الأصوات لجعلها تبدو أسرع، أكثر إحكاما وأكثر مترنح.
الخطوة 1: إضافة ضاغط وضبط مكاسبه
فتح مشروع منطق جديد وإضافة البيت قوي فوز 01 حلقة أبل. إضافة ضاغط في المكونات عن طريق القائمة حيوية. لذلك يمكن أن تسمع بوضوح ما يحدث إلى فوز، وتبديل السيارات لكسب قبالة، ولكن بعد ذلك ضبط مستوى الصوت حتى في وثيقة جدا إلى نفس المستوى عندما يتم تجاوز ضاغط. ذهبت مع زائد 3 ديسيبل.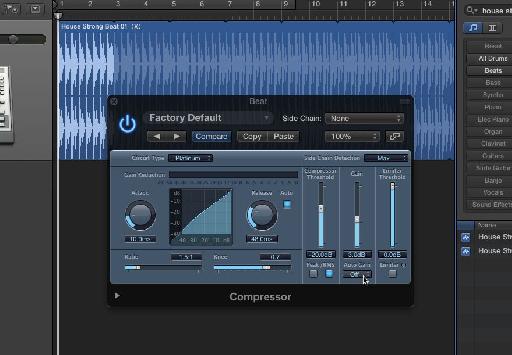 الخطوة 2: نسبة الركبة والإصدار
رفع النسبة إلى حوالي 2.5:1، ومن ثم سحب أسفل الركبة إلى 0.0. وهناك الركبة الصلبة مثل هذا التأكيد على ضغط لأنه يتيح خفض تحدث بسرعة وأقل سلاسة. يصل المقبل، وسحب الإصدار على طول الطريق وصولا الى 5.0 مللي ثانية. نريد الافراج سريع جدا وبالتالي فإن الحد من حجم يتعافى على الفور.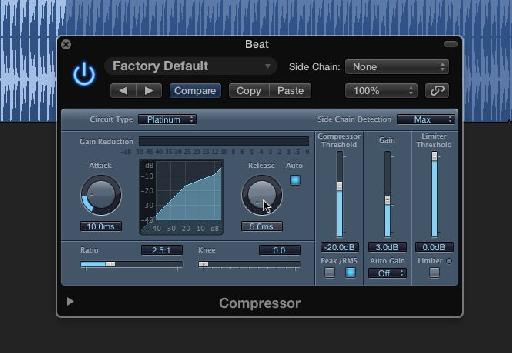 الخطوة 3: ضاغط هجوم
الآن على الهجوم. إذا كنت على دراية مظروف ADSR المزج، وهذا هو على وشك الحصول على غريبة، ورفع الهجوم يصل إلى إضافة المزيد من لكمة. تعيين إلى حوالي 50 مللي. تذكر، ضاغط هو في الواقع خفض حجم صوت عندما لا يكون هناك مكسب الماكياج. عندما يتم تعيين هجوم على طول الطريق (على عكس على موالفة) فإنه في الواقع يأخذ بعيدا لكمة لأن العابرين الأولية التي تصل إلى أكثر من عتبة لم تحصل للعب من خلال لكمية صغيرة من الوقت ... انتقد [ثر] إلى أسفل على الفور. مع الإعداد لدينا، لمدة 50 ميلي ثانية لم يتم تخفيض جميع العابرين أن تصل إلى أكثر من عتبة. [ثر] بعد مرور 50 مللي ثانية على الفور خفض والذي يؤكد بدوره الهجمات!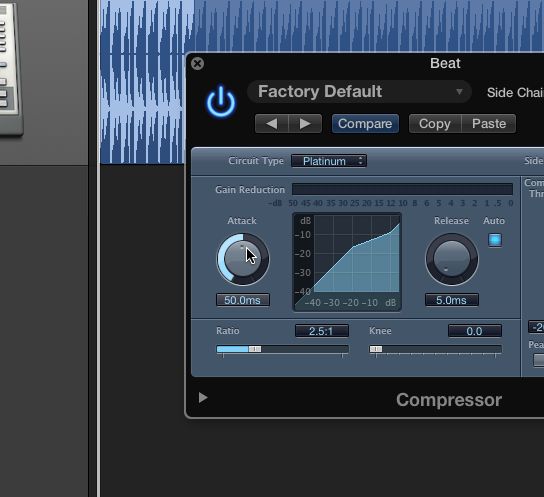 الخطوة 4: ضاغط عتبة
إذا كنت قد تم تجاوز تأثير وخارجها، وكنت قد لاحظت أن قليلا من الوزن تم اتخاذها للخروج من هذه الحلقة. يتيح أضيف أن يعود من خلال رفع العتبة إلى جميع أنحاء-16.0dB. قد تحتاج أيضا إلى التراجع مكاسب لمسة إذا كنت تبحث عن مقارنة مستوى متساوية.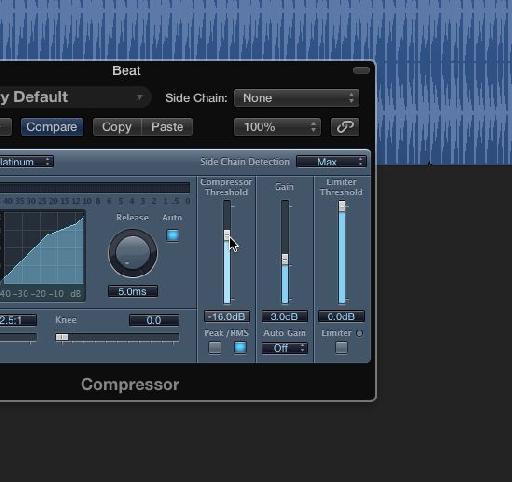 [هرس] قبل وبعد العينة:
[الصوت معرف = "23228"]

الخطوة 5: استخدام المغلف لاخراج الهجمات
الآن يتيح إلقاء نظرة سريعة على المغلف في المكونات. فتح متصفح حلقة مرة أخرى وإضافة موالفة صدى واسع أبل حلقة إلى إطار ترتيب. يمكنك البحث بسهولة لأنها في أعلى المتصفح حلقة. الآن إضافة المغلف في المكونات من القائمة حيوية. هذا مدهش في المكونات بفض شفرتها العابرين الهجوم في الصوت ويمكن أن تعزز (أو تقليل) لهم. ببساطة رفع مكاسب على الجانب الأيسر والهجوم ستحصل التركيز الفوري على بدايات كل من الملاحظات موالفة. أيضا في محاولة ضبط مقبض الباب مرة لكمة تصل مساحة أوسع.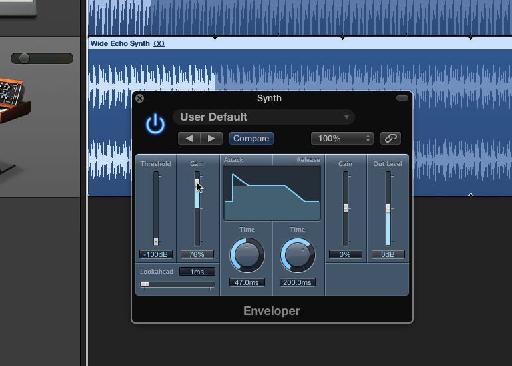 هيريس آخر قبل وبعد العينة:
[الصوت معرف = "23227"]
الخطوة 6: نصائح
إذا كل صوت في أغنية الخاص بك هو مترنح، ثم يكون يوول الظهير الايمن في نفس القارب. محاولة المتناقضة الأصوات مترنح ضد تلك غير مترنح. تذكر أن هذا يتوقف على حجم المواد يوول ترسل من خلال الضاغط، سيكون لديك لضبط عتبة كل الوقت كما تفعل مع أي وضع ضاغط.
[هرس] قبل وبعد كل الأصوات معا:
[الصوت معرف = "23231"]

شكرا للقراءة!