If your mix is sounding a bit flat or instruments feel hidden away it's time to employ some top tips to give your tracks more punch! Darren Burgos shows how to do just that in Logic Pro X.
In diesem Artikel werden Ill zeigen Ihnen zwei Möglichkeiten, um Punsch zu Ihrem MIDI-und Audio-Tracks hinzuzufügen. So, wie Sie wissen, wenn etwas benötigt ein bisschen mehr Punch? Weve alle dort gewesen ... ein Beat, Bass-oder Top-Sound scheint irgendwie blah, und scheint einfach nicht zu knallen aus dem Mix genug, oder scheint zu langsam oder fehlt Energie. Schauen wir uns zwei Möglichkeiten, um den Angriff auf Sounds betonen, damit sie scheinen schneller, straffer und druckvoll.
Schritt 1: Fügen Sie den Kompressor und stellen Sie die Verstärkung
Öffnen Sie ein neues Projekt Logic und fügen Sie das Haus starken Beat 01 Apple Loop. Fügen Sie den Compressor Plug-in über das Menü Dynamics. So kann man deutlich hören, was passiert im Takt, schalten Sie die Auto Gain ausgeschaltet, aber dann die Lautstärke so seine ziemlich nah an der gleichen Ebene, wenn der Kompressor umgangen wird. Ich ging mit Plus 3 dB.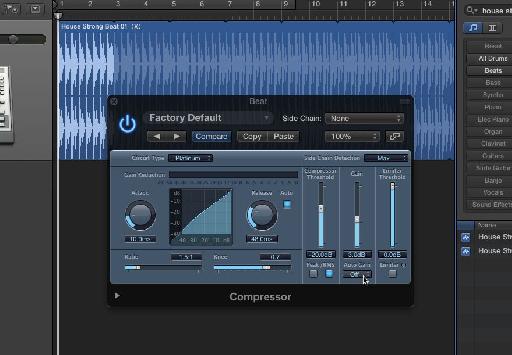 Schritt 2: Verhältnis Knie und Release
Schieben Sie den Wert auf rund 2,5:1, und dann ziehen Sie die Knie bis 0,0. Ein harter Knie wie diese unterstreichen die Kompression, da es die Reduktion auf weniger schnell und reibungslos erfolgen kann. Weiter oben, ziehen die Freisetzung den ganzen Weg hinunter bis 5,0 ms. Wir wollen eine sehr schnelle Freisetzung, so dass die Volumenreduzierung erholt sofort.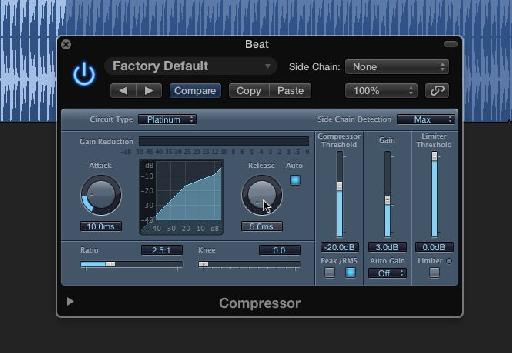 Schritt 3: Compressor Angriff
Jetzt auf den Angriff. Wenn sich mit einem Synthesizer ADSR youre, das ist im Begriff, sich seltsam, die Anhebung des Angriffs bis zu mehr Punch hinzuzufügen. Setzen Sie ihn auf etwa 50 ms. Denken Sie daran, ein Kompressor tatsächlich eine Senkung der Lautstärke eines Sounds, wenn es keine Make-up Gain. Als der Angriff wird den ganzen Weg nach unten gesetzt (im Gegensatz zu einem Synth) es tatsächlich nimmt Punsch, weil die anfänglichen Transienten, die über die Schwelle erreichen nie zu spielen durch eine kleine Menge von Zeit ... theyre knallte sofort. Mit unserer Einstellung, für 50 Millisekunden alle Transienten, die über die Schwelle erreichen, werden nicht reduziert. 50 Millisekunden später theyre sofort reduziert, was wiederum unterstreicht die Angriffe!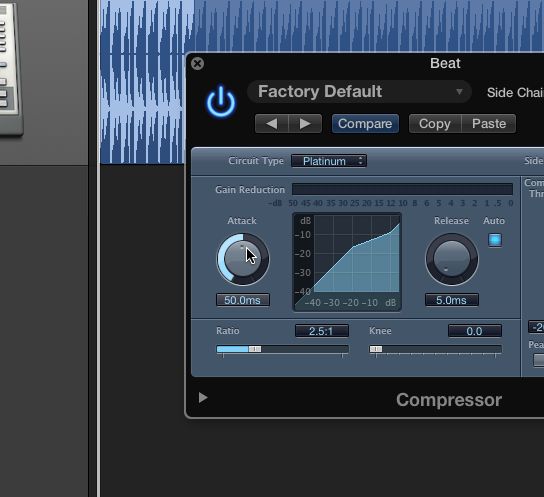 Schritt 4: Compressor Threshold
Wenn youve Umgehung der Effekt ein-und ausschalten, ist Ihnen vielleicht aufgefallen, dass ein bisschen das Gewicht wurde aus dieser Schleife genommen haben. Fügen wir das wieder durch die Erhöhung der Schwelle um-16.0dB. Möglicherweise müssen Sie auch zurück zu ziehen die Verstärkung einen Hauch wenn youre suchen für ein gleiches Maß Vergleich.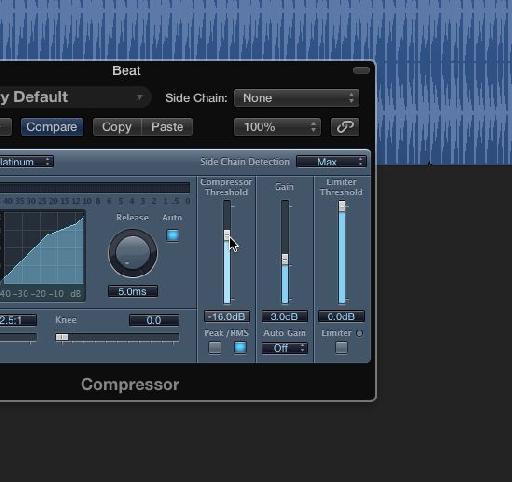 Heres ein vor und nach der Probe:
[Audio id = "23228"]

Schritt 5: Verwenden Envelopers Bring Out Attacks
Nun lassen Sie uns einen kurzen Blick auf die Enveloper Plug-in. Öffnen Sie den Loop-Browser wieder und fügen Sie die Breite Echo Synth Apple Loop in das Arrangierfenster. Sie können leicht für sie zu suchen an der Spitze des Loop-Browsers. Fügen Sie nun die Enveloper Plug-in aus dem Dynamics-Menü. Diese erstaunliche Plug-in entschlüsselt die Attack-Transienten in Ihre Audio-und steigern kann (oder verringern) ihnen. Einfach erhöhen die Verstärkung auf der linken Angriffsseite und youll eine sofortige Schwerpunkt auf die Anfänge der einzelnen Synth Noten erhalten. Versuchen Sie auch Anpassung der Time-Knopf zu lochen ein größeres Gebiet.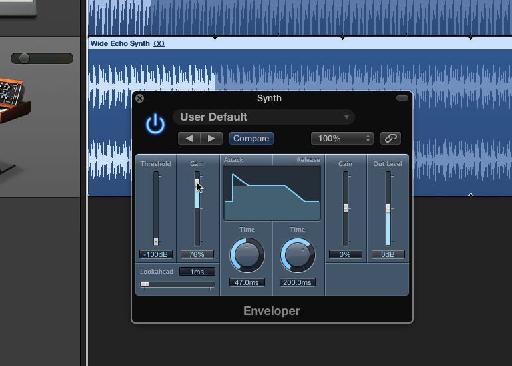 Heres ein weiteres vor und nach der Probe:
[Audio id = "23227"]
Schritt 6: Tipps
Wenn jedes Geräusch in Ihrem Song ist druckvoll, dann youll gleich wieder im selben Boot. Versuchen kontrastierenden druckvolle Sounds gegen nicht druckvoll diejenigen. Denken Sie daran, dass je nach Volumen des Materials youll durch den Kompressor entsenden, müssen Sie den Schwellenwert einstellen jedes Mal, wie man es für jeden Kompressor-Einstellung.
Heres ein Vorher und Nachher der beiden Töne zusammen:
[Audio id = "23231"]

Danke fürs Lesen!