If your mix is sounding a bit flat or instruments feel hidden away it's time to employ some top tips to give your tracks more punch! Darren Burgos shows how to do just that in Logic Pro X.
En este artículo, Ill mostraré dos formas de añadir punch a las pistas de audio y MIDI. Entonces, ¿cómo se sabe cuando algo necesita un poco más de ponche? Todos hemos estado allí ... el ritmo, bajo, o el sonido superior parece un poco soso, y simplemente no parece salirse de la mezcla lo suficiente, o parece demasiado lenta o le falta energía. Veamos dos formas de enfatizar el ataque a los sonidos para hacerlos parecer más rápido, más fuerte y más potente.
Paso 1: Agregar el compresor y ajustar su ganancia
Abra un nuevo proyecto de Lógica y añadir la Casa del golpe fuerte de Apple Loop 01. Añadir el compresor plug-in a través del menú Dynamics. Así que usted puede escuchar con claridad lo que está sucediendo con el ritmo, cambie el auto del aumento en off, pero luego ajustar el volumen así que es bastante cerca del mismo nivel cuando el compresor se anula. Fui con más de 3 dB.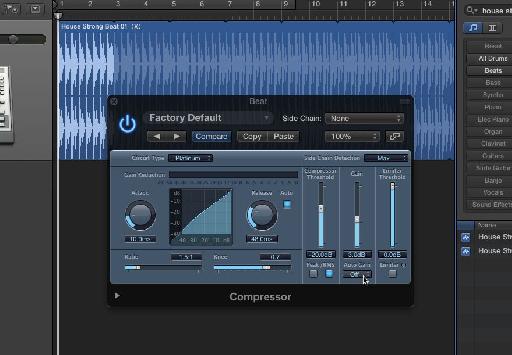 Paso 2: Relación de la rodilla y Liberación
Empuje hacia arriba el Ratio de alrededor de 2,5:1, y luego bajar la rodilla a 0,0. Un codo duro como esto se hará hincapié en la compresión, ya que permite la reducción que se produzca con rapidez y menos problemas. El siguiente, tire de la publicación hasta el fondo de 5,0 ms. Queremos una liberación muy rápida por lo que la reducción del volumen se recupera inmediatamente.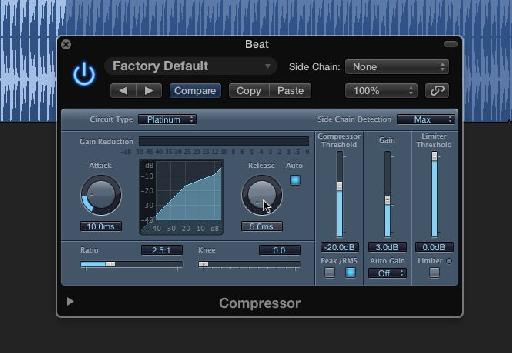 Paso 3: Compressor Attack
Ahora el ataque. Si usted está familiarizado con una envolvente ADSR sintetizador, esto está a punto de ponerse raro, elevar el ataque a añadir más fuerza. Póngalo en torno a 50 ms. Recuerde, un compresor es en realidad bajar el volumen de un sonido cuando no hay ganancia de retoque. Cuando el ataque se fija hasta el final (a diferencia de un sintetizador) que realmente quita golpe porque los transitorios iniciales que alcanzan el umbral no pueden jugar a través de una pequeña cantidad de tiempo ... ayúdales colgó al instante. En nuestro medio, durante 50 milisegundos no se reducen todos los transitorios que alcanzan el umbral. 50 milisegundos más tarde theyre que reduce de forma inmediata a su vez, hace hincapié en los ataques!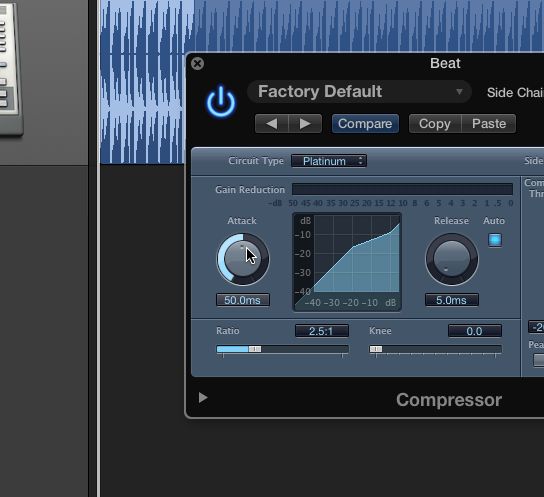 Paso 4: Compressor Threshold
Si usted ha estado pasando por alto el efecto de encendido y apagado, te habrás dado cuenta de que un poco de peso ha sido retirado temporalmente de este bucle. Vamos a añadir que volver al elevar el umbral a unos-16.0dB. También puede que tenga que tirar de la ganancia de un toque si usted está en busca de un nivel igual comparación.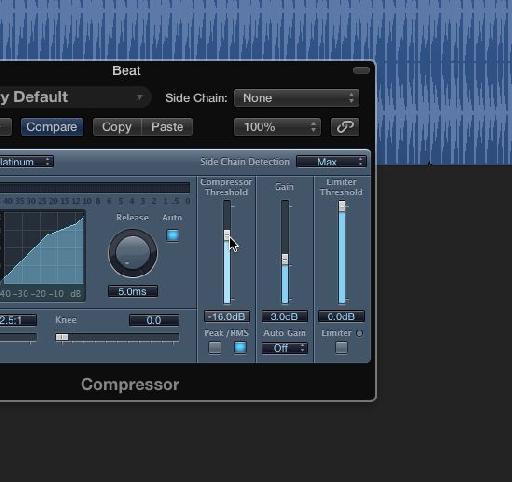 Heres un antes y un después de la muestra:
[Audio id = "23228"]

Paso 5: Use Enveloper para llevar a cabo ataques
Ahora vamos a echar un vistazo rápido a la Enveloper plug-in. Abra el navegador de bucles de nuevo y añadir el Synth Echo ancha de Apple Loop a la ventana de arreglos. Usted puede buscar fácilmente en la parte superior del navegador de bucles. Ahora agregue el Enveloper plug-in en el menú Dynamics. Este increíble plug-in descifra los transitorios de ataque de su audio y puede aumentar (o disminuir) ellos. Simplemente aumentar la ganancia en el lado izquierdo de ataque y usted conseguirá un énfasis inmediato en el inicio de cada una de las notas de sintetizador. Prueba también el ajuste de la perilla de tiempo para perforar hasta una zona más amplia.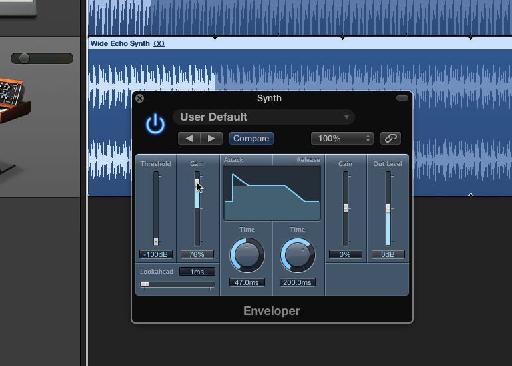 Heres otro antes y después de la muestra:
[Audio id = "23227"]
Paso 6: Sugerencias
Si cada sonido de su canción es potente, entonces el youll estar bien de nuevo en el mismo barco. Trate contraste sonidos enérgicos contra los no garra. Recuerde que dependiendo del volumen del material de su lo enviaba a través del compresor, usted tendrá que ajustar el umbral cada vez como si se tratara de cualquier ajuste de compresor.
Heres un antes y un después de los dos sonidos juntos:
[Audio id = "23231"]

Gracias por leer!