If your mix is sounding a bit flat or instruments feel hidden away it's time to employ some top tips to give your tracks more punch! Darren Burgos shows how to do just that in Logic Pro X.
Dans cet article, Ill de vous montrer deux manières d'ajouter du punch à vos pistes MIDI et audio. Alors, comment savez-vous quand quelque chose a besoin d'un peu plus de punch? Weve tous passés par là ... un rythme, une basse ou son supérieur semble un peu fade, et ne semble pas pour le faire sortir du mix assez, ou semble trop lent ou manque d'énergie. Regardons deux façons de mettre l'accent sur l'attaque de sons pour les faire paraître plus rapide, plus serré et plus punchy.
Étape 1: Ajouter le compresseur et d'ajuster son gain
Ouvrez un nouveau projet de logique et ajouter le battement Maison Forte 01 boucles Apple Loops. Ajouter le Plug-in via le menu Dynamics. Ainsi, vous pouvez clairement entendre ce qu'il se passe au rythme, basculer le gain automatique sur OFF, puis réglez le volume de sorte que son assez proche au même niveau lorsque le compresseur est contourné. Je suis allé avec plus 3 dB.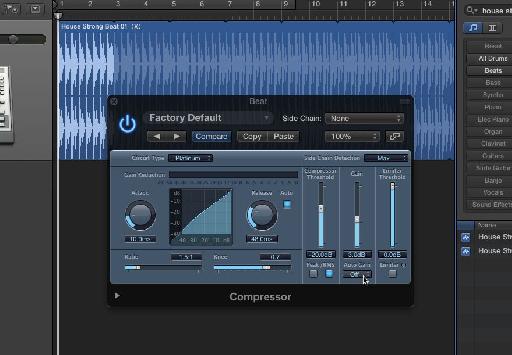 Étape 2: Ratio du genou et de presse
Relevez le ratio à environ 2,5:1, puis déroulez le genou à 0,0. Un genou dur comme ça mettra l'accent sur la compression car elle permet la réduction de se produire rapidement et à moindre douceur. Ensuite, tirez la presse tout en bas à 5,0 ms. Nous voulons une libération très rapide de sorte que la réduction du volume récupère immédiatement.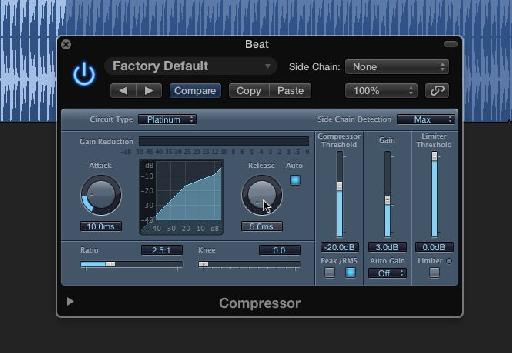 Étape 3: Compresseur attaque
Maintenant, sur l'attaque. Si vous êtes familier avec une enveloppe ADSR de synthétiseur, c'est sur le point de devenir bizarre; soulever l'attaque pour ajouter plus de punch. Réglez-le à environ 50 ms. Rappelez-vous, un compresseur est en fait de réduire le volume d'un son quand il n'ya pas de gain de maquillage. Quand l'attaque est tout en bas (à la différence sur un synthé), il faut effectivement loin poinçon parce que les transitoires initiales qui atteignent le seuil ne sont jamais à jouer par le biais d'une petite quantité de temps ... theyre claqué instantanément. Avec notre contexte, pour 50 millisecondes toutes les transitoires qui atteignent le seuil ne sont pas réduites. Theyre 50 millisecondes plus tard immédiatement réduite, ce qui à son tour met l'accent sur les attaques!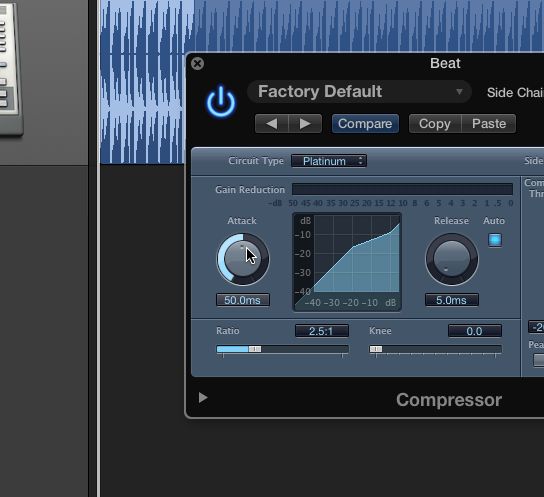 Étape 4: Seuil Compressor
Si vous avez été court-circuite l'effet sur et en dehors, vous avez sans doute remarqué qu'un peu de poids a été pris hors de cette boucle. Ajoutons que de retour en relevant le seuil à environ-16.0dB. Vous pouvez aussi avoir besoin de retirer le gain d'une touche si vous êtes à la recherche d'une comparaison de niveau égal.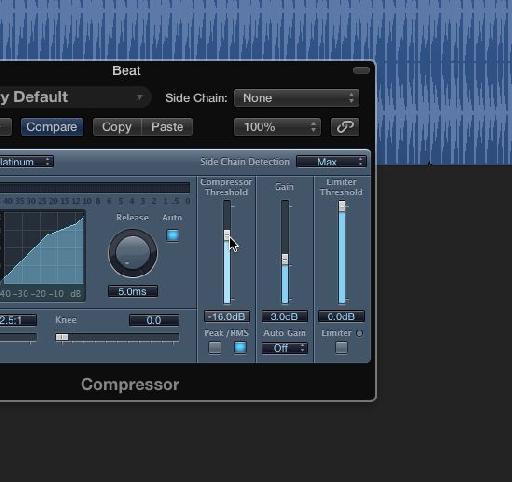 Voici un avant et après l'échantillon:
[Audio id = "23228"]

Etape 5: Utilisation Enveloper pour apporter des attaques
Jetons maintenant un coup d'œil à la Enveloper plug-in. Ouvrez à nouveau le navigateur de boucles et ajouter le Synth Echo large boucle Apple Loop à la fenêtre d'arrangement. Vous pouvez facilement rechercher au sommet du navigateur de boucles. Maintenant, ajoutez le Enveloper plug-in dans le menu Dynamics. Cette étonnante plug-in décrypte les transitoires d'attaque de votre audio et peut augmenter (ou de réduire) les. Il suffit de soulever le gain sur le côté d'attaque gauche et youll obtenir un accent instant sur les débuts de chacune des notes de synthé. Essayez aussi le réglage du bouton de temps de perforer jusqu'à une zone plus large.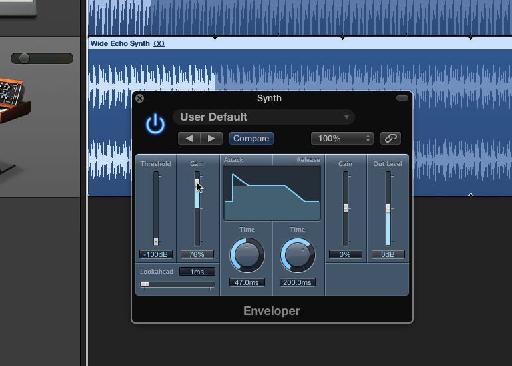 Heres un autre avant et après l'échantillon:
[Audio id = "23227"]
Étape 6: Conseils
Si tous les sons dans votre chanson est punchy, alors vous aurez tout de suite dans le même bateau. Essayez contrastées sons percutants contre les non-punchy autres. Rappelez-vous que, selon le volume de la matière vous serez en envoyant par le compresseur, vous devrez ajuster le seuil à chaque fois que vous le feriez pour n'importe quelle compresseur.
Voici un avant et après les deux sons ensemble:
[Audio id = "23231"]

Merci pour la lecture!