If your mix is sounding a bit flat or instruments feel hidden away it's time to employ some top tips to give your tracks more punch! Darren Burgos shows how to do just that in Logic Pro X.
In questo articolo, Ill essere che vi mostra due modi per aggiungere pugno alle vostre tracce MIDI e audio. Quindi, come si fa a sapere quando qualcosa ha bisogno di un po 'di più pugno? Weve tutti lì ... un battito, un basso o il suono superiore sembra un po 'bla, e proprio non sembra saltar fuori dal mix abbastanza, o sembra troppo lento o manca di energia. Vediamo due modi per enfatizzare l'attacco a suoni per farli sembrare più veloce, più stretto e più incisivo.
Fase 1: Aggiungi il compressore e regolarne la Gain
Aprire un nuovo progetto di Logica e aggiungere la Casa Battere Forte 01 di Apple Loop. Aggiungere il Plug-in tramite il menu Dynamics. Così si può sentire chiaramente quello che accade al ritmo, passare il guadagno automatico su off, ma poi regolare il volume in modo suo molto vicino allo stesso livello quando il compressore viene bypassato. Sono andato con più 3 dB.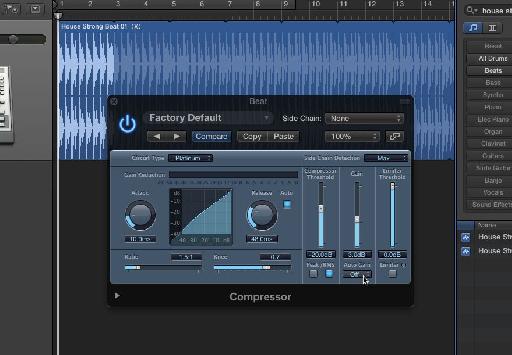 Fase 2: Rapporto di ginocchio e di rilascio
Spingere verso l'alto la Ratio a circa 2,5:1, e poi tirare giù il ginocchio a 0,0. Un disco ginocchio come questo sottolineare la compressione in quanto permette la riduzione avvenga rapidamente e meno intoppi. Next up, tirare il rilascio tutta la strada fino a 5,0 ms. Vogliamo un rilascio molto veloce quindi la riduzione di volume recupera immediatamente.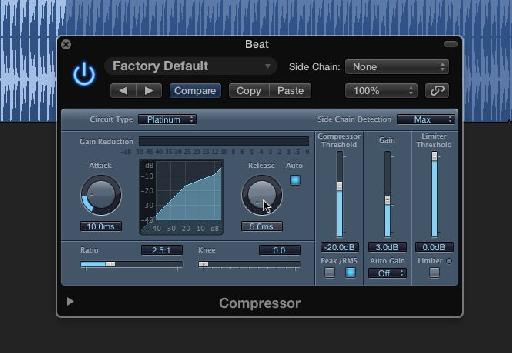 Fase 3: Compressore attacco
Ora sul Attack. Se sei a conoscenza di un inviluppo ADSR sintetizzatore, questo sta per cominciare strano; sollevare l'attacco fino a aggiungere più punch. Impostare a circa 50 ms. Ricordate, un compressore è in realtà abbassando il volume di un suono quando non c'è trucco guadagno. Quando l'attacco è impostato completamente verso il basso (a differenza di un synth) ci vuole davvero lontano pugno perché i transitori iniziali che raggiungono la soglia non arrivano mai a giocare con una piccola quantità di tempo ... theyre sbatté giù all'istante. Grazie all'ambiente, per 50 millisecondi tutti i transitori che raggiungono la soglia non vengono ridotti. 50 millisecondi dopo theyre immediatamente ridotto che a sua volta enfatizza gli attacchi!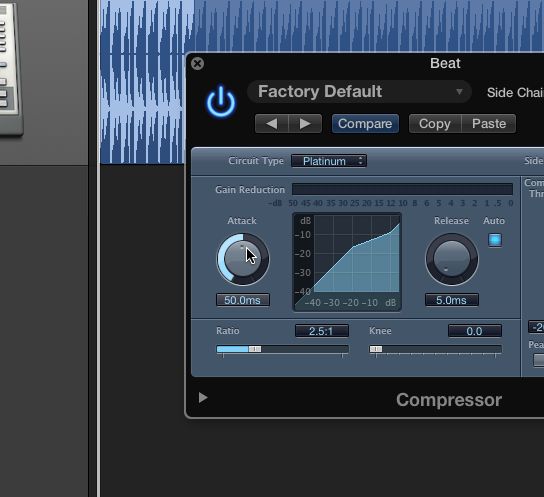 Fase 4: Compressor Threshold
Se sei stato bypassa l'effetto on e off, avrete notato che un po 'di peso è stata presa da questo ciclo. Consente di aggiungere che indietro alzando la soglia a circa-16.0dB. Si può anche bisogno di tirare indietro il guadagno un tocco se siete alla ricerca di un confronto pari livello.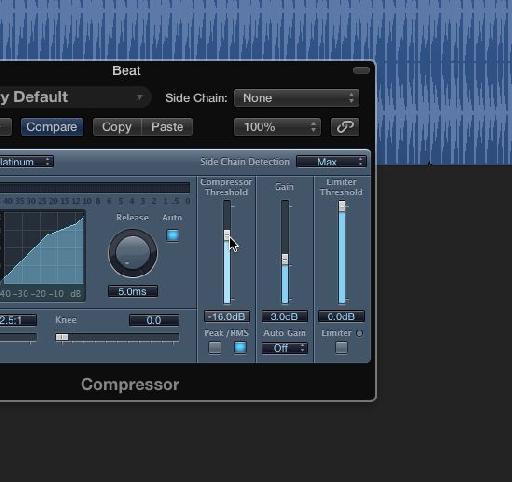 Heres un prima e dopo il campione:
[Audio id = "23228"]

Fase 5: Utilizzare Enveloper per portare a termine attacchi
Ora uno sguardo veloce al Enveloper plug-in. Aprire nuovamente il browser loop e aggiungere il largo Echo Synth di Apple Loop alla finestra organizzare. È possibile cercare facilmente nella parte superiore del browser dei loop. A questo punto aggiungere il Enveloper plug-in dal menu Dynamics. Questo incredibile plug-in decifra i transienti di attacco nel vostro audio e può aumentare (o ridurre) loro. Basta alzare il guadagno sul lato sinistro d'attacco e youll ottenere un'enfasi istante sugli inizi di ciascuna delle note di synth. Provate anche regolando la manopola Time a pugni una zona più ampia.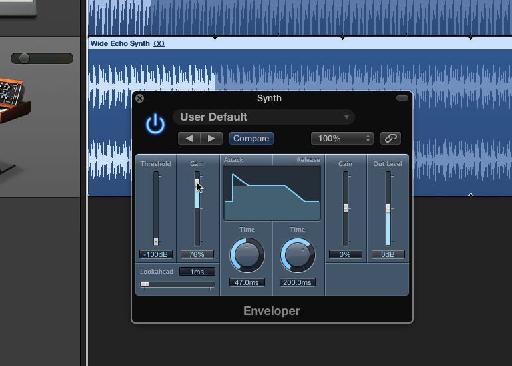 Heres un altro prima e dopo di esempio:
[Audio id = "23227"]
Passo 6: Suggerimenti
Se ogni suono nella vostra canzone è incisivo, quindi youll essere di destra indietro nella stessa barca. Prova a contrasto suoni incisivi contro quelli non incisivi. Ricorda che a seconda del volume del materiale youll essere l'invio attraverso il compressore, si dovrà regolare la soglia di ogni tempo, come si farebbe per qualsiasi ambiente compressore.
Heres un prima e dopo di entrambi i suoni insieme:
[Audio id = "23231"]

Grazie per la lettura!