If your mix is sounding a bit flat or instruments feel hidden away it's time to employ some top tips to give your tracks more punch! Darren Burgos shows how to do just that in Logic Pro X.
Neste artigo, vou mostrar-lhe duas maneiras de adicionar soco para suas faixas de áudio e MIDI. Então, como você sabe quando algo precisa de um pouco mais punch? Weve tudo estado lá ... uma batida, baixo, ou som alto parece meio blá, e simplesmente não parecem saltar para fora da mistura suficiente, ou parece muito lento ou falta de energia. Vamos olhar para duas maneiras para enfatizar o ataque sons para fazê-los parecer mais rápido, mais forte e mais enérgico.
Passo 1: Adicione o Compressor e ajustar seu ganho
Abra um novo projeto de Lógica e adicionar a Casa batida forte da Apple 01 de Loop. Adicionar o Plug-in através do menu Dynamics. Assim, você pode ouvir claramente o que está acontecendo com a batida, mude o ganho automático para fora, mas em seguida, ajuste o volume para o seu muito perto do mesmo nível quando o compressor é ignorada. Fui com mais 3 dB.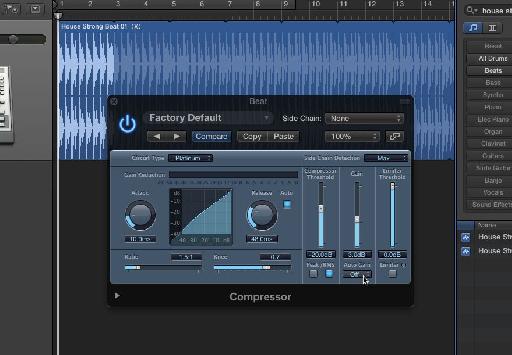 Passo 2: Rácio de Joelho e Lançamento
Empurre para cima a relação de cerca de 2,5:1, e, em seguida, puxe para baixo o joelho para 0,0. Um joelho duro como esta vai enfatizar a compressão, uma vez que permite a redução ocorrer de forma rápida e menos suave. Em seguida, puxe a liberar toda a maneira para baixo a 5,0 ms. Queremos um lançamento muito rápido para a redução do volume recupera imediatamente.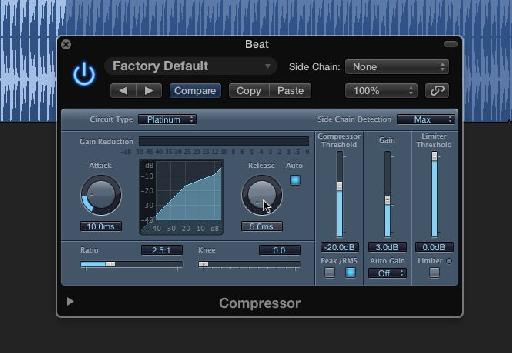 Passo 3: Compressor Ataque
Agora, para o ataque. Se você está familiarizado com um envelope ADSR sintetizador, isso está prestes a ficar estranho; aumentar o ataque até adicionar mais punch. Configurá-lo para cerca de 50 ms. Recordar, um compressor está, na verdade, diminuindo o volume do som, quando não há nenhum ganho de maquilhagem. Quando o ataque é definido todo o caminho (ao contrário de um sintetizador) ele realmente tira soco porque os transientes iniciais que chegam acima do limite nunca chegam a jogar através de uma pequena quantidade de tempo ... eles estão desligou imediatamente. No nosso meio, por 50 milésimos de segundo todos os transientes que atingem o limiar não sejam reduzidos. 50 milissegundos mais tarde theyre imediatamente reduzida, o que por sua vez, enfatiza os ataques!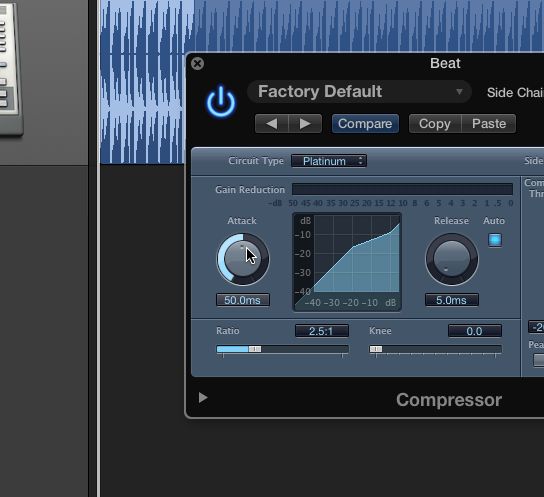 Passo 4: Compressor Threshold
Se você foi ignorando o efeito ligado e desligado, você pode ter notado que um pouco do peso foi retirado deste loop. Permite acrescentar que volta, aumentando o limiar para cerca-16.0dB. Você também pode precisar de puxar para trás o ganho de um toque, se você está à procura de um nível igual comparação.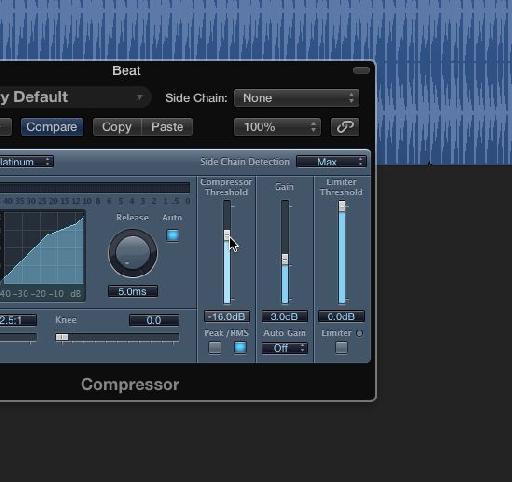 Aqui está um antes e depois da amostra:
[Audio id = "23228"]

Passo 5: Use Enveloper para trazer ataques
Agora vamos dar uma olhada rápida na Enveloper plug-in. Abra a Loop Browser novamente e adicione o Synth Eco Ampla da Apple Loop para a janela de organizar. Você pode facilmente procurar por ela no topo do browser de loops. Agora adicione o Enveloper plug-in no menu Dynamics. Este fantástico plug-in decifra o ataque presente em seu áudio e pode aumentar (ou reduzir) a eles. Simplesmente aumentar o ganho no lado esquerdo de ataque e você vai ter uma ênfase imediata sobre os começos de cada uma das notas synth. Tente também ajustar o botão de tempo para perfurar até uma área mais ampla.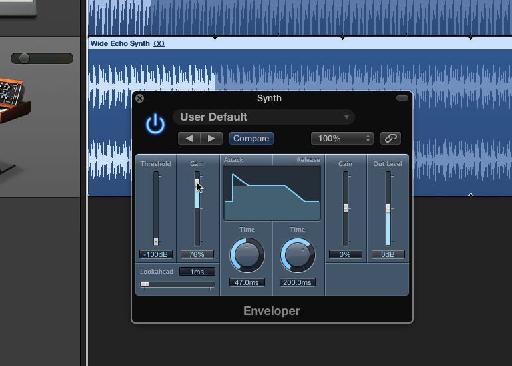 Aqui está outro antes e depois da amostra:
[Audio id = "23227"]
Passo 6: Dicas
Se todos os sons em sua música é gorducho, então você estará de volta no mesmo barco. Tente contrastar sons incisivas contra os não-incisivas. Lembre-se que, dependendo do volume do material você estará enviando através do compressor, você terá que ajustar o limiar de cada vez, como faria para qualquer configuração compressor.
Aqui está um antes e depois de ambos os sons juntos:
[Audio id = "23231"]

Obrigado pela leitura!