Have you tried adding an edge to your tracks with distortion? It's easy to go over the top... Mo Volans shows how to get an aggressive sound while keeping your mix balanced using Logic Pro.
Sometimes your parts just need a bit of an edge. Distortion is the obvious route here but there is a tendency for it to be overused when in the search for a more aggressive sound. Bitcrushing is a solid alternative and when mixed with a heavy dose of automation interesting results can be achieved.
Here we take a look at how to use Bitcrushing in conjunction with automation in Logic Pro 9, using the stock Bitcrusher and a programmed synth loop.'¨
Choosing Your Victim
This sort of effect can be applied to literally any instrument, loop or sample. I've decided to opt for a synth arpeggio as this sort of sound source tends to react very nicely to the edgy effect that's usually created by this technique.
In this case, the new Lush-101 soft synth is put to work and its internal arpeggiator produces some pretty complex patterns from a few simple chords. It's already pretty energetic but could do with a bit more punch!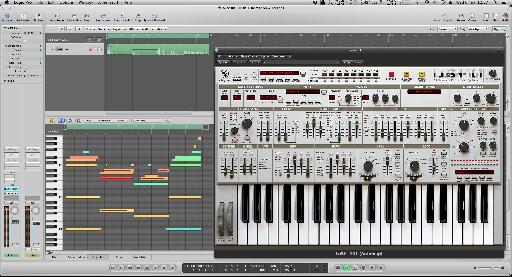 The arpeggio we will be crushing to death.
The untreated arpeggio plays back:
Applying Some Basic Crushing
To get going, you'll need to load up the Bitcrusher (surprise, surprise) and as we are in Logic Pro, we are going to use the very capable stock device. It may be simple, but it offers a solid, crunchy sound with just the right amount of complexity and a negligible hit on the old CPU.
Load the Bitcrusher as an insert and apply some light limiting if you find it's needed. Although distortion does reduce dynamic range you may experience a few wayward transients along the way.
You can hear the difference the effect makes straight away. The standard 8 bit setting imparts a fair bit of crunch to our synth and makes the whole thing perceivably '˜louder'. Now let's add some dynamics by using automation.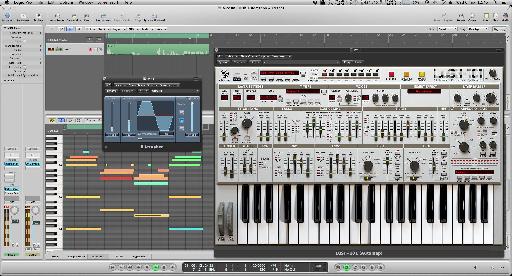 The bitcrusher is loaded as an insert.
The default setting adding basic crunch to the synth:
Automating The Parameters
The two key parameters here are '˜Resolution' and '˜Downsampling'. These represent bit depth and sample rate respectively. They will both create extreme effects when cranked but short bursts of this can work really well.
I started with the resolution and recorded some live automation in time with the sequence. I went for very low bit depths towards the end of phrases and only stayed at these more intense positions for short amounts of time.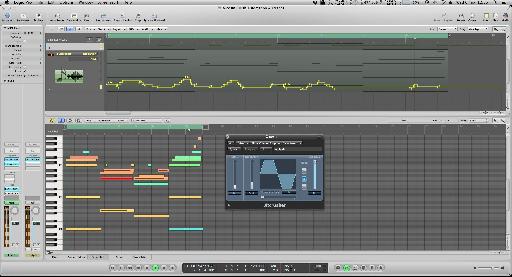 The resolution is automated in steps.
Some step based automation effecting the resolution parameter:
I then created a similar recording using the down sample control. Again I used the crunchier end of the spectrum but only in bite sized chunks. The two pieces of automation together make for an interesting combo.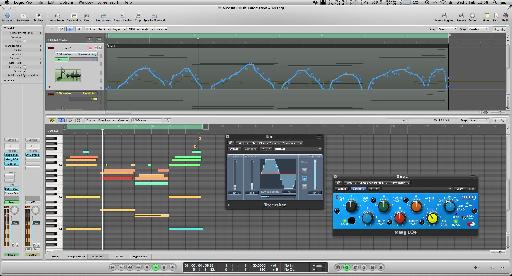 The downsample control is also automated.
The downsample effect plus some high end EQ:
Finally I added a little high end EQ to dial in some of the frequencies lost during the process. If you like, you can go a step further with some spatial processing in the form of stereo delay or reverb.
Mix To Taste
There is no getting away from the fact that these are full on effects and sometimes they might mask the original sound. If you find this happening, you can always open the lower panel of the effect and dial some of the original dry sound back in.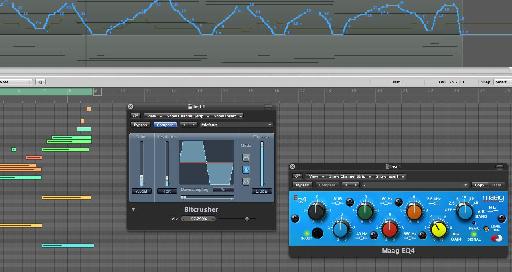 The final effect has some extra drive but also a touch of dry signal mixed in.
The final sound with tweaked dry mix:
This sort of parallel processing is available on a lot of the Logic plug-ins now and is extremely useful for creating quick parallel processing routings. In this case, it allows us to use a heavy bit crusher without losing our original dynamics.