I know, you do not need to make backups. Your Mac works perfectly, it's in pristine condition and you love and hug it every day. So you do not need any backups. Right? You will... right on that day wh
I know, you do not need to make backups. Your Mac works perfectly, it's in pristine condition and you love and hug it every day. So you do not need any backups. Right? You will... right on that day when your hard disk dies. Believe me, it can happen. It happened to me. But I had backups. So it's a good idea for you to make backups too.
Now that we have established that you indeed need backups, the questions arises: How to make them?
In this article we'll focus on backing up your Logic-based Mac.
Time Machine
The first, and most obvious, method is Time Machine, which I strongly advise you to use. Even though quite often people say that using Time Machine slows down your system, especially in conjunction with applications like Logic, I have never encountered this. Having a Time Machine backup ready is just a godsend because it allows you to continue working within minutes in the event of a hard drive failure. Just keep a spare drive ready for such situations. Time Machine will perform an incremental backup every hour, which in my opinion makes is perfect for the system drive. If the drive fails, you can use Time Machine to restore the latest backup within minutes.
Time Machine makes a complete backup of all your drives, most notably of your system drive (provided you do not exclude any drives/folders by hand). This is great, but to be absolutely sure, it is a good idea to have the backup of all your work-related data on a different drive independent from Time Machine. This would include sequencer projects, preferences, possibly sampler multis and all the other things you spend lots of time creating. This allows you to have your work easily accessible and facilitates finding certain files. There are lots of applications that can do this, for example iBackup (free) or SmartBackup (commercial). The reason why I choose to exclude my Logic and Sibelius files from the Time Machine backup is that I prefer to backup these mission-critical files myself manually.
On my Macs, Time Machine only backups the System drive; everything else is left to manual backups, which I perform at the end of the day with SmartBackup. With huge ever-changing files like Logic projects, backing up every hour with Time Machine is pretty resource intensive and usually not even necessary. A precisely timed backup after a major step on a project is much better - that's why you should do it by hand!
With backups, there is one slight problem: Preference files, or generally, files you do not know the location of. OSX and its applications store vital files like application preferences, channel strips and templates (in the case of Logic) and similar things in special folders. If you use Time Machine to backup your system drive, most of these folders will be included in the backup because they are saved on the system drive, but for ease of finding stuff again, you should also include all these files in your manual work backup. For a complete backup of your "workflow", you need these preferences, channel strips and so on!
In this tutorial, I want to give you an idea what to include in such a "work backup" and tell you some of the more obscure locations of files in the OSX file system. I assume that your "work mac" does not have any "personal" stuff on it, so we will ignore mail accounts, iPhoto libraries, iTunes and the likes. If you want to backup all these with ease, I can recommend the aforementioned SmartBackup application, as it "knows" where these apps save their files to and allows you to collect everything with one click. Believe me, it is worth the money!
What Should you Include in a "work backup"?
The goal of a work backup is twofold: Firstly, it should save all your work as well as your workflow in case of an emergency, i.e. work as a regular backup. Secondly, it should allow you to access earlier versions of a piece, i.e. the previous days' work, sort of an archive. For preserving your workflow when you need to reinstall your system (or switch to a new one), the aforementioned application settings and so on have to be included and readily available, too.
Here are some things you should include in the backup:
All the project files of your sequencer(s)
Template files of your sequencers
Preference files of your sequencers and most-used applications
Multi files from your samplers
User-edited patches (these can be huge!)
User presets of instruments
Possibly office documents, FTP accounts, and all the little things
Some of these things are located in slightly hard-to-find folders. When searching for the preferences of an application, always look in
(User) / Library / Preferences
Most of the preferences are located here.
If you cannot find the files you are looking for, try / Library / Preferences in the root folder of your system drive. Most application store their preferences per user, though, so the User Library will be your better place to look.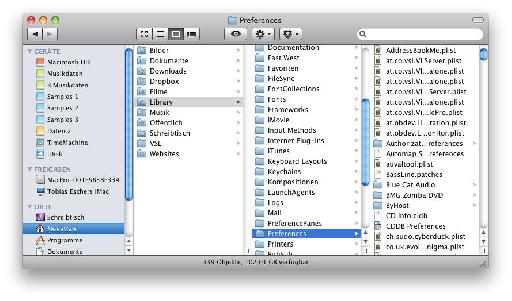 Logic Pro has some special folders where it saves your information. There is a folder for Logic in the Application Support directory, located at
(User) / Library / Application Support / Logic
In it you will find all your user account's custom settings like Channel Strips, Instrument Setting or Key Commands. Include this whole directory in your backup to be on the safe side.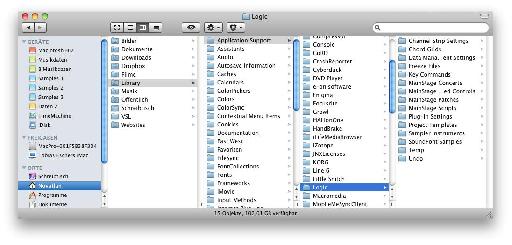 If you have some 3rd party AudioUnit plug-ins on your system, chances are high that some of those are freeware plugins that you may not have the installers for anymore. Chances are high, too, that those plugin just contain the actual AU file, but do not have any files outside their "binary". To make sure that you always have all plugins ready, you can include the plugin directory in your backup, too. They are located at
/ Library / Audio / Plug-Ins
or
(User) / Library / Audio / Plug-Ins /
Most plugins are installed for all users, which is why you will find them in the root Library folder. If you do not use any RTAS host (i.e. Pro Tools) or need VST plugins, you could also look into deleting those copies of the plugins, as some installers install all three (AU, VST and RTAS) without asking even if you only need the AU version. All AU plugins reside in the "/Components/" folder. But if in doubt, do not delete anything!
For user patches and multis, make sure to save them in a directory where you can easily find them. Sometimes plugins create their own folders in Application Support. If you are looking for these files, look there first. The same applies to all other applications. Your FTP client probably uses a directory in Application Support to save its preferences and accounts, too.
Why to use a Dedicated External Drive
You can do the actual backup on an internal drive if you have a Mac that supports having multiple internal drives (that would be a MacPro or PowerMac). Never use use just a partition on your internal drive, i.e. partitioning the system drive! If your drive fails, all partitions on it will be lost, so you need to use a different physical drive for backup.
Even if you still have room for a drive in your machine, nevertheless it is good to use an external hard disk connected to your computer via firewire or USB. Only plug this drive in when performing a backup. This makes things pretty secure, as you cannot by accident delete anything. Furthermore, the drive is protected from getting damaged when something happens to your machine (or if someone steals it!).
I have found those small 2.5' drives from local supermarkets (yeah, they really sell those right next to tomatoes and cucumbers!!) perfectly suitable for this task. Buy a number of them and use them alternating for your daily backups. This gives you good protection from hardware failure. These are also small enough to take them with you on the road for quick access to the latest projects.
In the Cloud
If you happen to have a Dropbox or MobileMe subscription or use a similar service, there is also the possibility of backing up some important folders to the "cloud". With MobileMe, Logic Pro can backup some things automatically. Go to Logic's Preferences and choose the "Sharing" tab. There you need to enter your MobileMe credentials and tell Logic what to backup. At a later date you can then get the information back from MobileMe by clicking "Restore Backup".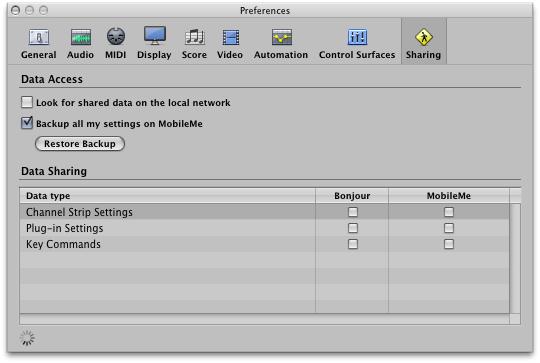 For the technically minded among you... What this MobileMe sync does is merely to copy the (User) > Library > ApplicationSupport > Logic folder to your iDisk in a folder called "MusicAudioData" in your Public folder. So for access to your Logic settings on the road you can also get the files from your iDisk. Logic does not, however, backup your projects! I have found this automatic MobileMe backup pretty neat and so far haven't observed any performance issues after the initial backup.
Conclusion
I hope this has helped you in setting up a backup plan. Better be safe than sorry! If you have feedback or questions, write in the comments and I will do my best to help you.
To learn more about Logic, check out these tutorials. Wanna become an OSX Master? Check these tuts out!