Raise your hand if you've ever wanted to customize Logic Pro's click track/metronome behavior? Yes, sometimes you need it to play on certain divisions. And right on time with a solution is Jay Asher.
Logic Pro a los usuarios que me conocen desde hace muchos años saben que incluso antes de que Apple compró Logic Pro Lock, Stock, y el barril de Emagic, yo con frecuencia bromeó que el lema era desarrolladores, Lo imposible lo hacemos fácil. La base puede tardar un poco más.

Algunos se rieron, otros no lo hicieron. En algunos casos de las cosas más utilitario que muchos de nosotros sentimos la necesidad de que, al igual que la capacidad de moverse más de una pista a la vez en la lista de pistas, se tomó un buen tiempo, pero con el tiempo pasó, como que uno finalmente se hizo con Logic Pro X. Pero algunos todavía no se han implementado, para esta fecha.

Un ejemplo perfecto es de Pros Lógica incapacidad para personalizar su metrónomo o haga clic en función de lo que se juega en cuenta el valor. Por ejemplo, no hay manera de tener Logic Pro ritmo salpicado de notas negras en 6/8, 9/8, 12/8 metros, etc
Logic Pro por defecto para producir el sonido con un instrumento de software llamado Klopfgeist, que es un término alemán que me dicen los medios golpean fantasma. Se crea una instancia automáticamente como instrumento de software # 256 en nuevos proyectos. Ver Pic 1.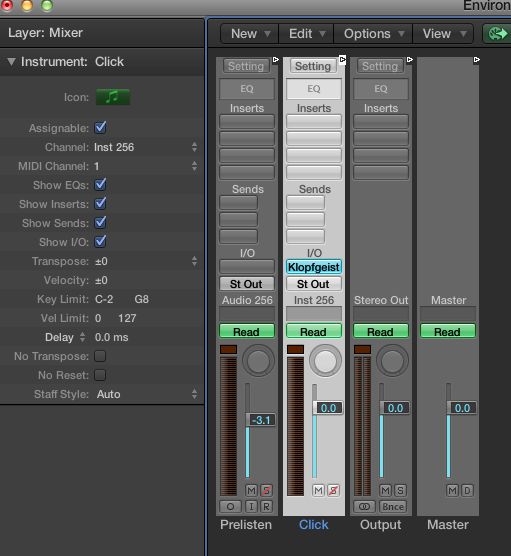 Pic 1
Para ser justos, la propia Klopfgeist tiene una buena variedad de opciones para el nivel, la afinación, la tonalidad, etc, e incluso tiene algunos presets agradables, como se puede ver en las fotografías 2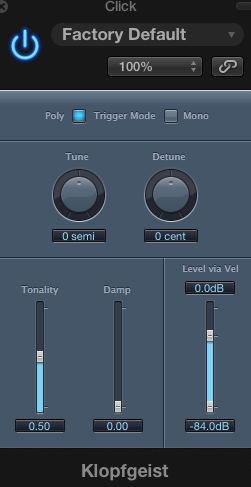 Pic 2

Foto 3
Así que ¿cuál es el problema, Jay? El problema es que tiene pocas opciones sobre lo que las divisiones se reproducen con el metrónomo.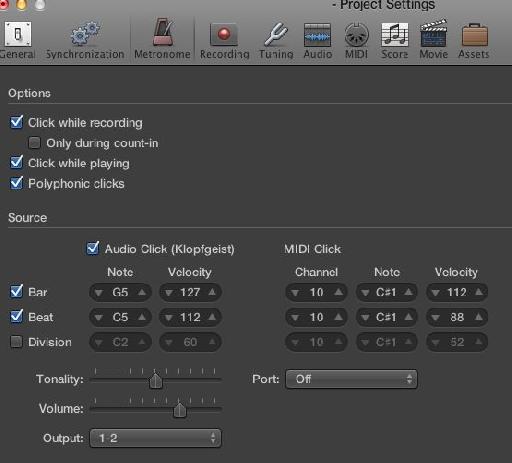 Foto 4
En ninguna parte hay es lo que ves una opción para vencer a ocho notas o negras con puntillo.

Así que esto significa que si usted está en 4/4 o 3/4, etc, el clic se va a vencer a las negras y si usted está en 6/8, que va a vencer a corcheas. De ello se desprende que el denominador, y punto.
Si usted ha sido una mala persona en esta vida, es mi creencia de que usted pasa escuchando la eternidad a una pista de 6/8 o 12/8 click jugar corcheas. Es increíblemente molesto, molesto, y poco musical y aunque muchos de nosotros hemos estado pidiendo esto desde 1.0, la posibilidad de configurar lo que los clic jugadas no se ha implementado. Sólo puedo suponer que hay algo en su arquitectura que ha hecho que sea muy difícil de implementar, ya que los desarrolladores no disfrutan molesta a sus usuarios.
Así que tenemos una solución. En Pico 5, tengo un proyecto en el que el metro es de hecho el cambio de 6/8 al 12/8 y finalizando en 6/4. Está claro que tengo que crear una pista personalizada clic, no sólo debido a mi necesidad de preservar mi propia cordura, pero que de cualquier instrumentista o cantante que puede ser llamado para grabar partes de mí en mi proyecto de Logic Pro X.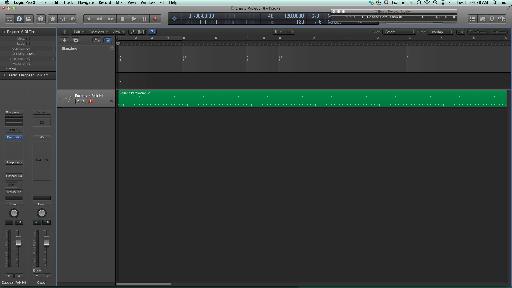 Foto 5
Podría usar el Klopfgeist para esta tarea, pero prefiero usar un palo transversal (palo lateral) en un kit de batería EXS24. Cualquier sonido que es aceptable para usted está bien.
En Pico 6, estoy creando un instrumento de software sin la Biblioteca Abierta comprobado para que Logic Pro X no creará por defecto Classic piano eléctrico Channel Strip.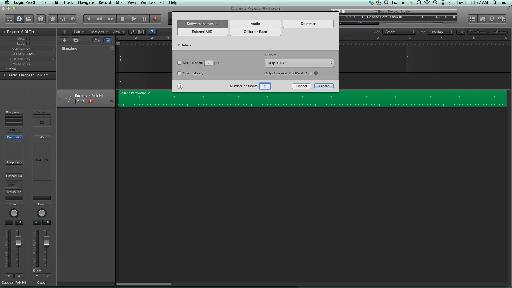 Foto 6
En el Inspector, tengo el ratón hacia abajo en la caja de E / S del instrumento de software de nueva creación y cargue una instancia EXS24 mono. Ver Foto 7.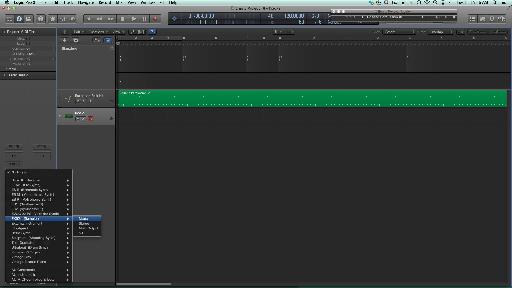 Foto 7
Entonces me carga en el Kit Dry estándar que viene con el contenido de Logic Pro X, debido a que es, bueno, seco, y es General MIDI, lo que significa que sé con certeza que la muestra cross stick será asignado a MIDI nota C # 1. Ver Imagen 8.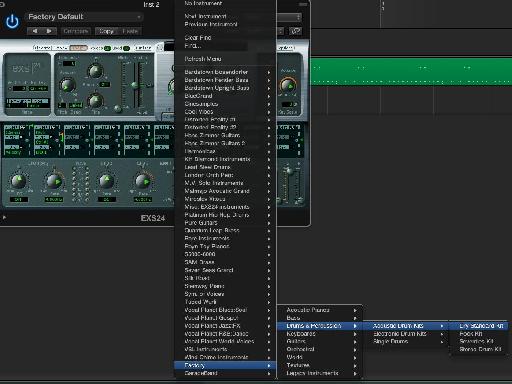 Foto 8
Ahora necesito crear algunas regiones MIDI. En este proyecto, necesito dos: uno batiendo ocho notas y uno negras paliza. Hay, por supuesto, muchas formas de introducir datos MIDI con Logic Pro, pero para este artículo voy a usar el teclado de entrada Paso, que puedo traer a colación, ya sea por pasar por el menú de la ventana o pulsando la combinación de comando de teclado que se ve en Pico 9.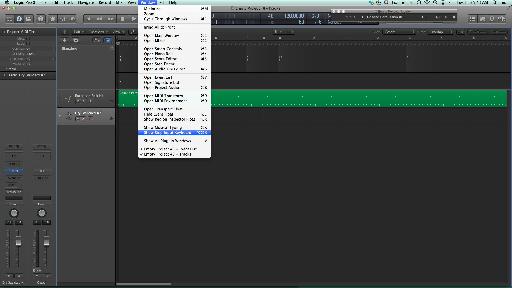 Foto 9
Uso de la herramienta Lápiz, creo una región en blanco. Después de asegurarse de que el cabezal de reproducción está de vuelta en el comienzo de una medida, en el teclado de introducción por pasos, selecciono la negra, punto, y los símbolos y siguientes, el segundo porque me va a dar una buena, fuerte chasquido con una velocidad MIDI de 112. Usted tiene la opción, por supuesto, elegir una dinámica diferente si lo desea, o arrastre el deslizador del EXS24 arriba o hacia abajo. Ver la imagen 10.

Foto 10
Todo lo que tengo que hacer ahora es pulsar la tecla C # 1 en el Paso del teclado de entrada dos veces, y listo, como podéis ver en Pico 11, que se lleva a cabo. Tan fácil como usted podría desear, ¿verdad?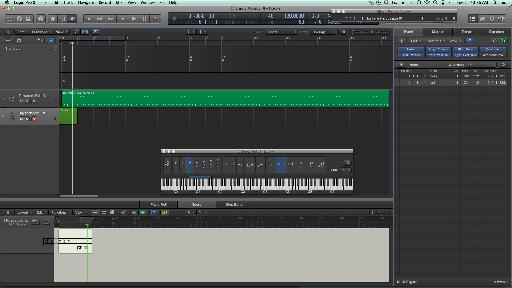 Imagen 11
Ya que quiero oír cuartos de puntos con los dos 6/8 y 12/8, ahora puedo usar la herramienta Lazo (esquina superior derecha de la región) y dibujar en los bucles de hasta 13 bar, donde se cambia a 6/4. Ver Imagen 12.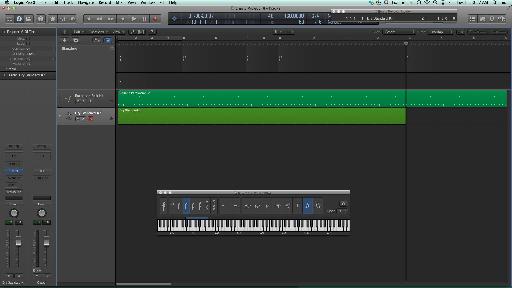 Imagen 12
Ahora sólo hay que repetir el proceso para crear una región con seis negras.
Para revisar:
Puedo crear una región en blanco en la barra 13 con la herramienta Lápiz.

Me aseguro de que el cabezal de reproducción se encuentra al principio de la barra 13.

Selecciono la negra y símbolos ff y haga clic seis veces para crear seis negras.

I lazo de la región hasta el próximo cambio de compás. Ver Imagen 13.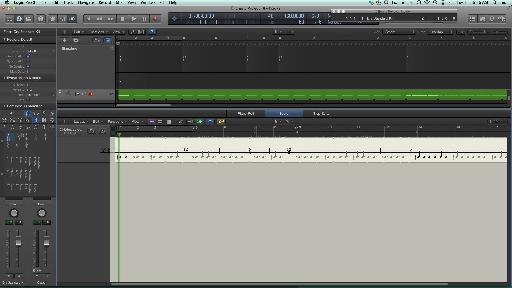 Imagen 13
Para cualquier otro cambio metros, puedo simplemente Opción y arrastre las regiones apropiadas a las medidas deseadas y ahora tengo una pista click proyecto Pro X lógica que me va a servir, y mis compañeros músicos, sin inspirando un fuerte impulso a cometer seppuku.