Raise your hand if you've ever wanted to customize Logic Pro's click track/metronome behavior? Yes, sometimes you need it to play on certain divisions. And right on time with a solution is Jay Asher.
Logic Pro utilisateurs qui me connaissent depuis de nombreuses années savent que, même avant Apple a acheté Logic Pro Lock, Stock, et le baril de Emagic, j'ai souvent plaisanté que la devise des développeurs était, L'impossible nous faisons facilement. La base peut prendre un peu plus longtemps.

Certains d'entre eux se mit à rire, d'autres pas. Dans certains cas, des trucs plus utilitaire que beaucoup d'entre nous ont ressenti le besoin pour, comme la capacité de se déplacer plus d'une piste à la fois dans la liste des pistes, il a fallu un certain temps, mais finalement il est arrivé, comme que l'on a finalement fait avec Logic Pro X. Mais certains n'ont toujours pas été mises en œuvre, à cette date.

Un exemple parfait de pros est de Logic incapacité à adapter son métronome ou cliquez fonction de ce que noter la valeur est joué. Par exemple, il n'est pas possible d'avoir une logique trimestre notes de battement parsemée Pro en 6/8, 9/8, 12/8 mètres, etc
Logic Pro par défaut pour produire le son d'un instrument logiciel appelé Klopfgeist, qui est un terme allemand me dit moyen frappent fantôme. Il est automatiquement instancié comme instrument logiciel # 256 dans de nouveaux projets. Voir photo 1.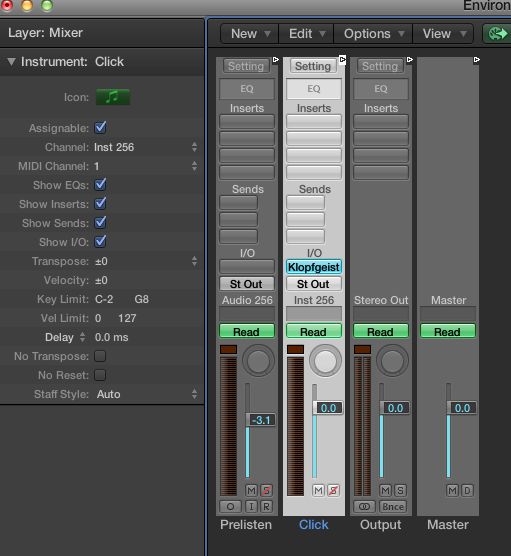 Pic 1
Pour être juste, la Klopfgeist se fait avoir une belle gamme d'options pour le niveau, le réglage, la tonalité, etc et a même quelques presets belles, comme vous pouvez le voir dans Pics 2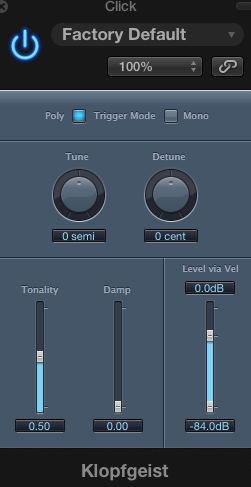 Pic 2

Pic 3
Ainsi quel est le problème, Jay? Le problème est que vous avez peu de choix sur ce que les divisions sont joués avec le métronome.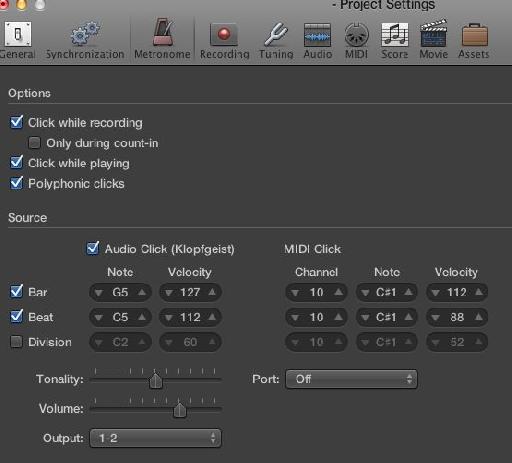 Pic 4
Nulle part dans là voyez-vous une option de battre huit notes ou des notes pointées.

Cela signifie donc que si vous êtes en 4/4 ou 3/4, etc, le clic va battre noires et si vous êtes en 6/8, il va battre croches. Il suit le dénominateur, période.
Si vous avez été une mauvaise personne dans cette vie, c'est ma conviction que vous dépensez éternité à écouter un 6/8 ou 12/8 piste de clic jouer croches. Il est incroyablement gênant, agaçant, et non musical et bien que beaucoup d'entre nous se demandent ce depuis la version 1.0, la possibilité de configurer ce que les pièces de théâtre clic n'a pas été mis en œuvre. Je ne peux que supposer qu'il ya quelque chose dans son architecture qui a fait qu'il est très difficile à mettre en œuvre, car les développeurs ne bénéficient pas gênant leurs utilisateurs.
Nous avons donc besoin d'une solution de contournement. En Pic 5, j'ai un projet où l'appareil est en fait le passage de 6/8-12/8 et de finition en 6/4. De toute évidence, j'ai besoin de créer une coutume piste de clic, pas seulement à cause de mon besoin de préserver ma propre santé mentale, mais celui de tout instrumentiste ou chanteur qui peut être appelé à des parties de disques pour moi dans mon projet Logic Pro X.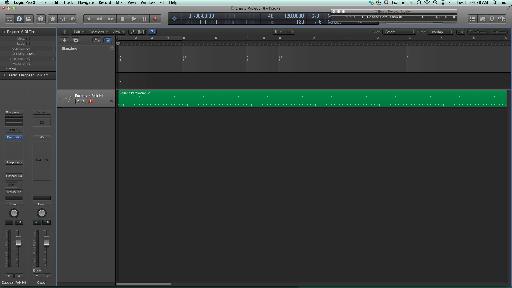 Pic 5
Je pouvais utiliser le Klopfgeist pour cette tâche, mais je préfère utiliser un cross stick (bâton de côté) dans un kit EXS24 de tambour. Tout son est acceptable pour vous est très bien.
En Pic 6, je vais créer un instrument virtuel sans Open Library vérifié afin que Logic Pro X ne créera pas la valeur par défaut Piano Classique électrique Channel Strip.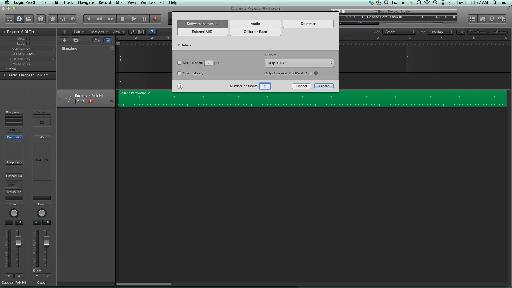 Pic 6
Dans l'Inspecteur, je tiens la souris sur la zone d'E / S de l'instrument logiciel nouvellement créé et charger une instance mono EXS24. Voir l'image 7.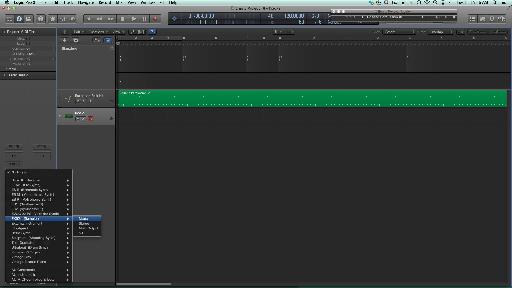 Pic 7
Je charge alors dans le kit standard à sec qui vient avec le contenu Logic X Pro, car il est, bien sec, et c'est General MIDI, ce qui signifie que je sais avec certitude que l'échantillon de cross stick sera affecté à la note MIDI C # une. Voir l'image 8.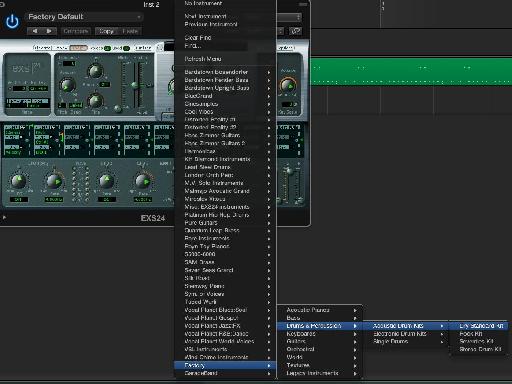 Pic 8
J'ai maintenant besoin de créer des régions MIDI. Dans ce projet, j'ai besoin de deux: un battant huit notes et un noires battant. Il ya bien sûr, de nombreuses façons d'entrer des données MIDI avec Logic Pro, mais pour cet article je vais utiliser le clavier d'entrée de l'étape, ce que je peux faire apparaître soit en allant dans le menu Fenêtre ou en appuyant sur la touche de commande combo que vous voyez dans l'image 9.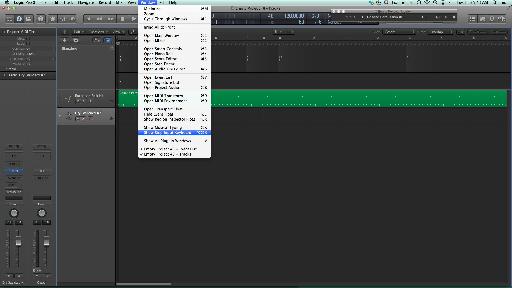 Pic 9
Utilisation de l'outil Crayon, je crée une zone vierge. Après s'être assuré que la tête de lecture est de retour au début de la mesure un, dans le Clavier d'entrée pas, je choisis la noire, point, et les symboles ff, le second parce qu'il va me donner une belle, forte clic avec une vélocité MIDI de 112. Vous avez la possibilité de cours à choisir une dynamique différente si vous voulez, ou faites glisser le curseur de l'EXS24 haut ou le bas. Voir Pic 10.

Pic 10
Tout ce que j'ai à faire maintenant est de cliquer sur la touche C # 1 sur le clavier d'entrée de l'étape deux fois, et le tour est joué, comme vous le voyez dans l'image 11, il est accompli. Aussi facile que vous pourriez souhaiter, non?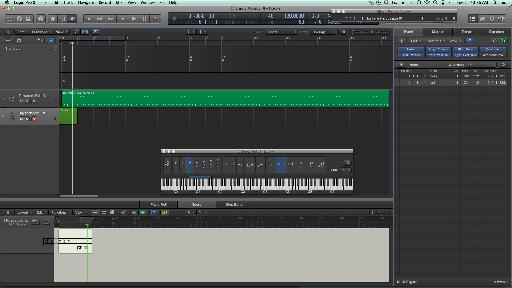 Pic 11
Comme je veux entendre quarts pointillés à la fois avec 6/8 et 12/8, je peux maintenant utiliser l'outil de boucle (coin supérieur droit de la région) et de dessiner dans les boucles jusqu'à ce que la barre 13, où il passe à 6/4. Voir Pic 12.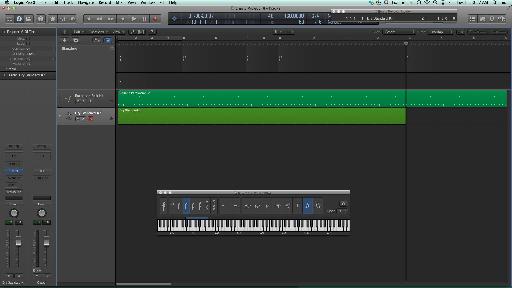 Pic 12
Maintenant, je répète simplement le processus pour créer une région avec six noires.
Pour donner votre avis sur:
Je crée une région vide au bar 13 avec l'outil Crayon.

Je m'assure que la tête de lecture est au début de la mesure 13.

Je choisis la noire et symboles ff et cliquez six fois pour créer six noires.

Je boucle la région jusqu'au prochain changement de compteur. Voir Pic 13.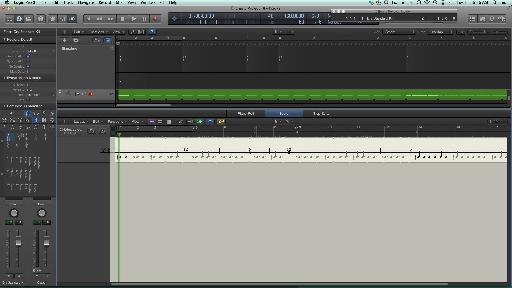 Pic 13
Pour tous les autres changements de mesure, je ne peux tout simplement Option + faire glisser les régions appropriées pour les mesures souhaitées et j'ai maintenant un Pro X projet piste de clic Logic qui va me servir, et mes collègues musiciens, sans inspirer une forte envie de se faire seppuku.