Raise your hand if you've ever wanted to customize Logic Pro's click track/metronome behavior? Yes, sometimes you need it to play on certain divisions. And right on time with a solution is Jay Asher.
Logic Pro gli utenti che mi hanno conosciuto per molti anni sanno che, anche prima che Apple ha acquistato Logic Pro Lock & Stock e botte da Emagic, ho spesso scherzato che gli sviluppatori motto era, L'impossibile lo facciamo facilmente. La base può prendere un po 'di più.

Alcuni di loro ridevano, altri no. In alcuni casi di roba più utilitaristico che molti di noi sentiva il bisogno di, come la possibilità di spostare più di una traccia alla volta nella Track List, ci sono voluti un bel po ', ma alla fine è successo, come quello finalmente fatto con Logic Pro X. Ma alcuni ancora non sono state attuate, a questa data.

Un esempio perfetto di Logic Pro è l'incapacità di personalizzare il suo metronomo oppure fare clic funzione di ciò che constatare il valore è giocato. Per esempio, non c'è modo di avere Logic Pro battere punteggiata note da un quarto in 6/8, 9/8, 12/8 metri, ecc
Logic Pro default per produrre il suono con uno strumento software chiamato Klopfgeist, che è un termine tedesco mi dicono mezzi bussare fantasma. Esso viene istanziato automaticamente come strumento software # 256 in nuovi progetti. Vedere Pic 1.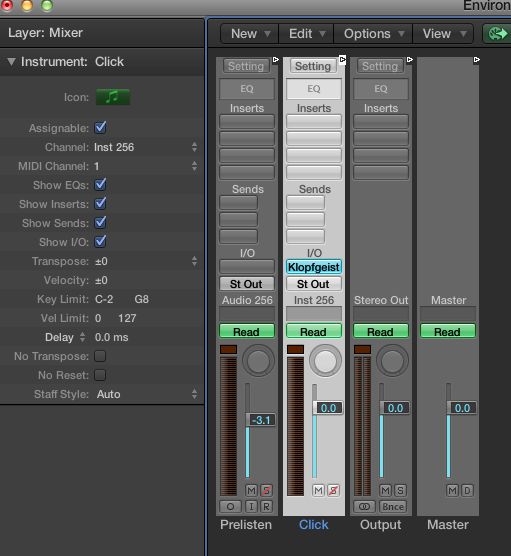 Pic 1
Ad essere onesti, il Klopfgeist si ha una bella gamma di opzioni per il livello, tuning, tonalità , ecc e ha anche alcuni preset belle, come si può vedere nella Pics 2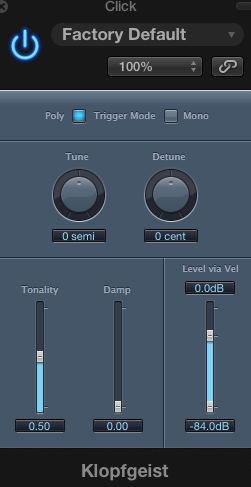 Pic 2

Pic 3
Così che cosa è il problema, Jay? Il problema è che avete poca scelta su ciò che le divisioni sono giocati con il metronomo.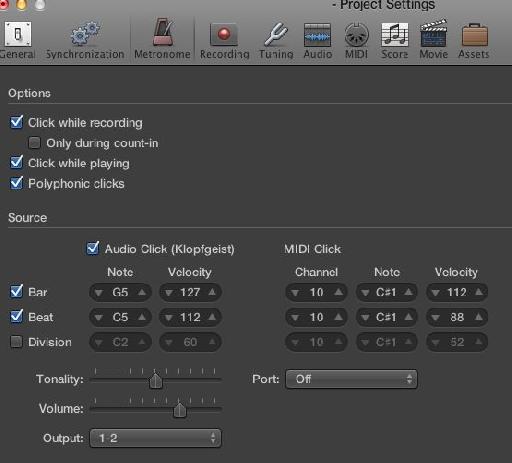 Pic 4
Da nessuna parte in là si vede la possibilità di battere otto note o note puntate quarti.

Quindi questo significa che se siete in 4/4 o 3/4, ecc, il click sta per battere note da un quarto e se siete in 6/8, che sta per battere crome. Ne consegue il denominatore, periodo.
Se vi è stato un brutto persona in questa vita, è mia convinzione che si spende ascolto eternità una traccia 6/8 o 12/8 click giocando crome. E 'incredibilmente distrazione, fastidioso, e poco musicale e anche se molti di noi hanno chiesto per questo dato 1.0, la possibilità di configurare ciò che i giochi click non è stato implementato. Posso solo supporre che ci sia qualcosa nella sua architettura che ha reso molto difficile da attuare, dal momento che gli sviluppatori non godono fastidioso loro utenti.
Quindi abbiamo bisogno di una soluzione alternativa. In Pic 5, ho un progetto in cui lo strumento è in realtà il passaggio dal 6/8 al 12/8 e arrivo a 6/4. Chiaramente, ho bisogno di creare una traccia personalizzata click, non solo a causa del mio bisogno di preservare la mia sanità mentale, ma quello di ogni strumentista o cantante che può essere chiamato a parti record per me nel mio progetto di Logic Pro X.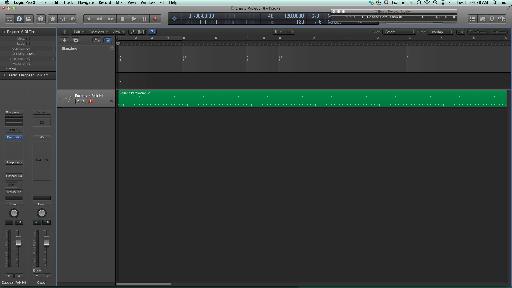 Pic 5
Potrei usare il Klopfgeist per questo compito, ma io preferisco usare un bastone croce (stick laterale) in un drum kit EXS24. Ogni suono che è accettabile per voi va bene.
In Pic 6, sto creando uno strumento software senza Open Library controllati in modo che Logic Pro X non creerà il default Piano Classic elettrico Channel Strip.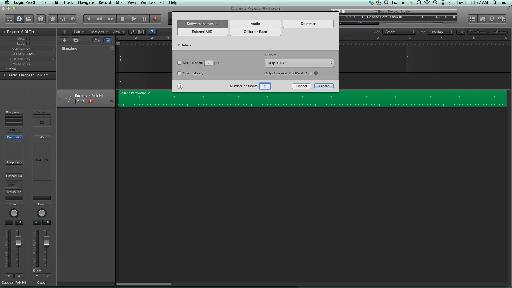 Pic 6
In Impostazioni, tengo il mouse sulla casella I / O dello strumento software appena creato e caricare un'istanza mono EXS24. Vedere Pic 7.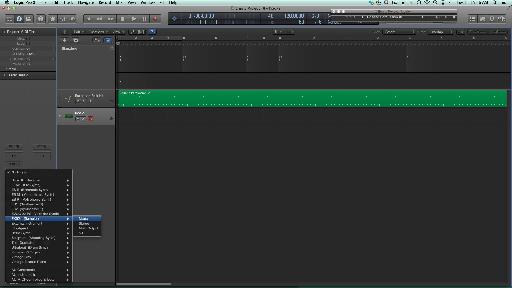 Pic 7
Ho poi caricare nel kit di lavaggio standard che viene fornito con il contenuto Logic Pro X, perché è, beh, asciutto, ed è General MIDI, il che significa che so per certo che il campione bastone croce verrà assegnato al MIDI nota C # 1. Vedere Pic 8.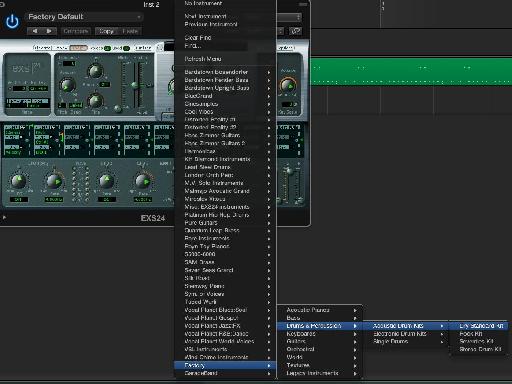 Pic 8
Ora ho bisogno di creare alcune regioni MIDI. In questo progetto, ho bisogno di due: uno battendo otto note e una note da un quarto di battere. Ci sono naturalmente molti modi per immettere i dati MIDI con Logic Pro, ma per questo articolo userò la tastiera Input Step, che posso portare fino sia andando sotto il menu Finestra o premendo la combinazione tasto di comando che si vede in Pic 9.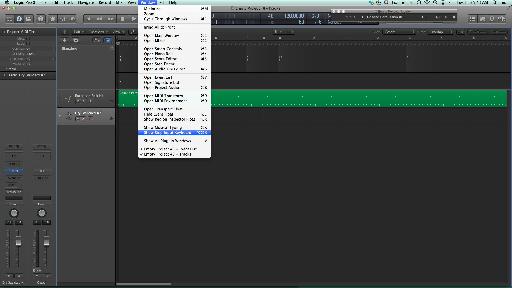 Pic 9
Uso dello strumento Matita, creo una regione vuota. Dopo essersi assicurati che la testina è tornato all'inizio di una misura, nella tastiera Step Input, seleziono la nota trimestre, dot, ei simboli FF, il secondo perché mi darà una bella, forte scatto con una velocità MIDI di 112. Hai la possibilità , naturalmente, di scegliere una dinamica diversa se si sceglie, o trascinare il fader del EXS24 verso l'alto o verso il basso. Vedere Pic 10.

Pic 10
Tutto quello che devo fare ora è cliccare il tasto C # 1 sul Passo input da tastiera due volte, e voilà , come si vede in Pic 11, si è compiuto. Così facile come si potrebbe desiderare, giusto?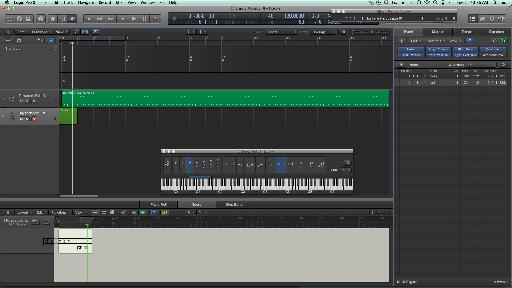 Pic 11
Dal momento che voglio sentire quarti punteggiate sia con 6/8 e 12/8, ora posso usare lo strumento Loop (nell'angolo in alto a destra della regione) e disegnare in loop fino a 13 bar, dove si passa a 6/4. Vedere Pic 12.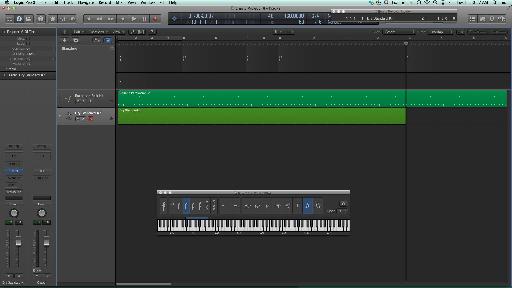 Pic 12
Ora ho semplicemente ripetere il processo per creare una regione con sei note da un quarto.
Per rivedere:
Creo una regione vuota al bar 13, con lo strumento Matita.

Mi assicuro che la testina si trova all'inizio della barra 13.

Scelgo la nota trimestre e simboli ff e fare clic sei volte per creare sei note da un quarto.

Ho ciclo regione fino al successivo cambio metro. Vedere Pic 13.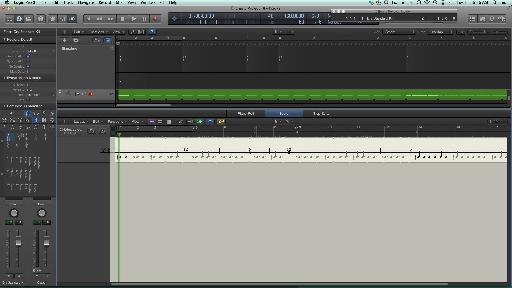 Pic 13
Per qualsiasi altra modifica metri, posso semplicemente Opzione-trascinare le regioni appropriate per le misure desiderate e ora ho un progetto Pro X click track logica che servirà a me, e ai miei colleghi musicisti, senza ispirando un forte bisogno di commettere seppuku.