Raise your hand if you've ever wanted to customize Logic Pro's click track/metronome behavior? Yes, sometimes you need it to play on certain divisions. And right on time with a solution is Jay Asher.
Logic Pro usuários que tenham me conhecido há muitos anos sabemos que, mesmo antes de a Apple comprou Logic Pro fechadura, estoque e barril de Emagic, eu freqüentemente brincou dizendo que o lema era desenvolvedores, O impossível nós fazemos facilmente. A base, podem demorar um pouco mais.

Alguns riram, outros não. Em alguns casos, de coisas mais utilitária que muitos de nós sentimos a necessidade de, como a capacidade de se mover mais do que uma faixa de cada vez na lista de faixas, que levou um bom tempo, mas finalmente aconteceu, como aquele finalmente fez com Logic Pro X. Mas alguns ainda não foram implementadas, a esta data.

Um exemplo perfeito é de Prós Lógica incapacidade de personalizar o seu metrônomo ou clique recurso quanto ao que observar valor é jogado. Por exemplo, não há nenhuma maneira de ter Logic Pro batida pontilhada semínimas em 6/8, 9/8, 12/8 metros, etc
Logic Pro padrões para produzir o som com um instrumento de software chamado de Klopfgeist, que é um termo alemão me disseram meios bater fantasma. Ele é automaticamente instanciado como instrumento de software como 256 em novos projetos. Veja Pic 1.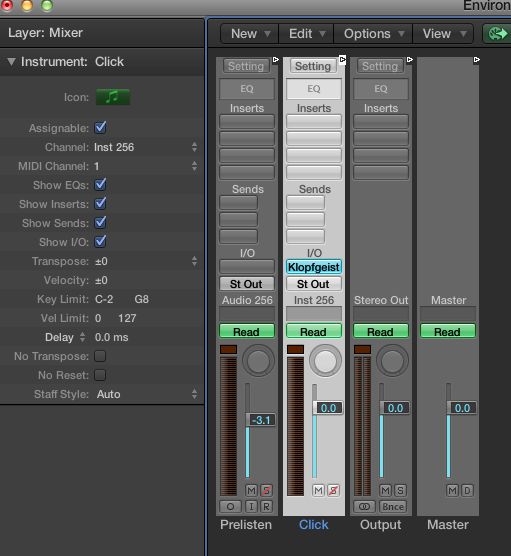 Pic 1
Para ser justo, o próprio Klopfgeist tem um bom leque de opções para o nível, tuning, tonalidade, etc, e ainda tem alguns presets agradáveis, como você pode ver na Pics 2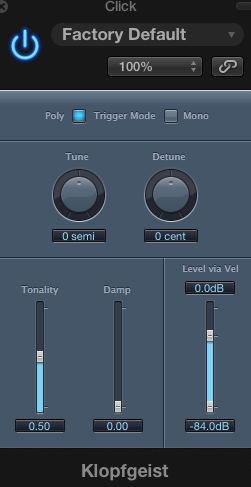 Pic 2

Pic 3
Então, qual o problema, Jay? O problema é que você tem pouca escolha sobre o que as divisões são jogados com o metrônomo.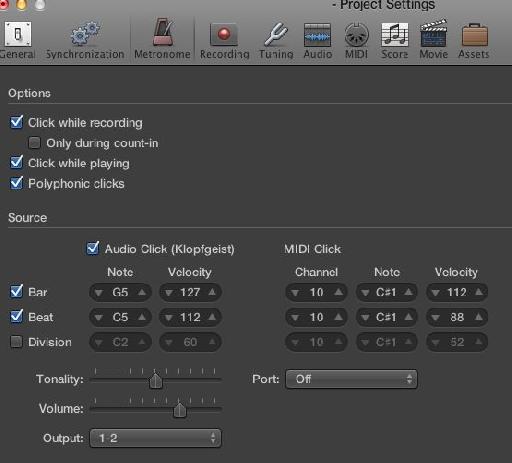 Pic 4
Em nenhum lugar lá você verá uma opção para vencer oito notas ou notas de um quarto pontilhadas.

Então isso significa que se você está em 4/4 ou 3/4, etc, o clique vai bater semínimas e se você está em 6/8, ele vai bater colcheias. Segue-se o denominador, período.
Se você tem sido uma pessoa ruim nesta vida, é minha convicção de que você gasta escuta eternidade para uma pista de 6/8 ou 12/8 clique tocando colcheias. É incrivelmente perturbador, irritante, e dissonante e, apesar de muitos de nós têm vindo a pedir isso desde 1.0, a capacidade de configurar o que os cliques peças não foi implementado. Só posso supor que há algo em sua arquitetura que tornou muito difícil de implementar, uma vez que os desenvolvedores não gostam de irritar seus usuários.
Então, nós precisamos de uma solução alternativa. Em Pic 5, eu tenho um projeto onde o medidor está no fato de a mudança de 6/8 a 12/8 e terminando em 6/4. Claramente, eu preciso criar uma faixa personalizada clique, não só por causa da minha necessidade de preservar a minha sanidade mental, mas que de qualquer instrumentista ou cantor que pode ser chamado a partes recorde para mim no meu projeto Logic Pro X.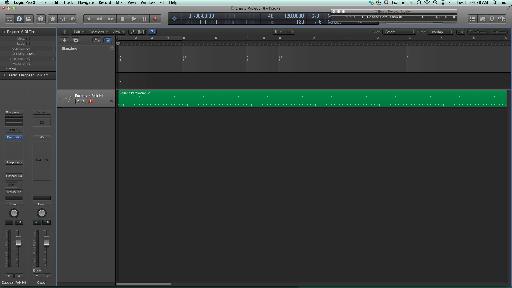 Pic 5
Eu poderia usar o Klopfgeist para esta tarefa, mas eu prefiro usar uma vara cruz (vara lado) em um kit de bateria EXS24. Qualquer som que seja aceitável para você é bom.
Em Pic 6, estou criando um instrumento de software sem Open Library verificado para que Logic Pro X não irá criar o padrão Piano Clássico elétrico Channel Strip.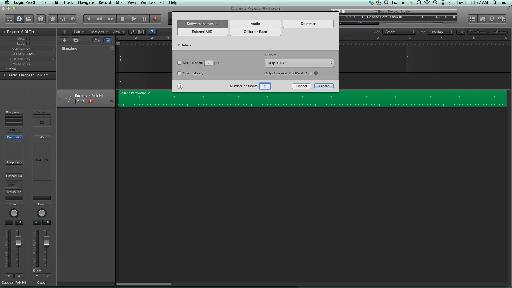 Pic 6
No Inspetor, eu segure o mouse para baixo na caixa de I / O do instrumento de software recém-criado e carregar uma instância mono EXS24. Veja Pic 7.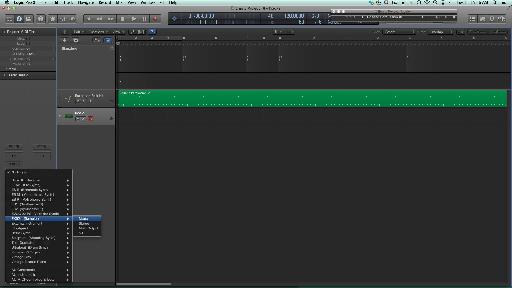 Pic 7
Eu, então, carregar no Kit seco padrão que vem com o conteúdo X Logic Pro, pois é, bem, seco, e é General MIDI, o que significa que eu sei com certeza que a amostra vara cruz será atribuída a nota MIDI C # 1. Veja Pic 8.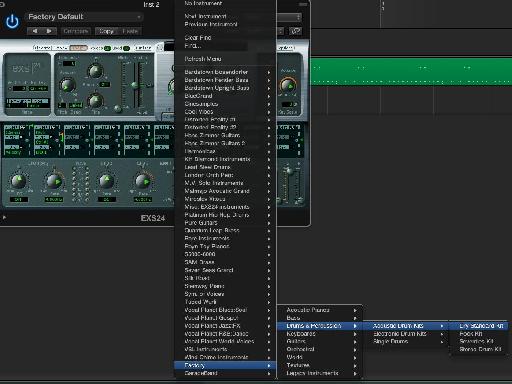 Pic 8
Agora eu preciso criar algumas regiões MIDI. Neste projeto, eu preciso de dois: um bater oito notas e uma notas surra trimestre. Há, naturalmente, muitas maneiras de inserir dados MIDI com o Logic Pro, mas para este artigo, vou usar o teclado de entrada Etapa, que pode trazer ou indo no menu Janela ou pressionando a combinação de comando chave que você vê no Pic 9.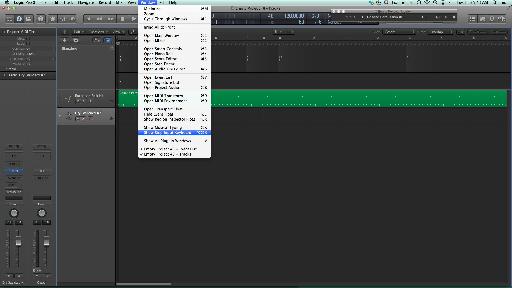 Pic 9
Usando a ferramenta Lápis, eu criar uma região em branco. Depois de se certificar de que o indicador de reprodução está de volta no início de uma medida, no teclado de entrada em degrau, eu seleciono a semínima, ponto, e os símbolos de ff, o último, porque ele vai me dar um bom, forte clique com velocidade de MIDI 112. Você tem a opção de curso para escolher uma dinâmica diferente se você escolher, ou arraste o fader do EXS24 cima ou para baixo. Veja Pic 10.

Pic 10
Tudo o que tenho que fazer agora é clicar na tecla C # 1 no teclado de entrada Passo duas vezes, e pronto, como você vê na Pic 11, é realizado. Tão fácil como você poderia desejar, certo?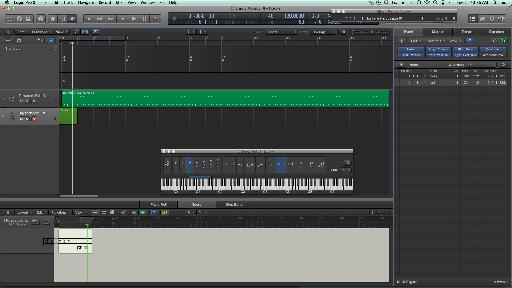 Pic 11
Desde que eu quero ouvir trimestres pontilhadas com tanto 6/8 e 12/8, agora eu posso usar a Ferramenta de Loop (canto superior direito da região) e desenhar nas alças até 13 bar, onde muda para 6/4. Veja Pic 12.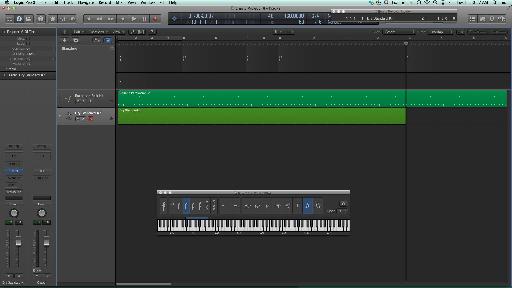 Pic 12
Agora eu simplesmente repetir o processo para criar uma região com seis semínimas.
Para comentar:
Eu criar uma região em branco na barra 13 com a ferramenta Lápis.

Eu certificar-se de que o indicador de reprodução está no início da barra 13.

Eu seleciono a semínima e símbolos ff e clique seis vezes para criar seis semínimas.

I ciclo da região até a próxima troca do medidor. Veja Pic 13.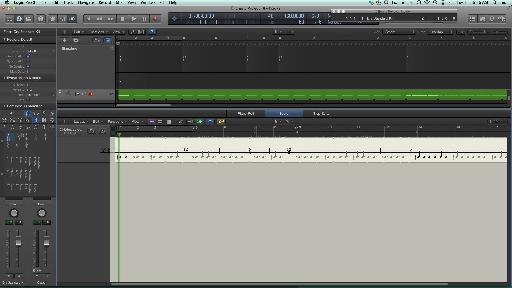 Pic 13
Para quaisquer outras alterações metros, eu posso simplesmente Option as regiões apropriadas para as medidas desejadas e agora tenho um Logic Pro clique pista projeto X que vai me servir, e os meus colegas músicos, sem inspirar um forte desejo de cometer seppuku.