Darren Burgos reveals how to easily program electronic-style chord progressions in Logic Pro X which you can then trigger with single keys. Great for producers and performers.
Whether you make electronic or acoustic based music, having instant access to a chain of chords that sound musical together is great for song writing, and producing. A chord progression is a structure of two or more chords played one after the other. A good progression will often inspire an equally great melody. It's common to 'play' chords in EDM, House and many other electronic genres, on a single key, then trigger them back in a different order, or play them rhythmically.
In this article I'll show you how to click your way through the creation of a chord progression, then easily trigger the various chords you made with single keys on your MIDI controller. Since this is all done with MIDI, you can easily change anything about the track including the sound itself, and any audio effects on it.
Step 1: Pick a Sound
First thing, choose a sound that inspires you. That might be a multilayered stack of analog/digital synths, or a guitar or piano sound. That's all up to you. While writing this article I used the preset Plectrum Keys from Logic's Retro Synth. When choosing, make sure the instrument is polyphonic (can play more than one note simultaneously), and isn't already playing a chord; most synths with multiple oscillators allow for each oscillator to be set to various intervals. Also consider the length'¦ plucks sound great as well as longer sustained sounds.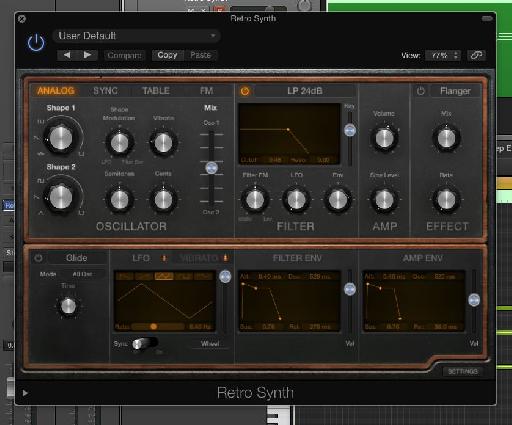 Step 2: Create an Empty MIDI Region
Create an empty MIDI region and drag it out so it's 4 bars long. Double-click the region to open it in the Piano Roll and zoom the screen so all four bars are visible.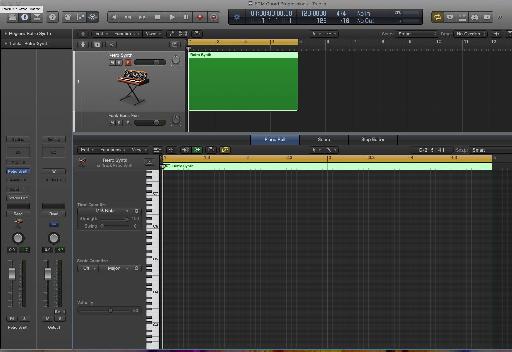 Step 3: Choose a Key
From the Piano Roll's 'Scale Quantize' menu (on the sidebar) choose your key (it'll probably read 'off'). The 'key' is the one note that can be played all the way through the song and usually never sound out of place. If you play keyboard, choose the key you're most comfortable with, or if you don't know what to choose, choose C. While writing the article I chose F#.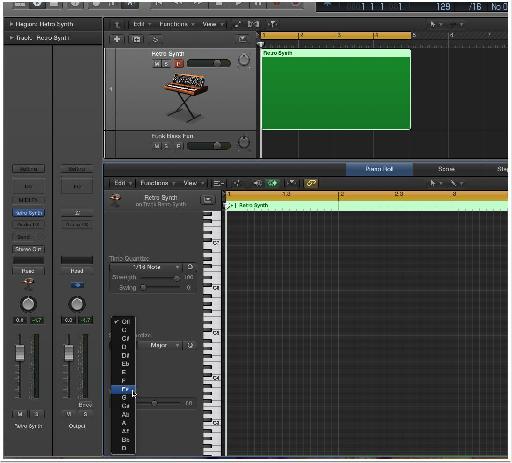 F or F# are common EDM keys, and for good reason; deep bass synthesizer sounds, sound great at that note, and can easily be played higher or lower without sounding too deep or too high pitched.
Step 4: Choose a Scale
Now choose a musical scale. Directly to the right of where you chose the key, you can click and choose from a variety of scales. What is a musical scale? Basically it's a set of different notes (usually 7 of them) that you adhere to while playing. They can give your song a bright feel, dark, soulful, and even asian and middle eastern vibes. Most, EDM, House, Big Room, Trance, Trap, etc., will stay on a single musical scale and never deviate from it. This means that all the musical notes the song plays, are only the notes of the chosen scale. The major scale is the most common scale'¦ for example a C major starts on C, then D, E, F, G, A, and B (all the white notes starting on C). If you're not sure what to choose here follow along with me and pick 'Natural Minor.' If you'd rather it have a brighter feel, go with 'Major.'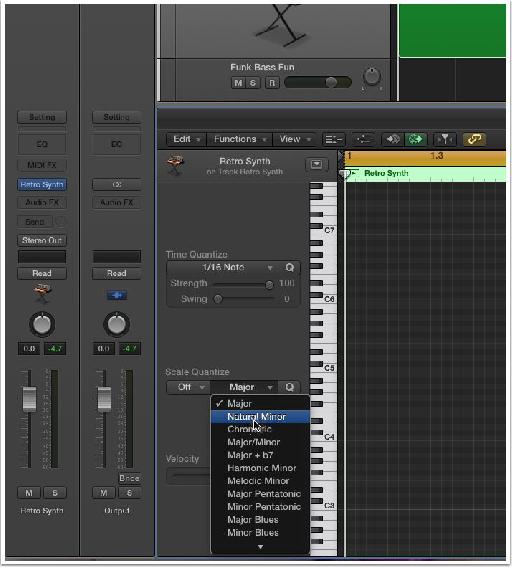 Step 5: Draw the Scale Into the Region
On the first bar, place a single note on the root key (In my case it's F#). Choose any octave as your starting point, as long as the instrument you're using sounds good at it. Drag the note out so it lasts halfway through the bar/measure. When adjusting a note length, hold Option-Shift-L/R Arrows to change its length via commands. Draw all the rest of the notes in the scale till you fill up the 4 bars like in the image below. Don't know what notes to draw? That's OK, simply start on the root key you selected, then draw in a total of 8 notes sequentially higher till you reach the next octave's root key. See the image below. Now select all the notes and click the Q button to the right of the scale selection'¦ this will move any notes not in the scale either up or down to a correct note! Here's the notes for the F# minor scale I'm using while writing: F#, G#, A, B, C#, D, E.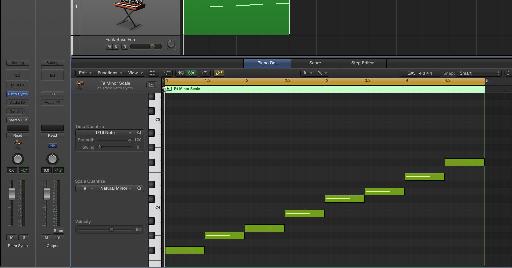 Step 6: Complete Chords Using Each Scale Note
Use each note drawn in Step 5 as the bottom note of a triad you create. Option-click and drag on a note to make two copies and place them above each scale note you drew in. Do this 'by ear''¦ loop the region and position each note of the chords as musically as you can. Don't be too concerned if your chords don't sound perfect, as long as each chord has one of the original scale notes you can re-quantize to key/scale! Make sure all the notes are selected, then press the Q button to the right of the scale selection menu. Double check that all the chords sound the way you want them to. Next, we'll be adding them to Logic X's Chord Trigger MIDI FX.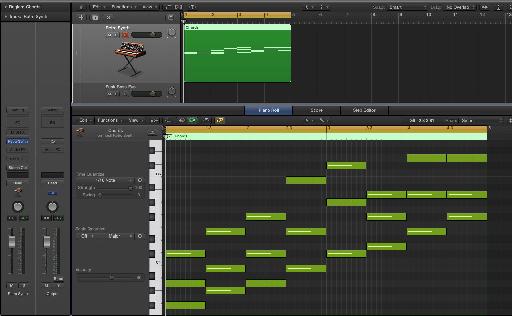 Step 7: Add the Chord Trigger MIDI FX
Now that you've built-up chords on each of the notes in the scale, we'll want to put each chord on a single MIDI note we can play. From the track's MIDI FX menu, select Chord Trigger. Chord trigger is actually very easy to understand'¦ the top keyboard (Input) is where you select the single MIDI notes that you'll be assigning chords to, and the bottom (Output) keyboard is where you build the actual chord assigned to the note on the top keyboard. The Input notes you choose on the top keyboard can either be related to the actual chord, or not at all; If you're a keyboardist, you'll probably want to assign them to the root note of each chord you're triggering. If you're not a keyboardist, you can place them on any MIDI key you like. Actually, many keyboard controllers today have drum pads built-in. Often, drum pad MIDI notes start on C1, so you could Use C1 and above to trigger the chords from your controllers drum pads! The thing to remember here is that the Input (trigger notes) don't even have to be close to the chosen chord assigned to it'¦ they can be octaves apart from each other, or right on top.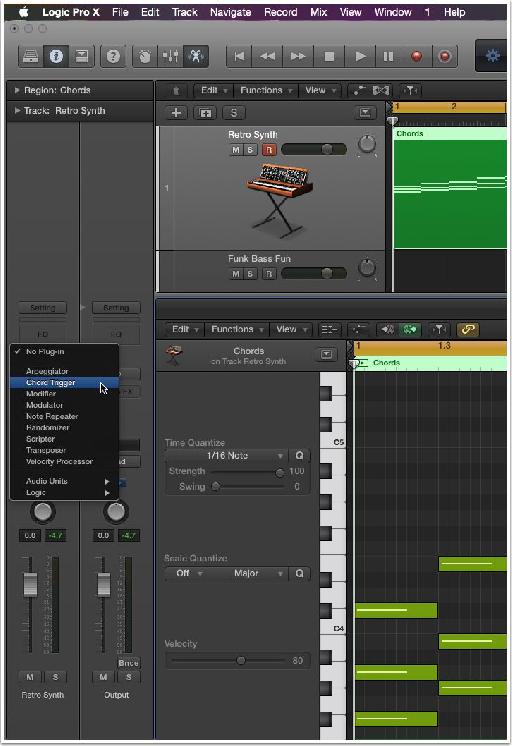 Step 8: Assign the Chord to the Chosen Trigger Key
Now we'll assign the chords you built above, to your chosen MIDI notes. Look back into the MIDI region where you built your first chord and remember the notes you used for it. In the Chord Trigger, click the 'Learn' button. On your keyboard controller, click the bottom left note of the first chord you'll be entering. You can also just click it on the Chord Trigger interface on the upper keyboard (the Input). Once the note is selected on the upper keyboard, you can now either draw in the chord on the lower keyboard, or play the chord from your MIDI controller. You can leave the Learn button enabled while you repeat this process for each of the remaining chords. Click the key you're assigning the chord to (or play it on your MID controller), then play (or draw in) the chord. Repeat this process until all 8 (in this case) chords are assigned to trigger keys. When you're finished, take Chord Trigger out of Learn mode. This is an important last step!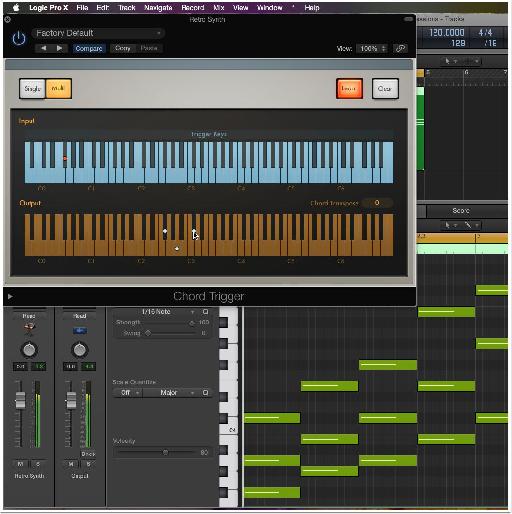 To make it easier to remember the notes in each of your chords you built in step 6, write each chord down before assigning them, or simply go back and forth between seeing what you built in the Piano Roll and assigning them to trigger keys. Everything should sound pretty good together, play your trigger notes and experiment! Here's a sample I made with this process'¦ I used a track stack with multiple stacked synths for a bigger sound:

Tips:

Once you've created a great sounding progression, save it to Chord Trigger's presets menu... these are fun to bring up later and see what new comes of it. Always consider the root note... move back to it often, or completely avoid it for a totally different feel. Before you leave the Piano Roll in step 6, try changing to different scales. Hope you enjoyed this, and thanks for reading!
Learn the art of EDM in this excellent video course at AskVideo.