Not all DAWs are created equal... but that doesn't mean they can't perform admirably in their own way. In this article, Jay Asher debunks some common myths about Logic held by Pro Tools users.
There are lots of topics on various forums comparing Logic Pro 9 to ProTools that are filled with misstatements about both of them. I am frequently hired by ProTools users who want to learn Logic Pro and I discover that frequently they have been lead to believe some things about Logic Pro that simply are factually incorrect. So let me see if I can clear up some of the more prevalent Logic Pro myths, and maybe also confirm some issues that are true.
Myth #1: You cannot produce as wide sounding a mix in Logic Pro as you can in ProTools.
Like many myths, this one is based on something that is factual but without an understanding of how Logic deals with it in this case, the pan knob on stereo audio tracks.
On a mono audio track in Logic Pro, the pan knob is true panning, allowing you to place it in the stereo field without losing source material as you pan it left or right. On a stereo track in Logic Pro however, the pan knob is not true panning but a balance control, like on a home stereo or a car stereo. So if you have a stereo file where you recorded 2 singers, one going into your audio interface on input 1 and the other coming in on input 2, as you pan to the left, not only would singer 1's part seem to get more noticeable, singer 2's part would start to disappear, because it is not true panning, which would allow you to move it around the stereo field without either singer 'disappearing'.

Here you can see a Logic Pro 9 stereo channel strip in the Inspector panned all the way to the left. At that position, any source material on the right would not be audible.
So, ProTools users who have heard this but do not know Logic Pro quite understandably reach the conclusion of the myth. But Logic Pro gives you a way to deal with this that while quite different, is in some ways superior in my opinion. It is an Imaging plug-in called the Direction Mixer.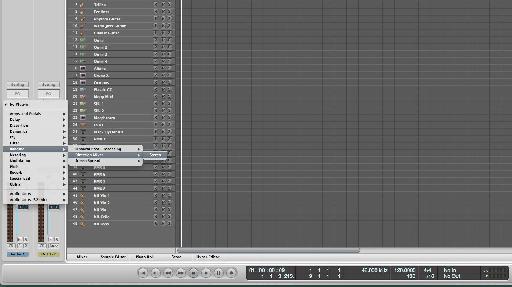 Navigating to the Direction Mixer plug-in.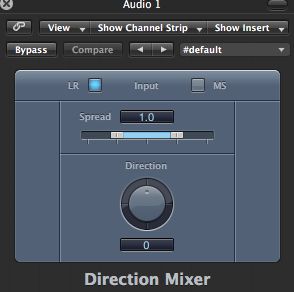 The Direction Mixer plug-in, ready for action!
Here in the Direction Mixer I can indeed place the track in the stereo field, as well as widen or narrow its spread, and do phase inversion and MS decoding as well. (Google these if you do not know what they are.)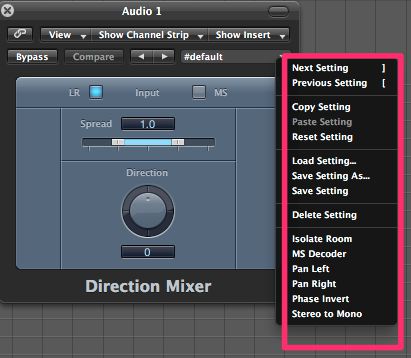 The Direction Mixer presets.
Consider Myth 1 now debunked!
Myth #2: You cannot do old skool tape recorder style punching in and punching out on an audio track in Logic Pro as you can in ProTools.
This is a myth I debunked in my book 'Going Pro With Logic Pro 9' (yes, I know, blatant self-promotion!)
What I am describing is the ability to punch and replace audio, punch out and punch in some more without ever stopping playback. I first encountered this heinous myth on a forum in a discussion with a Miami-based session player who was recording in Logic Pro and was assured by a Logic Pro 'expert' also there that this was the case. Which, of course, it is not. He said that he could punch in fine but could not punch out without stopping playback.
You can see below that I am accessing some recording settings by holding the mouse down on the record button in the Transport. I asked him if Punch on The Fly was enabled at the time.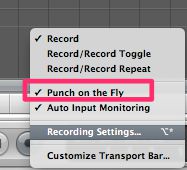 Accessing some recording settings by holding the mouse down on the record button. Punch on The Fly is enabled.
He said that it was but it had not worked. I then asked him if he was using a separate key command for Record/Record Toggle or if he had changed that in the recording settings.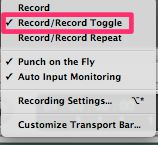 Record/Record Toggle is enabled.
He had no idea what I was even talking about, nor did presumably his Logic Pro 'expert'.
And that is exactly what is required for accomplishing this task. He said that he was skeptical but that he would try it and report back. He never returned to the forum.
Another myth bites the dust!
Myth #3: You cannot add crossfades or other audio fades to more than 1 region at a time with Logic Pro as you can with ProTools.
Once gain, this is a myth based on a lack of Logic Pro knowledge based on a fact. In the picture below, I am changing the Pointer Tool to the Fade Tool.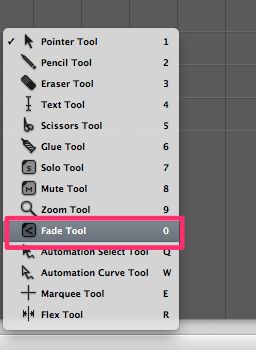 Selecting the Fade Tool.
I then select four regions on takes 10, 13, 16, and 17 and try to draw in a fade-out. As you can see here, the fade in is only drawn on the region on track 10.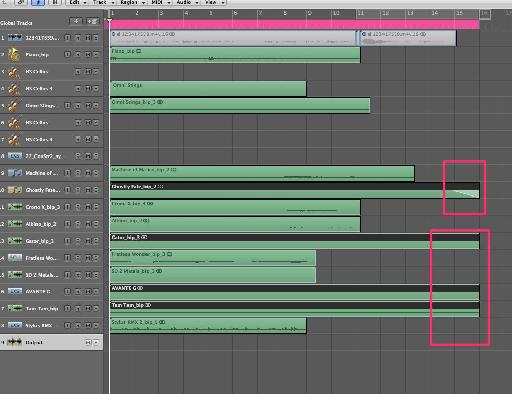 The fade in is only drawn on the region on track 10.
And if you are a ProTools guys without knowledge of Logic Pro's method of dealing with this task, once again, you buy the myth.
But check out the following picture. With the four regions selected, see the area pertaining to Fade In and Fade Out in the Inspector's Region Parameter box?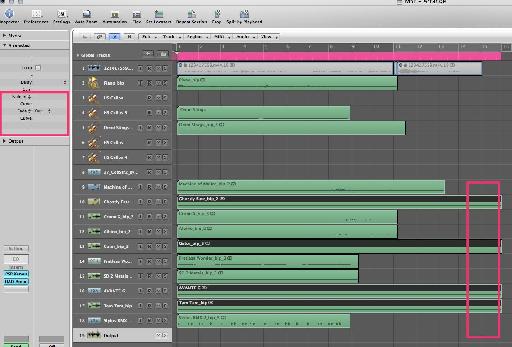 You can adjust Fade In and Fade Out for multiple regions in the Inspector's Region Parameter box.
Here I can drag in values with the mouse or simply double-click and type them in for fade-ins, fade-outs, with curve settings for the multiple selected regions. I can also do crossfades between sets of contiguous regions on different tracks.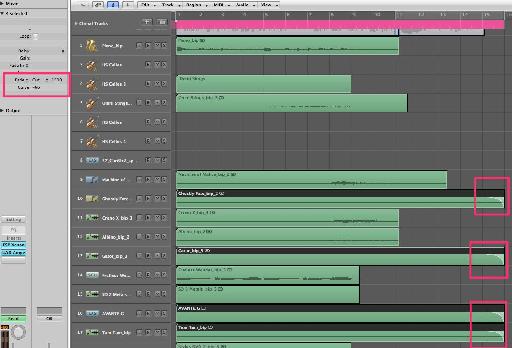 See the fade outs I performed on multiple regions in this manner.
Myth #4: Any version of ProTools is more stable than any version of Logic Pro.
This was not a myth in the past but perhaps is now. Until recently, ProTools software worked exclusively with ProTools compatible hardware and two plug-in formats that were specifically for ProTools. Also, Digidesign, which was the company that made PT before they were bought by Avid, was very careful about 'qualifying' any updates to the Mac OS, plug-in updates, audio driver updates, etc. so if you bought a ProTools HD rig and used only what they qualified, you probably did indeed have the most stable DAW on the planet, which is why it became the industry standard for post houses and multi-client based recording studios.
Logic Pro, being a native DAW, had to work with many different audio interfaces and was less vigorous in recommending different versions of the OS, third-party plug-ins, etc. so there was always more room for error. The same was true of Cubase, Digital Performer, and all other native systems.
Now ProTools has also gone native, although you still can buy dedicated versions, and with the native versions, surprise, surprise, we are seeing users with the same kind of stability issues that all the other native DAWs, including Logic Pro, have.
So if stability is the number one priority for you, yes, a ProTools HDX system is still the ultimate, but man, you are going to pay a lot of money for that and a well-maintained, Logic Pro 9 rig with an audio interface with a good driver, and with plug-ins proven to be stable on most users' rigs will come closer than ever for a lot less.
So is myth #4 in fact a myth? Yes and no.
Understand, my point in writing this article is not to tell ProTools users that they should switch to Logic Pro 9 because it is better. While for some tasks it arguably is, for other tasks it is arguably not.
Instead, I am advising PT users that when someone who does not know Logic Pro really well tells you that it cannot do something that it seems obvious it should be able to do, be skeptical of accepting that as fact, because it may well be a myth.