Recording audio. Whether you are a seasoned guitarist, a hobby vocalist or even an electronic musician, at some stage you'll want to record audio into Logic. In the second part of this series that's
تسجيل صوتي. سواء كنت عازف الجيتار محنك ، والمنشد هواية أو حتى الموسيقار الإلكترونية ، في مرحلة ما ستحتاج لتسجيل الصوت في المنطق. في الجزء الثاني من هذه السلسلة هذا هو بالضبط ما نحن في طريقنا للقيام -- استكشاف أساسيات إعداد وتسجيل الصوت في المنطق. قبل أن نبدأ ، أوصي التحقق من الأولى في هذا دليل المبتدئين الكامل لمنطق هنا .

تسجيل الصوت في 8 أو 9 المنطق هو أسرع وأسهل من الإصدارات السابقة. حتى لو كنت لا تملك واجهة الصوت الخارجي (مثل الأوج نظرا طن على سبيل المثال) لتوصيل جهاز Mac ، يمكنك استخدام المدمج في هيئة التصنيع العسكري أو مضمنة في خط الاتصال. لهذا المنصب سأكون باستخدام ديو بلدي مضمونة ، ولكن سنقوم أيضا أن تأخذ نظرة على كيف يمكنك اختيار الجهاز الذي سوف المنطق تسجيل الصوت من.
الخطوة 1

سوف أفترض كنت قد قرأت بالفعل الجزء الأول من هذه السلسلة وفهم ما هو القالب ويتم تعقب.
إذا كنت تستخدم واجهة خارجية الصوت فإن الخطوة الأولى هي لتوصيله فايرواير ماك الخاص بك أو منفذ USB.
الآن إطلاق المنطق واختيار مشروع فارغ.
الخطوة 2

من الحوار الجديد حدد المسارات التالية :
-- 1 مسار الصوت
-- تنسيق : مونو (عند تسجيل من الميكروفون أو خط المدخلات مثل الغيتار الذي مدخلا أحادي). فمن الطبيعي تماما لتسجيل غناء ، والغيتار ، وذلك باستخدام ميكروفون واحد ، الخ.
-- إدخال 1 (أو أيا كانت ترغب في إدخال السجل من على واجهة الصوت في حالتي لدي ميكروفون موصول إلى الإدخال 1 في بلدي ديو). يمكنك تغيير هذه الإعدادات لاحقا.
-- إخراج : إخراج إشارة بواسطة المنطق الافتراضي سوف تمر من خلال واجهة الانتاج ستيريو الصوت المحدد. ترك ابن المنجم في الناتج 1-2.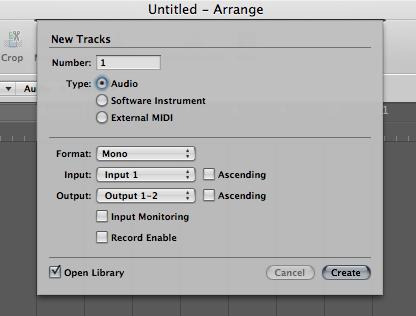 عند الانتهاء من ذلك ، انقر فوق إنشاء.
الخطوة 3

We need to check that Logic is setup to use your audio interface as the audio input.
Choose Logic Pro > Preferences > Audio...
تحت أجهزة الصوت وعلامات الأساسية تأكد من أن يتم تمكين تكتك. إذا تم تعطيل الصوت الأساسية سوف تحصل على أي صوت خارج المنطق.
القادم يمكنك تعيين أجهزة الإدخال والإخراج للمنطق.
(If you are a Logic 8 user you'll be restricted to setting the Device which will use the input and output from the same device only. Pop by the Logic forums for advice on how to have Logic 8 recognize different ins and outs).
ابن إعداد جهازي الإدخال كما ديو بلدي ، وأنا قد حصلت على سماعات بلدي توصيله إلى مقبس سماعة ديو من بلدي ، وأنا سوف تختار ديو كإخراج بلدي أيضا.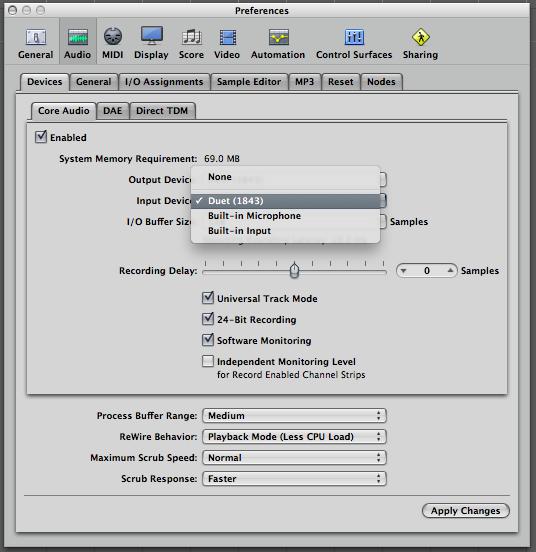 الخطوة 4

أود أن أوصي عند تسجيل صوتي للتأكد من أن يتم التحقق دائما 24 بت تسجيل. إذا تركت دون رادع وسوف المنطق في تسجيل الصوت 16 بت التي سوف اعطيكم مجموعة أقل ديناميكية. أنا لا يكون لديك مساحة هنا لشرح المزيد عن عمق بت ومعدلات العينة ، لذلك سحب 101 المنطق و المنطق 401 يوفر النجمية ودراسة أوثق من عمق بت ومعدل العينة ، وكذلك كيفية إتقان المشروع في المنطق.
وسوف تحول رصد البرامج على تمكنك من سماع أي آثار إدراج كنت مكان على الطريق الصحيح الصوت أثناء التسجيل.
إذا قمت بها فوق أي تغييرات تطبيق التغييرات وأغلق نافذة التفضيلات.
الخطوة 5

الوقت لجعل تسجيل بدء! ولكن قبل أن نذهب إلى أبعد من ذلك انه من المهم لحفظ المشروع الحالي. وهذا سيجعل من الأسهل كثيرا عن المنطق لمعرفة مكان وضع الملفات الصوتية المسجلة.
اختر ملف
اختيار مجلد وإعطاء المشروع اسما. والمنطق ثم إنشاء مجلد جديد بهذا الاسم وملف المشروع داخل هذا المجلد الجديد. كنت توصي حقا لك وضع علامة في خانة تشمل موجودات لأن هذا سوف اعطيكم المزيد من الخيارات بشأن ما سيتم حفظ الأصول أو الملفات والإعدادات داخل مجلد المشروع.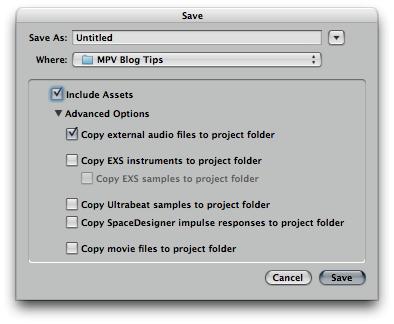 انقر فوق حفظ عند الانتهاء من ذلك.
الخطوة 6

قبل أن تقفز إلى تسجيل ، ونحن بحاجة لتسجيل الصوت تمكين مسارنا. هذا لا يمكن ان تكون أكثر بساطة. انقر على أيقونة "R" (الزر جاهز سجل) على رأس المسار ، أو الزر سجل جاهز على قطاع الصوت في القناة المفتش. كلاهما واحد ونفس.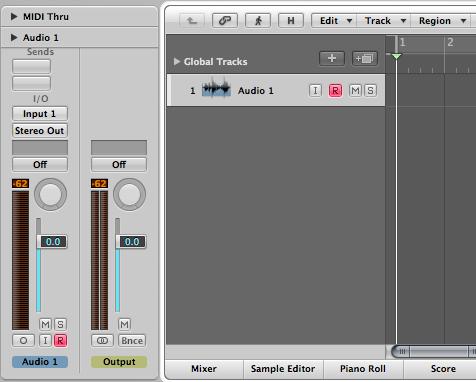 يجب أن تكون الآن قادرا على سماع إشارة من واجهة الصوت. إذا كنت لا تستطيع التحقق من الشريط الصوتي لقناة 1 I / O المقطع. تأكد من أن المدخلات والمخرجات يطابق المدخلات والمخرجات المادية على واجهة الصوت.
هذا هو الوقت المناسب للعب الصك الخاص بك وتأكد من أن الإشارة الصوتية القادمة إلى المنطق ولن قطة أو المشوهة. يمكنك التحكم في الربح أو مستوى المدخلات على واجهة الصوت.
الخطوة 7

المقبل ، إذا كنت تسجيل تيرة بناء أي شيء ، قد ترغب في ضبط وتيرة المشروع. افتراضيا مشروع جديد لديه تيرة نبضة في الدقيقة 120. باستخدام المسار واضغط على زر التشغيل يمكنك التعود على وتيرة وسواء كانت سريعة أو بطيئة جدا. ثم ضبط قيمة سرعة الإيقاع عن طريق النقر المزدوج على القيمة العددية والدخول في قيمة جديدة.

الخطوة 8

عندما تكون مستعدا ، نقل playhead إلى بداية المشروع (أو أي جهة ترغب في بدء التسجيل في) وانقر على زر سجل في النقل. وسوف يبدأ التسجيل ومنطق العد في شريط واحد افتراضيا.

الصحافة توقف عند الانتهاء من ذلك.
الآن حان الوقت للاستماع إلى الخلف فوق أدائك على زر جاهز سجل على رأس المسار لتعطيله. هذا يعني أنك لن تكون عبر واجهة رصد الصوت وكذلك الاستماع الى ما تم تسجيلها في المنطق! الصحافة تلعب الآن الجلوس والاستمتاع بالأداء المسجل.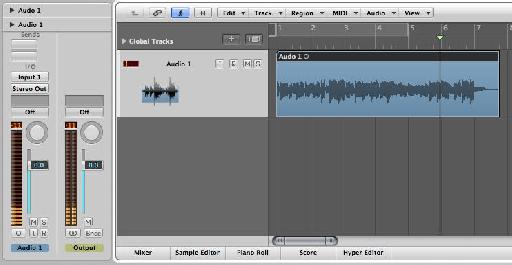 .
وهذا كل ما في الامر... هذه الخطوات تشمل العظام العارية... أساسيات المطلق لتسجيل الصوت في المنطق 9. هناك أكثر من ذلك بكثير لاستكشاف وأنا حقا لا يمكن أن نؤكد بما فيه الكفاية أن المنطق هو عميق ، وقادر رائعة جدا. لمعرفة المزيد عن كيفية لكمة في وتسجيل وتحرير اتخاذ المجلدات ، تأخذ شركات ، لكمة على الطاير ، مدخلات متعددة قياسية ، أخطاء التوقيت الصحيح ، الخ ، الخ المغادرة لدينا دروس المنطق الخبراء هنا . و المنطق 101 : المنطق الأساسي هو أفضل مكان لمواصلة رحلتك الموسيقية مع المنطق 9.
اذا كنت بحاجة الى مزيد من المساعدة في هذا المنطق ، أو أي قضية أخرى أو ماك البرمجيات زيارتنا في www.macprovideo.com/forum/