Recording audio. Whether you are a seasoned guitarist, a hobby vocalist or even an electronic musician, at some stage you'll want to record audio into Logic. In the second part of this series that's
Aufnehmen von Audiosignalen. Ob Sie ein erfahrener Gitarrist, ein Hobby Sänger oder sogar eine elektronische Musiker sind, irgendwann werden Sie wollen Audio in Logic aufzeichnen. Im zweiten Teil dieser Serie, die genau das, was wir zu tun - entdecken Sie die Grundlagen für die Einrichtung und Aufnehmen von Audio in Logic. Bevor wir loslegen, würde ich empfehlen, die erste in dieser Komplette Beginners Guide to Logic hier .

Aufnehmen von Audio in Logic 8 oder 9 ist schneller und einfacher als die Vorgängerversionen. Auch wenn Sie nicht über einen externen Audio-Interface (wie ein Apogee Aufgrund t zum Beispiel) an den Mac angeschlossen, können Sie mit dem eingebauten Mikrofon oder eingebauten Line-In Anschluss. Aus diesem Beitrag werde ich mit meinem treuen Duet, aber wir werden auch einen Blick auf, wie Sie das Gerät, das Logic Audio von wählt.
Schritt 1

Ich nehme an, Sie haben schon gelesen das erste Teil dieser Serie und verstehen, was eine Vorlage und ein Weg ist.
Wenn Sie mit einem externen Audio-Interface sind der erste Schritt ist, um ihn auf Ihrer Macs Firewire oder USB-Port anschließen.
Nun starten Sie Logic und wählen Sie ein leeres Projekt.
Schritt 2

Aus der neuen Tracks Dialog wählen Sie die folgenden:
- 1 Audio Track
- Format: Mono (wenn man von einem Mikrofon oder Line-Eingang wie eine Gitarre, ein Mono-Eingang aufzeichnen). Es ist ganz normal, Gesang, Gitarre aufnehmen, etc mit einem Mikrofon.
- Eingang 1 (oder was auch immer-Eingang, die Sie von Ihrer Audio-Schnittstelle aufnehmen In meinem Fall habe ich ein Mikrofon angeschlossen, um Input 1 auf meinem Duet.). Sie können diese Einstellungen später ändern.
- Ausgang: Standardmäßig Logic Signalausgang wird durch die Stereo-Ausgang Ihres ausgewählten Audio-Interface übergeben. Ich lasse mir am Ausgang 1-2.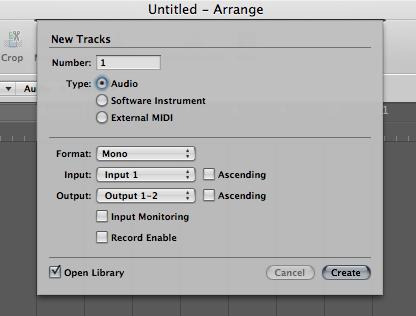 Wenn Sie fertig sind, klicken Sie auf Erstellen.
Schritt 3

We need to check that Logic is setup to use your audio interface as the audio input.
Choose Logic Pro > Preferences > Audio...
Unter dem Geräte-und Core Audio Registerkarten stellen Sie sicher, dass aktiviert aktiviert ist. Wenn Core Audio ist deaktiviert bekommen Sie keinen Ton von Logic.
Nächstes können Sie die Eingabe-und Ausgabegeräte für Logic.
(If you are a Logic 8 user you'll be restricted to setting the Device which will use the input and output from the same device only. Pop by the Logic forums for advice on how to have Logic 8 recognize different ins and outs).
Ich habe die Einrichtung meines Eingabegerät wie meine Duet, und als ich meine Kopfhörer eingesteckt, um den Kopfhörerausgang meines Duet habe, werde ich Duet als meine Leistung zu wählen.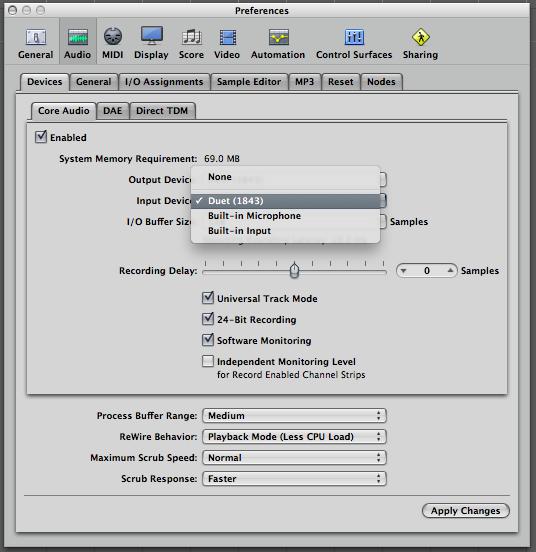 Schritt 4

Würde ich empfehlen, bei der Audioaufzeichnung, um sicherzustellen, dass 24-Bit-Recording immer aktiviert ist. Wenn es nicht gegengesteuert Logic zeichnet bei 16-Bit-Audio, die Ihnen eine geringere Dynamik. Ich habe keinen Platz hier, um mehr über Bit-Tiefe und Sample-Raten zu erklären, so zu tun , um einige der Logic 101 und Logic 401 bietet eine herausragende und eine noch genauere Betrachtung der Bittiefe und Sample-Rate und wie zu einem Master Projekt in Logic.
Turning Software Überwachung ermöglicht es Ihnen, alle Insert-Effekte, die Sie auf Ihren Audio-Tracks während der Aufnahme zu hören.
Wenn Sie Änderungen vorgenommen klicken Sie auf Änderungen, und schließen Sie das Fenster Einstellungen.
Schritt 5

Zeit zum Starten der Aufnahme zu machen! Aber bevor wir weiter gehen, es ist wichtig, um Ihre aktuelle Projekt zu speichern. Dadurch wird es viel einfacher für Logic zu wissen, wo die aufgenommenen Audio-Dateien statt.
Wählen Sie Datei
Wählen Sie einen Ordner und geben dem Projekt einen Namen. Logic wird dann einen neuen Ordner erstellen mit dem Namen und eine Projekt-Datei in diesen neuen Ordner. Ich würde wirklich empfehlen Ihnen Zutreffendes Include Assets Kontrollkästchen, so erhalten Sie weitere Optionen auf welche Vermögenswerte oder Dateien und Einstellungen werden in den Projekt-Ordner gespeichert werden.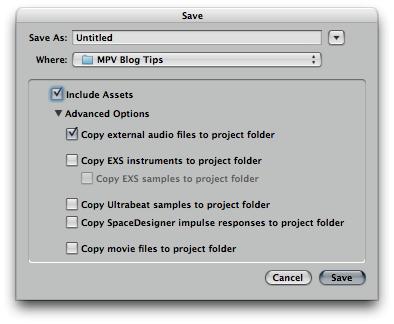 Klicken Sie auf Speichern, wenn Sie fertig sind.
Schritt 6

Bevor wir springen in die Aufnahme, müssen wir aufnehmen können unsere Audio Track. Dies könnte nicht einfacher sein. Klicken Sie auf das "R"-Symbol (Record ready-Taste) auf der Spur-Header oder die Record Ready Taste auf der Audio Channel Strip im Inspector. Sie sind beide ein und dasselbe.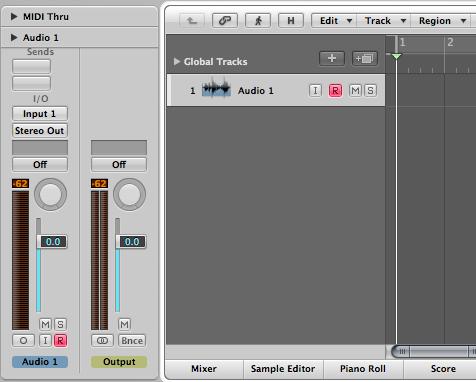 Sie sollten nun in der Lage, ein Signal von Ihrer Audio-Interface hören. Wenn Sie kann nicht den Audio 1 Channel Strip I / O-Bereich. Stellen Sie sicher, dass die Ein-und Ausgang der physischen Input-und Output Spielen auf Ihrem Audio-Interface.
Dies ist ein guter Zeitpunkt, um Ihr Instrument zu spielen und dafür sorgen, dass das Audiosignal kommen in die Logik nie Clipping oder zu verzerren. Sie können den Gewinn oder Level-Eingang auf Ihrem Audio-Interface.
Step 7

Weiter, wenn Sie mit der Aufnahme etwas Tempo basiert sind, möchten Sie vielleicht, um das Tempo des Projekts anzupassen. Standardmäßig ein neues Projekt hat ein Tempo von 120 bpm. Mit dem Click-Track und die Play-Taste können Sie ein Gefühl für das Tempo und ob es zu schnell oder langsam ist. Dann stellen Sie den Wert des Tempos durch einen Doppelklick auf den Zahlenwert und geben Sie einen neuen Wert.

Schritt 8

Wenn Sie bereit sind, bewegen Sie die Abspielposition an den Anfang des Projekts (oder welche Stelle Sie die Aufnahme am Anfang) und klicken Sie auf die Record-Taste im Transport. Logic startet die Aufnahme und count-in für eine bar standardmäßig.

Drücken Sie Stop, wenn Sie fertig sind.
Jetzt ist es Zeit, wieder zu hören, um Ihre Leistung klicken Sie auf den Record Ready Taste auf der Spur-Header zu deaktivieren. Dies bedeutet, dass Sie nicht über Ihre Audio-Schnittstelle überwachen sowie zu hören, was in Logic aufgenommen wurde! Drücken Sie nun spielen lehnen Sie sich zurück und genießen Sie Ihre aufgenommenen Leistung.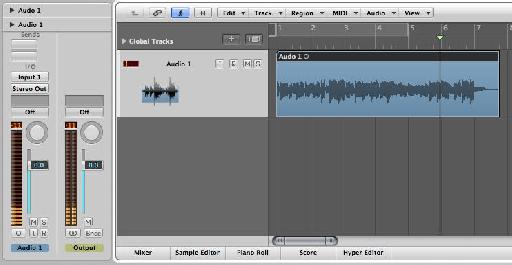 .
Und das ist alles dort ist zu ihm ... Diese Schritte umfassen die nackten Knochen ... die absoluten Grundlagen zur Aufnahme von Audio in Logic 9. Es gibt so viel mehr zu entdecken und ich kann wirklich nicht genug betonen, dass Logic tiefe, wunderbare und sehr fähig ist. Um mehr zu erfahren, wie man in Punsch, aufnehmen und bearbeiten Take-Ordner, nimmt comp, Punsch on the fly, Aufnahme mehrerer Eingänge richtige Timing-Fehler, etc, etc Sie unsere Experten Logic-Tutorials hier . Die Logic 101: Core-Logic ist der beste Ort, um Ihre musikalische Reise mit Logic 9 fort.
Wenn Sie weitere Hilfe zu diesem oder einem anderen Logic oder Mac-Software ausgeben müssen Besuchen Sie uns auf www.macprovideo.com/forum/