Recording audio. Whether you are a seasoned guitarist, a hobby vocalist or even an electronic musician, at some stage you'll want to record audio into Logic. In the second part of this series that's
Grabación de audio. Si usted es un experimentado guitarrista, vocalista de manía o un músico electrónico, en algún momento usted desea grabar el audio en Logic. En la segunda parte de esta serie que es exactamente lo que vamos a hacer - explorar los fundamentos de la creación y grabación de audio en Logic. Antes de empezar, me gustaría recomendar la salida a la primera en esta Guía de principiantes a la lógica aquí .

Grabación de audio de Logic 8 o 9 es más rápido y más fácil que en versiones anteriores. Incluso si usted no tiene una interfaz de audio externa (como un apogeo Debido t , por ejemplo) conectado a su Mac, puede utilizar el micrófono incorporado o integrado en la línea de conexión. Para este post voy a usar mi Dúo de confianza, pero también vamos a echar un vistazo a cómo usted puede elegir el dispositivo que Logic grabar el audio de.
Paso 1

Vamos a suponer que ya ha leído la primera parte de esta serie y entender lo que una plantilla y una pista es.
Si está utilizando una interfaz de audio externa el primer paso es conectarlo a tu Mac puerto FireWire o USB.
Ahora ejecuta la lógica y elegir un proyecto vacío.
Paso 2

Desde el diálogo New Tracks, seleccione lo siguiente:
- 1 pista de audio
- Formato: Mono (cuando se graba desde un micrófono o línea de entrada, como una guitarra que es una entrada mono). Es bastante normal para grabar voces, guitarras, etc usando un micrófono.
- Entrada 1 (o lo que sea de entrada que desea grabar desde la interfaz de audio En mi caso tengo un micrófono conectado a la entrada 1 en mi Dúo.). Puede cambiar esta configuración más adelante.
- Salida: Por la señal de salida lógica por defecto pasará a través de la salida estéreo de su interfaz de audio seleccionada. Me voy a la mina de salida 1-2.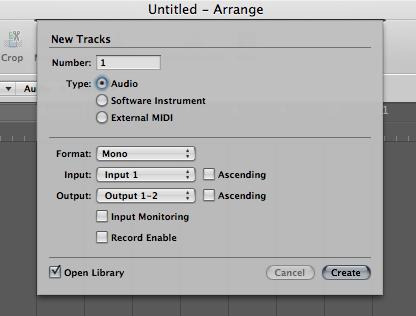 Cuando haya terminado, haga clic en Crear.
Paso 3

We need to check that Logic is setup to use your audio interface as the audio input.
Choose Logic Pro > Preferences > Audio...
En los dispositivos y las fichas Core Audio asegurarse de que Activado está seleccionada. Si está desactivado Core Audio no recibirá ningún sonido fuera de la lógica.
A continuación puede configurar los dispositivos de entrada y salida de la lógica.
(If you are a Logic 8 user you'll be restricted to setting the Device which will use the input and output from the same device only. Pop by the Logic forums for advice on how to have Logic 8 recognize different ins and outs).
Soy la creación de mi dispositivo de entrada como mi Duet, y como yo tengo mis auriculares conectados al conector de auriculares de mi Duet, que voy a elegir Dúo como mi salida también.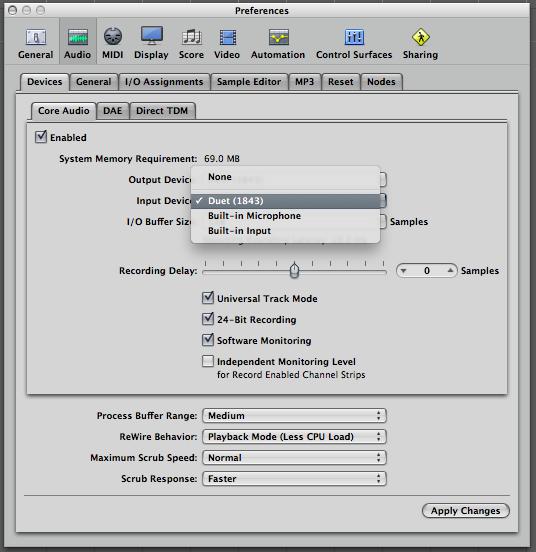 Paso 4

Yo recomendaría la grabación de audio para asegurarse de que de 24 bits de grabación siempre se comprueba. Si se deja la lógica no se tienen registros de audio a 16 bits, lo que le dará un rango inferior dinámico. No tengo espacio aquí para explicar más sobre la profundidad de bits y frecuencias de muestreo, así que echa un vistazo a la lógica de 101 y la 401 lógica proporciona un estelar y un examen aún más cerca de la profundidad de bits y frecuencia de muestreo, así como la manera de un maestro proyecto en la lógica.
Volviendo monitoreo de software en le permitirá escuchar cualquier efectos de inserción se coloca en la pista de audio durante la grabación.
Si ha hecho algún cambio, haga clic en Aplicar cambios y cerrar la ventana de Preferencias.
Paso 5

Es hora de hacer empezar a grabar! Pero antes de seguir adelante es importante guardar el proyecto actual. Esto hará que sea mucho más fácil para la lógica para saber dónde colocar los archivos de audio grabados.
Seleccione Archivo
Elija una carpeta y darle un nombre al proyecto. La lógica continuación, se creará una nueva carpeta con ese nombre y un archivo de proyecto dentro de esa carpeta nueva. Realmente les recomiendo que marque la casilla de verificación incluyen activos, ya que esto le proporciona más opciones de lo que los activos o los archivos y la configuración se guardan en la carpeta del proyecto.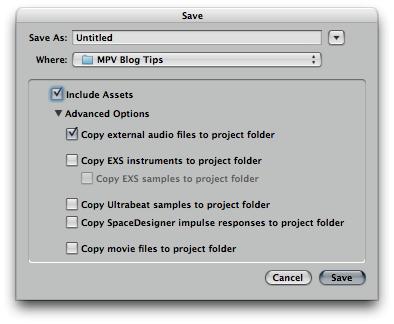 Haga clic en Guardar cuando haya terminado.
Paso 6

Antes de saltar a la grabación, tenemos que permitir que nuestros registros de pistas de audio. Esto no puede ser más sencillo. Haga clic en el icono "R" (botón de espera de grabación) en la cabecera de la pista, o el botón Record Ready en el canal de audio en el Inspector. Ambos son uno y el mismo.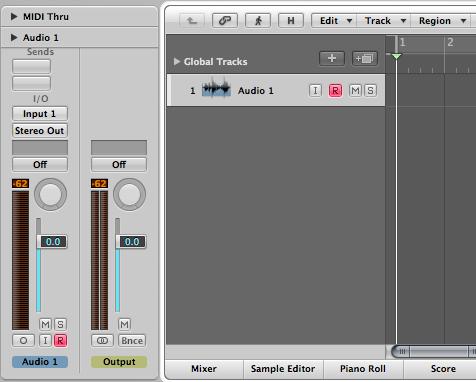 Ahora debería ser capaz de oír la señal de la interfaz de audio. Si no puede comprobar el audio de un canal de E / S sección. Asegúrese de que la entrada y salida coincide con la entrada física y la salida de la interfaz de audio.
Este es un buen momento para tocar su instrumento y asegúrese de que la señal de audio que llegan a la lógica nunca se recorte o distorsión. Usted puede controlar la ganancia o nivel de entrada en la interfaz de audio.
Paso 7

A continuación, si está grabando tempo algo basado, tal vez como para ajustar el tempo del proyecto. Por defecto, un nuevo proyecto que tiene un ritmo de 120 bpm. Usando la pista Haga clic en el botón de reproducción y puede tener una idea de los tiempos y si es demasiado rápida o lenta. A continuación, ajustar el valor del tempo con un doble clic sobre el valor numérico y entrar en un nuevo valor.

Paso 8

Cuando estés listo, mueve la cabeza lectora al inicio del proyecto (o el punto donde desee iniciar la grabación de los casos) y haga clic en el botón Grabar en el transporte. Lógica comenzará a grabar y contar en un bar de por defecto.

Pulse Stop cuando haya terminado.
Ahora es el momento para escuchar de nuevo a su rendimiento, haga clic en el botón Record Ready en la cabecera de pista para desactivarlo. Esto significa que no se de seguimiento a través de su interfaz de audio, así como escuchar lo que se ha registrado en la lógica! Ahora presionar el juego sentarse y disfrutar de su interpretación grabada.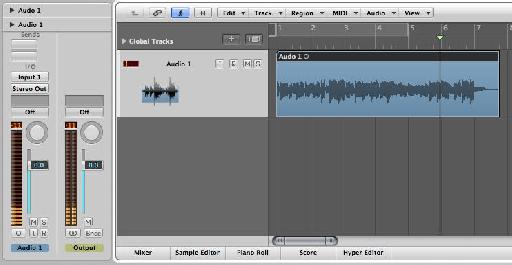 .
Y eso es todo lo que hay ... Estas medidas cubren el esqueleto ... los fundamentos absolutos de grabación de audio en Logic 9. Hay mucho más para explorar y realmente no puedo hacer suficiente hincapié en que la lógica es profunda, maravillosa y muy capaz. Para obtener más información sobre la forma de punch-in, grabar y editar carpetas de tomas, toma un borrador, el ponche sobre la marcha, registro de entradas múltiples, corregir errores de tiempo, etc, etc visita nuestra tutoriales lógica de expertos aquí . La lógica 101: núcleo lógico es el mejor lugar para continuar su viaje musical con Logic 9.
Si necesita más ayuda en este o en cualquier otra lógica o un problema de software Mac visítenos en www.macprovideo.com/forum/