Recording audio. Whether you are a seasoned guitarist, a hobby vocalist or even an electronic musician, at some stage you'll want to record audio into Logic. In the second part of this series that's
L'enregistrement audio. Que vous soyez un guitariste chevronné, un chanteur amateur ou même un musicien électronique, à un certain stade, vous aurez envie d'enregistrer de l'audio dans Logic. Dans la deuxième partie de cette série, c'est exactement ce que nous allons faire - d'explorer les bases de la mise en place et l'enregistrement audio dans Logic. Avant de commencer, je vous recommandons de vérifier la première fois dans ce guide complet débutant à la logique ici .

Enregistrement audio dans Logic 8 ou 9 est plus rapide et plus facile que les versions précédentes. Même si vous n'avez pas une interface audio externe (comme un apogée raison t par exemple) connecté à votre Mac, vous pouvez utiliser le micro intégré ou intégré en ligne dans la connexion. Pour ce poste, je vais utiliser mon fidèle duo, mais nous allons aussi jeter un oeil à la façon dont vous pouvez choisir le dispositif qui sera logique d'enregistrer de l'audio.
Etape 1

Je vais supposer que vous avez déjà lu le premier volet de cette série et de comprendre ce qu'est un modèle et une piste est.
Si vous utilisez une interface audio externe de la première étape consiste à le brancher sur votre Mac port FireWire ou USB.
Maintenant lancez Logic et choisir un projet vide.
Etape 2

Du dialogue New Tracks sélectionnez les options suivantes:
- Une piste audio
- Format: Mono (lorsque vous enregistrez à partir d'un microphone ou ligne d'entrée comme une guitare qui est une entrée mono). C'est tout à fait normal pour enregistrer des voix, guitares, etc en utilisant un microphone.
- Entrée 1 (ou tout autre entrée que vous souhaitez enregistrer à partir de votre interface audio Dans mon cas, j'ai un microphone branché à l'entrée 1 sur ma Duet.). Vous pouvez modifier ces paramètres plus tard.
- Sortie: En sortie de signal logique par défaut devront passer par la sortie stéréo de votre interface audio sélectionnée. Je pars le mien à la sortie 1-2.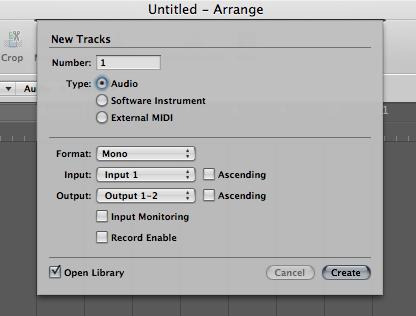 Lorsque vous avez terminé, cliquez sur Créer.
Étape 3

We need to check that Logic is setup to use your audio interface as the audio input.
Choose Logic Pro > Preferences > Audio...
Sous l'onglet Périphériques et Core Audio de s'assurer que l'option Activé est cochée. Si Core Audio est désactivé, vous ne recevrez pas les sons de la logique.
Ensuite, vous pouvez définir les périphériques d'entrée et de sortie pour Logic.
(If you are a Logic 8 user you'll be restricted to setting the Device which will use the input and output from the same device only. Pop by the Logic forums for advice on how to have Logic 8 recognize different ins and outs).
Je suis la mise en place mon appareil d'entrée que mon duo, et que j'ai mon casque branché à la prise casque de mon duo, je vais choisir comme mon duo de sortie aussi.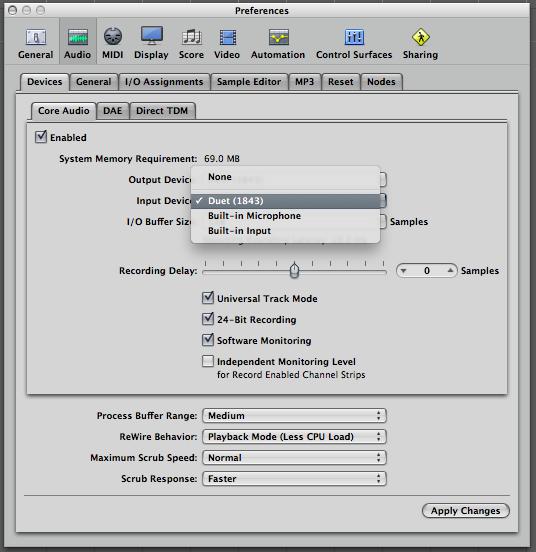 Etape 4

Je vous recommande lors de l'enregistrement audio de s'assurer que l'enregistrement 24 bits est toujours vérifiée. Si elle est laissée décochée Logic va enregistrer de l'audio à 16 bits qui vous donnera une faible plage dynamique. Je n'ai pas de place ici pour expliquer un peu plus la profondeur de bit et le taux d'échantillonnage, alors ne consulter la logique 101 et le 401 Logic fournit une brillante et d'un examen encore plus proche de la profondeur de bits et fréquence d'échantillonnage ainsi que la façon de maîtriser un projet dans Logic.
Tournage de suivi sur le logiciel va vous permettre d'entendre tout les effets d'insert que vous placez sur votre piste audio pendant l'enregistrement.
Si vous faites tous les changements cliquez sur Appliquer les modifications et fermer la fenêtre Préférences.
Etape 5

Le temps de faire démarrer l'enregistrement! Mais avant d'aller plus loin, il est important de sauvegarder votre projet en cours. Il sera ainsi beaucoup plus facile pour Logic pour savoir où placer les fichiers audio enregistrés.
Choisissez Fichier
Choisissez un dossier et donnez un nom au projet. Logic va alors créer un nouveau dossier avec ce nom et un fichier de projet à l'intérieur de ce nouveau dossier. J'aimerais vraiment vous recommandons de cocher la case à cocher Inclure les biens que cela va vous donner des options supplémentaires sur ce que les actifs ou les fichiers et les paramètres seront sauvegardés dans le dossier du projet.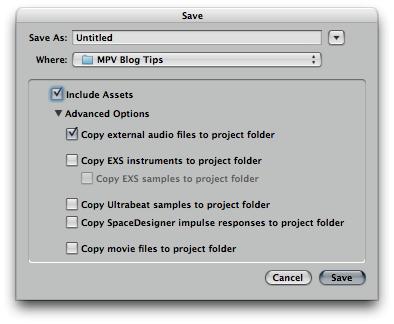 Cliquez sur Enregistrer lorsque vous avez terminé.
Etape 6

Avant de nous lancer dans l'enregistrement, nous avons besoin pour activer l'enregistrement de notre piste audio. Cela ne pouvait pas être plus simple. Cliquez sur l'icône "r" (enregistrement bouton prêt) sur la tête de la piste, ou sur le bouton Record Ready sur la bande de canaux audio de l'Inspecteur. Ils sont tous les deux une seule et même.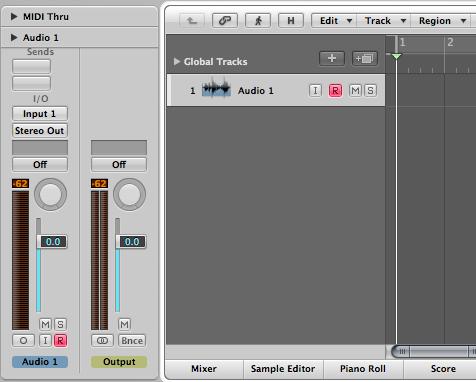 Vous devriez maintenant être en mesure d'entendre un signal de votre interface audio. Si vous ne pouvez pas vérifier l'audio 1 du Channel Strip section E / S. Assurez-vous que l'entrée et de sortie correspond à l'entrée et la sortie physique de votre interface audio.
C'est un bon temps à jouer de votre instrument et de faire en sorte que le signal audio entrant à la logique ne sera jamais écrêtage ou distorsion. Vous pouvez contrôler le gain ou niveau d'entrée de votre interface audio.
Etape 7

Ensuite, si vous enregistrez le tempo chose basée, vous pourriez aimer pour régler le tempo du projet. Par défaut, un nouveau projet a un tempo de 120 bpm. Utilisation de la piste de clic et le bouton de lecture vous pouvez obtenir un sentir pour le tempo et si elle est trop rapide ou lent. Puis ajuster la valeur du tempo en double cliquant sur la valeur numérique et en entrant une nouvelle valeur.

Étape 8

Lorsque vous êtes prêt, déplacez le curseur de lecture au début du projet (ou tout autre endroit où vous voulez commencer l'enregistrement à ) et cliquez sur le bouton Enregistrer dans le transport. Logic va commencer l'enregistrement et de décompte pour une barre en défaut.

Appuyez sur Stop lorsque vous avez terminé.
Maintenant il est temps d'écouter de nouveau à votre clic de performance sur le bouton Record Ready sur la tête de piste pour le désactiver. Cela signifie que vous ne serez pas de surveillance via votre interface audio ainsi que l'écoute de ce qui a été enregistrée dans la logique! Maintenant appuyez sur play s'asseoir et profiter de vos performances enregistrées.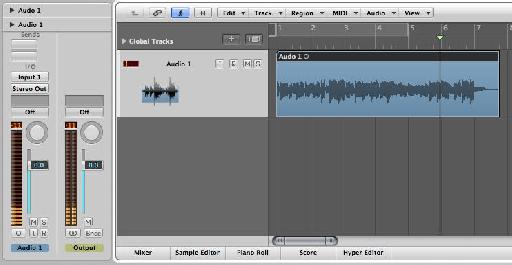 .
Et c'est tout ce qu'il ya à faire ... Ces mesures couvrent les os nus ... les bases absolue de l'enregistrement audio dans Logic 9. Il ya tellement plus à explorer, et je ne peux vraiment pas souligner assez que Logic est profond, magnifique et très capable. Pour en apprendre davantage sur la façon de punch-in, enregistrer et éditer des dossiers de prendre, comp prend, de punch à la volée, enregistrer les entrées multiples, les erreurs de synchronisation correcte, etc, etc consultez nos tutoriels Logic expert ici . La Logique 101: Logique de base est le meilleur endroit pour continuer votre voyage musical avec Logic 9.
Si vous avez besoin d'aide sur cette question ou toute autre logique ou un problème logiciel Mac nous rendre visite à www.macprovideo.com/forum/