Recording audio. Whether you are a seasoned guitarist, a hobby vocalist or even an electronic musician, at some stage you'll want to record audio into Logic. In the second part of this series that's
Registrazione audio. Che tu sia un esperto chitarrista, un cantante hobby o anche un musicista elettronico, a un certo punto ti consigliamo di registrare l'audio in Logic. Nella seconda parte di questa serie che è esattamente quello che andremo a fare - esplorare le basi della creazione e la registrazione audio in Logic. Prima di iniziare, mi consiglia di controllare la prima volta in questa guida completa per principianti Logic qui .

Registrazione audio in Logic 8 o 9 è più semplice e veloce rispetto alle versioni precedenti. Anche se non si dispone di una interfaccia audio esterna (come un Apogee causa t per esempio) collegato al Mac, è possibile utilizzare il microfono incorporato o built-in linea di collegamento. Per questo post sarò con il mio fidato Duet, ma faremo anche uno sguardo a come è possibile scegliere il dispositivo che logica si registrare l'audio da.
Fase 1

Darò per scontato che hai già letto la prima parte di questa serie e di capire che cosa un modello e una traccia è.
Se si utilizza una interfaccia audio esterna il primo passo è quello di collegarlo al Mac Firewire o USB.
Ora lancia Logic e scegliere un progetto vuoto.
Fase 2

Dal dialogo Nuovo selezionare le seguenti tracce:
- 1 traccia audio
- Formato: Mono (quando si registra da un microfono o linea di ingresso come una chitarra che è un ingresso mono). E 'abbastanza normale per registrare voce, chitarre, ecc usando un microfono.
- Ingresso 1 (o qualsiasi altra cosa di ingresso che si desidera registrare da sull'interfaccia audio Nel mio caso ho un microfono collegato all'ingresso 1 sul mio Duetto.). È possibile modificare queste impostazioni in seguito.
- Uscita: In uscita un segnale logico predefinito passerà attraverso l'uscita stereo della vostra interfaccia audio selezionato. Me ne vado miniera di uscita 1-2.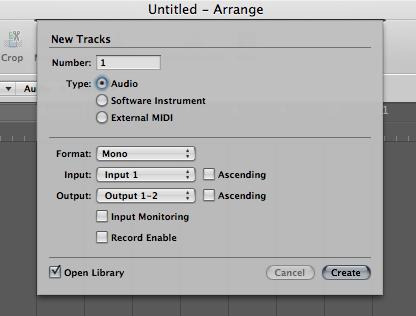 Quando hai finito, fare clic su Crea.
Fase 3

We need to check that Logic is setup to use your audio interface as the audio input.
Choose Logic Pro > Preferences > Audio...
Sotto i dispositivi e le schede Core Audio assicurarsi che sia selezionata Enabled. Se Core Audio è disabilitato avrete nessun suono fuori della logica.
Successiva è possibile impostare i dispositivi di input e output per Logic.
(If you are a Logic 8 user you'll be restricted to setting the Device which will use the input and output from the same device only. Pop by the Logic forums for advice on how to have Logic 8 recognize different ins and outs).
Sono a installare il mio dispositivo di input come il mio duetto, e come ho ottenuto il mio cuffia collegata al jack per le cuffie del mio Duet, scelgo Duet come la mia uscita troppo.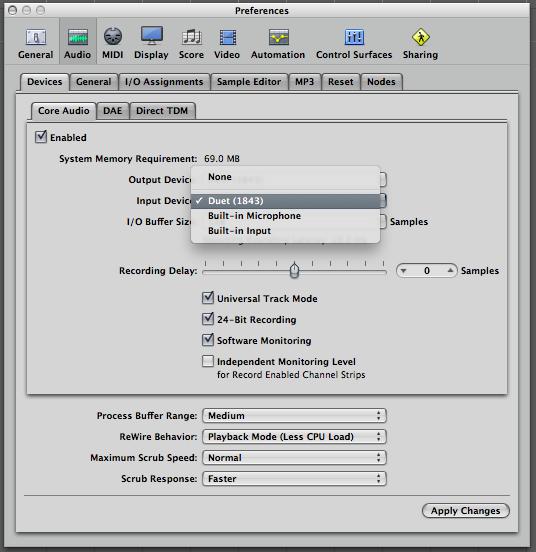 Fase 4

Mi raccomando durante la registrazione di audio per fare in modo che a 24-bit di registrazione è sempre controllato. Se viene lasciato Logic controllate, registrare l'audio a 16-bit, che vi darà una gamma dinamica più bassa. Non ho spazio qui per spiegare meglio profondità di bit e frequenze di campionamento, in modo da non controllare il Logic 101 e il 401 Logic offre una stellare e un esame ancora più stretto di profondità di bit e frequenza di campionamento e come per un Master progetto in Logic.
Software di monitoraggio svolta sulla vi permetterà di ascoltare tutti gli effetti insert si posiziona sulla traccia audio durante la registrazione.
Se sono state apportate le modifiche fare clic su Applica modifiche e chiudere la finestra Preferenze.
Fase 5

Tempo per fare iniziare la registrazione! Ma prima di andare avanti è importante per salvare il progetto corrente. In questo modo sarà molto più facile per Logic per sapere dove posizionare i file audio registrati.
Scegliere File
Scegliere una cartella e dare un nome al progetto. La logica sarà quindi creare una nuova cartella con quel nome e un file di progetto all'interno di quella nuova cartella. Mi piacerebbe davvero consigliamo di spuntare la casella di controllo includono le attività come questo vi darà ulteriori opzioni su quali sono le attività o file e le impostazioni verranno salvate nella cartella del progetto.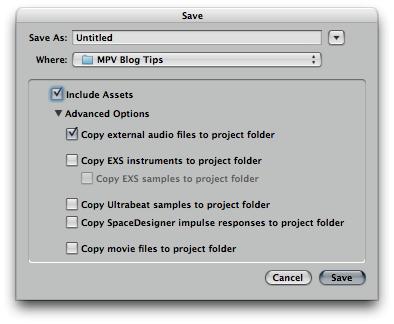 Fare clic su Salva quando hai finito.
Fase 6

Prima di addentrarsi registrazione, abbiamo bisogno di registrare consentire ai nostri traccia audio. Questo non potrebbe essere più semplice. Clicca sulla "R" icona (tasto Record ready) sull'intestazione pista, o il pulsante Record Ready sulla Striscia di canale audio nella finestra di ispezione. Sono entrambi la stessa cosa.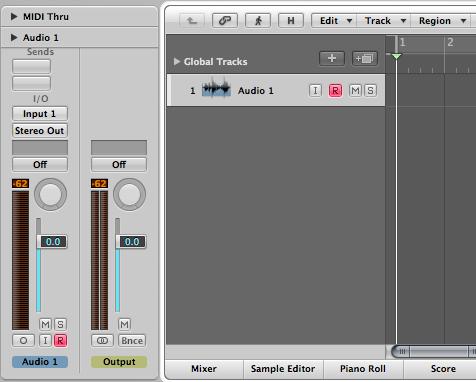 Si dovrebbe ora essere in grado di sentire un segnale dal dell'interfaccia audio. Se non è possibile controllare l'audio 1 striscia di Canale sezione I / O. Assicurarsi che l'ingresso e l'uscita corrisponde l'input fisico e di uscita della vostra interfaccia audio.
Questo è un buon momento per il suono dello strumento e assicurarsi che il segnale audio in arrivo per logica non potrà mai clipping o distorsione. È possibile controllare il guadagno o del livello di ingresso sull'interfaccia audio.
Fase 7

Poi, se si registra il tempo tutto basato, come si potrebbe regolare il tempo del progetto. Di default un nuovo progetto ha un ritmo di 120 bpm. Utilizzando la pista Fare clic e il tasto play si può ottenere un tatto per il tempo e se è troppo veloce o lento. Quindi regolare il valore del tempo con un doppio clic sul valore numerico ed entrando in un nuovo valore.

Passo 8

Quando sei pronto, spostare l'indicatore di riproduzione all'inizio del progetto (o qualsiasi punto si desidera iniziare la registrazione a) e clicca sul pulsante di registrazione nel settore dei trasporti. Logica inizierà la registrazione e count-in per una battuta di default.

Premere Stop quando hai finito.
Ora è il momento di ascoltare di nuovo al vostro rendimento cliccare sul pulsante Record Ready sulla intestazione traccia per disattivarlo. Questo significa che non verranno monitorati tramite l'interfaccia audio e l'ascolto di ciò che è stato registrato in Logic! Ora premere play sedersi e godersi le prestazioni registrate.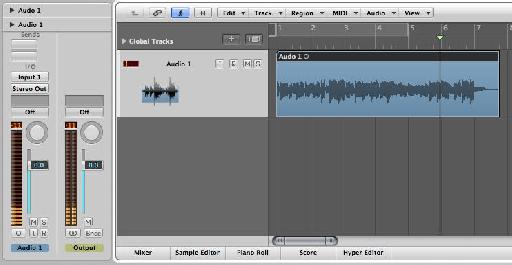 .
E questo è tutto ciò che devi fare ... Questi passaggi coprono le ossa nude ... le basi assoluto di registrazione audio in Logic 9. C'è così tanto da esplorare e davvero non posso sottolineare abbastanza che la logica è profondo, meraviglioso e molto capace. Per saperne di più su come punch-in, registrare e modificare prendere cartelle, comp prende, pugno al volo, registrare ingressi multipli, errori di temporizzazione corretta, etc, etc Controlla il nostro tutorial Logic Expert qui . Il Logic 101: Core Logic è il posto migliore per continuare il viaggio musicale con Logic 9.
Se avete bisogno di ulteriore aiuto su questo o qualsiasi altra logica o problema software Mac visitate il nostro sito www.macprovideo.com/forum/