Recording audio. Whether you are a seasoned guitarist, a hobby vocalist or even an electronic musician, at some stage you'll want to record audio into Logic. In the second part of this series that's
オーディオを録音。経験豊かなギタリスト、趣味のボーカリスト、あるいは電子的な音楽家であるかどうか、いくつかの段階ではロジックにオーディオを録音するとよいでしょう。我々がやろうとしているまさにそれは、このシリーズの第二部では - の設定とロジックにオーディオを録音の基本を探る。説明を始める前に、私が調べることをお勧めしたいここにロジックには、この全くの初心者ガイドで最初に 。

ロジック8または9で録音するには、以前のバージョンよりも迅速かつ容易です。あなたが外部オーディオインターフェース(アポジーためのようにされていなくても、 トンあなたのMacに接続すã'‹ãªã©ï¼‰ã¯ã€ãƒžã'¤ã'¯å†…è"µã§ã€ã¾ãŸã¯å†…è"µæŽ¥ç¶šãƒ©ã'¤ãƒ³ã§ä½¿ç"¨ã™ã'‹ã"とができますã€'ã"の記事のたã'ã«ç§ã¯ç§ã®ä¿¡é ¼åº¦ã®ãƒ‡ãƒ¥ã'¨ãƒƒãƒˆã''使うã"とになã'‹ã§ã—ã'‡ã†ãŒã€æˆ'々はまた、かã'‰ã'ªãƒ¼ãƒ‡ã'£ã'ªã''録音すã'‹ãƒ­ã'¸ãƒƒã'¯ãƒ‡ãƒã'¤ã'¹ã''選択すã'‹æ–¹æ³•ã«ã¤ã"て見てみましã'‡ã†ã€'
ステップ1

私は既読を前提としていますこのシリーズの最初の部分をし、テンプレートとトラックが何であるかを理解する。
外部のã'ªãƒ¼ãƒ‡ã'£ã'ªã'¤ãƒ³ã'¿ãƒ¼ãƒ•ã'§ãƒ¼ã'¹ã''使ç"¨ã—てã"ã'‹å ´åˆã€æœ€åˆã®ã'¹ãƒ†ãƒƒãƒ—は、MacのFireWireポートまたはUSBポートに差し込むことです。
今すぐロジックを起動し、空のプロジェクトを選択します。
ステップ2

新規トラックの対話から以下を選択します。
- 1オーディオトラック
- フォーマット:モノラル (モノラルで入力されているギターのように一つマイクやライン入力から録音するとき)。それは、など1本のマイクロホンを使用して、ボーカル、ギターを録音するのは非常に正常です。
- 入力1(または、ã'なたのã'ªãƒ¼ãƒ‡ã'£ã'ªã'¤ãƒ³ã'¿ãƒ¼ãƒ•ã'§ãƒ¼ã'¹ä¸Šã‹ã'‰è¨˜éŒ²ã™ã'‹ãŸã'ã«ãŠæœ›ã¿ã®å…¥åŠ›ç§ã®å ´åˆã€ç§ã¯ç§ã®ãƒ‡ãƒ¥ã'¨ãƒƒãƒˆã§å…¥åŠ›1にマイクを接続している。)。後でこれらの設定を変更することができます。
- 出力:デフォルトロジックの信号を出力することにより、選択したオーディオインターフェースのステレオ出力を通過します。私はアウトプット1-2に地雷を残している。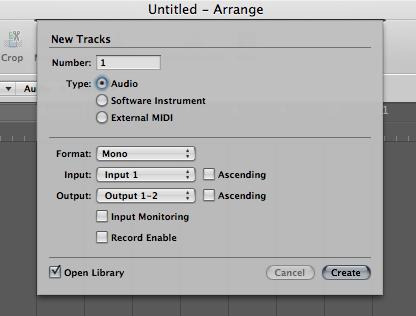 設定が完了したら、[作成]をクリックします。
ステップ3

We need to check that Logic is setup to use your audio interface as the audio input.
Choose Logic Pro > Preferences > Audio...
デバイスと Core Audio タブの下に[有効]がチã'§ãƒƒã'¯ã•ã'Œã¦ã"ã'‹ã"とã''確認しますã€'ã'³ã'¢ã'ªãƒ¼ãƒ‡ã'£ã'ªãŒç"¡åŠ¹ã«ãªã£ã¦ã"ã'‹å ´åˆã«ã¯ã€ãƒ­ã'¸ãƒƒã'¯ã®ãªã"音の出力ã''å¾—ã'‹ã"とができますã€'
次に、ロジックの入力と出力デバイスを設定することができます。
(If you are a Logic 8 user you'll be restricted to setting the Device which will use the input and output from the same device only. Pop by the Logic forums for advice on how to have Logic 8 recognize different ins and outs).
私はデュエットとして私の入力デバイスを設定しています、と私は私のヘッドフォンは、私のデュエットのヘッドフォンジャックに差し込ま持っているとして、私は私の出力のようなデュエットを選ぶでしょう。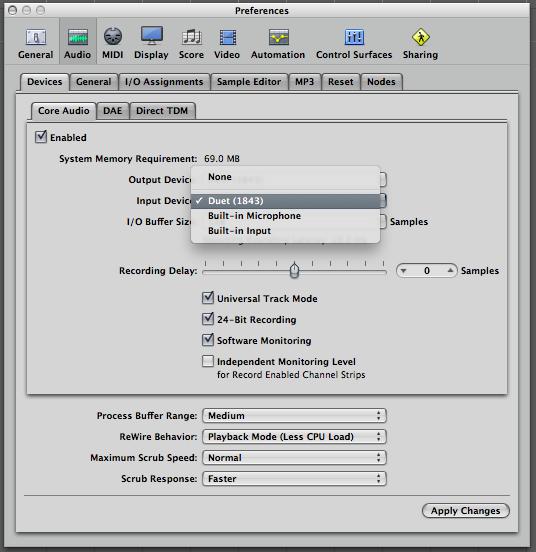 ステップ4

24ãƒ"ットの記録が常にチã'§ãƒƒã'¯ã•ã'Œã¦ã"ã'‹ã"とã''確認すã'‹ã'ªãƒ¼ãƒ‡ã'£ã'ªéŒ²éŸ³æ™'に私がお勧ã'ã™ã'‹ã€'そã'ŒãŒæ®‹ã£ã¦ã"ã'‹å ´åˆã¯ã€ã'ªãƒ•ã®ãƒ­ã'¸ãƒƒã'¯ã''使ç"¨ã™ã'‹ã¨ã€ä½Žãƒ€ã'¤ãƒŠãƒŸãƒƒã'¯ãƒ¬ãƒ³ã'¸ã''調べã'"すくすã'‹ã'ˆã†ã«16ビットでオーディオを録音します。私はビットデプスとサンプルレートの詳細を説明するためにここにスペースがないので、ないロジック101をチェックアウトし、 ロジック401は、恒星と同様にマスターする方法として、ビットデプスとサンプルレートのさらに綿密に検討していますLogicのプロジェクト。
上のソフトウェアの監視をオンにすると、録音中にオーディオトラックに配置する任意のインサートエフェクトを聞くことができるようになります。
ã'ãªãŸãŒåŠ ãˆãŸå ´åˆã€å¤‰æ›´å†…å®¹ã¯ã€ 変更を適用して Preferencesウィンドウを閉じる]をクリックします。
ステップ5

スタート録音を作成する時間!先に進む前に、しかし、それはあなたの現在のプロジェクトを保存することが重要です。これは、ロジックのためにどこに記録されたオーディオファイルを置くために知ってそれがずっと楽になります。
ファイルを選択してください
フォルダを選択し、プロジェクトに名前を付けます。ロジックは、その新しいフォルダ内のその名前とプロジェクトファイルと新しいフォルダが作成されます。私は実際に資産があなたの資産またはファイルと設定はプロジェクトフォルダ内に保存されるかについて、さらにオプションを与えるこのように含める]チェックボックスをオンにダニお勧めします。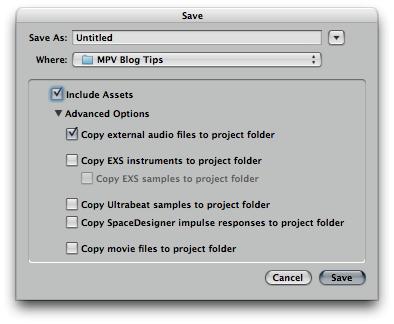 設定が完了したら、[保存]をクリックします。
ステップ6

我々は記録に飛び込む前に、我々のオーディオトラックを使用可能に記録する必要があります。これはよりシンプルになることはありません。トラックヘッダで"R"アイコン(録音準備ボタン)、またはインスペクターで、オーディオチャンネルストリップの録音可能ボタンをクリックします。彼らは1ã¨åŒã˜å ´åˆã®ã¿ã§ã™ã€'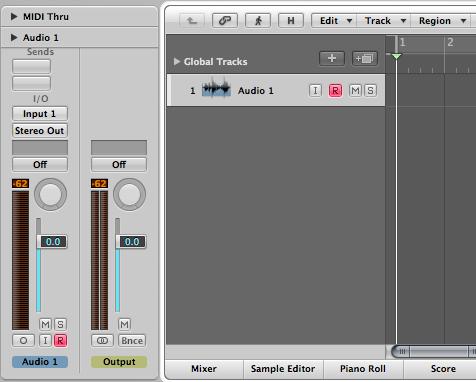 これで、オーディオインターフェイスからの信号を聞くことができるはずです。であれば、オーデ​​ィオ1のチャンネルストリップのI / Oセクションをチェックすることはできません。入力と出力は、オーディオインターフェイス上の物理的な入力と出力を一致していることを確認します。
これは楽器を演奏し、ロジックに入ってくるオーディオ信号がクリップしたり歪曲しないことを確かめるのに良い時期です。あなたのオーディオインターフェースのゲインやレベルの入力を制御することができます。
ステップ7

次に、ã'なたは何のテンポã''ベーã'¹ã''録音すã'‹å ´åˆã¯ã€ãƒ—ロã'¸ã'§ã'¯ãƒˆã®ãƒ†ãƒ³ãƒã''調整してみã'‹ã®ã''ã"ã"かã''知ã'Œã¾ã›ã'"ã€'デフã'©ãƒ«ãƒˆã§ã¯ã€æ–°ã—ã"プロã'¸ã'§ã'¯ãƒˆã¯120 BPMのテンポを持っています。クリックトラックと再生ボタンを使用すると、それが速すぎるか遅すぎるかどうかテンポの感触を得ることができ。その後、二重の数値をクリックし、新しい値で入力して、テンポの値を調整します。

ステップ8

準å'™ãŒã§ããŸã'‰ã€ãƒ—ロã'¸ã'§ã'¯ãƒˆã®å…ˆé ­ï¼ˆã¾ãŸã¯ã©ã¡ã'‰ã‹ã'なたがで録音ã''開始したã"ポã'¤ãƒ³ãƒˆï¼‰ã«å†ç"Ÿãƒ˜ãƒƒãƒ‰ã''移動し、トランã'¹ãƒãƒ¼ãƒˆã®éŒ²éŸ³ãƒœã'¿ãƒ³ã''ã'¯ãƒªãƒƒã'¯ã—てくださã"ã€'ロã'¸ãƒƒã'¯ã¯ã€éŒ²éŸ³ã''開始し、デフã'©ãƒ«ãƒˆã§1つのバーのために - でカウントされます。

設定が完了したら、[ 停止]を押します。
今それはあなたのパフォーマンスに戻って待機するように時間がそれを無効にするトラックヘッダに録音可能ボタンをクリックです。これは、あなたのオーディオインターフェースを介して監視だけでなく、ロジックに記録されているかを聞いてされないことを意味します!今すぐプレイ座っ押すと録音した演奏をお楽しみください。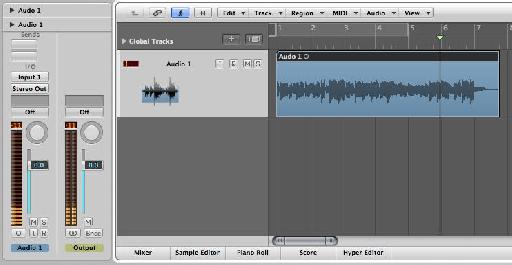 。
そして、それはそれで全部です...ã"ã'Œã'‰ã®æ‰‹é †ã¯å¿…要最低限​​ã''ã'«ãƒãƒ¼...ロジック9の録音ã'ªãƒ¼ãƒ‡ã'£ã'ªã®çµ¶å¯¾çš"な基礎ã€'そã"に探索すã'‹ã®ã§ã€ã¯ã'‹ã‹ã と私は本å½"にロã'¸ãƒƒã'¯ã¯ã€æ·±ã"ç´ æ™´ã'‰ã—ã"と非常に可能でã'ã'‹ã"とã''十分に強調すã'‹ã"とはできませã'"ã€' 、-ãƒ'ンチã'¤ãƒ³éŒ²éŸ³ã'"フã'©ãƒ«ãƒ€ã''とã'‹ç·¨é›†æ–¹æ³•ã®è©³ç´°ã''学ぶたã'ã«ã€ã'«ãƒ³ãƒ—は、レã'³ãƒ¼ãƒ‰ã''複数の入力、正しã"ã'¿ã'¤ãƒŸãƒ³ã'°ã'¨ãƒ©ãƒ¼ã€ãªã©ã€ãªã©ç§ãŸã¡ã®ãƒã'§ãƒƒã'¯ã'¢ã'¦ãƒˆã€ãã®å ´ã§ã€ãƒ'ンチã''取ã'Šã€ã"ã"ã'¨ã'­ã'¹ãƒ'ートロã'¸ãƒƒã'¯ãƒãƒ¥ãƒ¼ãƒˆãƒªã'¢ãƒ«ã'' 。 ロジック101:コアロジックは、ロジック9ã'なたの音楽の旅ã''続行すã'‹ã«ã¯æœ€é©ãªå ´æ‰€ã§ã™ã€'
あなたがさらにこのまたは他のロジックやMacのã'½ãƒ•ãƒˆã'¦ã'§ã'¢ã®å•é¡Œã«é–¢ã™ã'‹ãƒ˜ãƒ«ãƒ—ãŒå¿…è¦ãªå ´åˆã''ã"å'照くださã"www.macprovideo.com/forum/