Recording audio. Whether you are a seasoned guitarist, a hobby vocalist or even an electronic musician, at some stage you'll want to record audio into Logic. In the second part of this series that's
Gravação de áudio. Se você é um guitarrista experiente, um vocalista hobby ou mesmo um músico eletrônico, em algum momento você vai querer gravar áudio em Lógica. Na segunda parte desta série que é exatamente o que vamos fazer - explorar os conceitos básicos de criação e gravação de áudio em Lógica. Antes de começarmos, eu recomendo verificar o primeiro neste Guia Completo para Iniciantes Logic aqui .

Gravação de áudio no Logic 8 ou 9 é mais rápido e mais fácil do que as versões anteriores. Mesmo se você não tem uma interface de áudio externo (como um Apogee Devido t por exemplo) conectado ao seu Mac, você pode usar o built-in Mic ou built-in line-in de conexão. Para este post eu vou estar usando o meu trusty Duet, mas nós também vamos dar uma olhada em como você pode escolher o dispositivo que Logic irá gravar áudio.
Passo 1

Eu vou assumir que você já leu a primeira parte desta série e entender o que um modelo e uma faixa é.
Se você estiver usando uma interface de áudio externa o primeiro passo é a ligá-lo em seus Macs Firewire ou USB.
Agora lançar Logic e escolha um projeto vazio.
Passo 2

Do diálogo New Tracks selecione o seguinte:
- 1 faixa de áudio
- Formato: Mono (quando você gravar a partir de um microfone ou entrada de linha-como uma guitarra que é uma entrada mono). É completamente normal para gravar os vocais, guitarras, etc usando um microfone.
- Entrada 1 (ou qualquer entrada que você deseja gravar a partir de sua interface de áudio No meu caso eu tiver um microfone conectado a uma entrada no meu Duet.). Você pode alterar essas configurações mais tarde.
- Saída: Por Logic saída padrão de sinal passará através da saída estéreo de sua interface de áudio selecionado. Estou deixando minha saída em 02/01.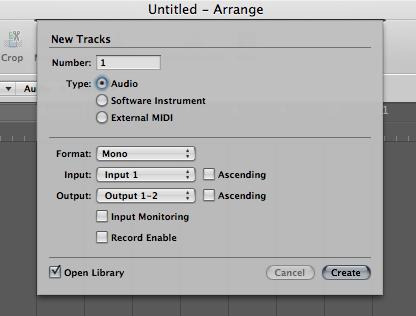 Quando estiver pronto, clique em Criar.
Passo 3

We need to check that Logic is setup to use your audio interface as the audio input.
Choose Logic Pro > Preferences > Audio...
De acordo com os dispositivos e guias Core Audio certifique-se que Ativado está marcada. Se Core Audio está desativada você vai ter nenhuma saída de som da Logic.
Em seguida, você pode configurar os dispositivos de entrada e saída para Logic.
(If you are a Logic 8 user you'll be restricted to setting the Device which will use the input and output from the same device only. Pop by the Logic forums for advice on how to have Logic 8 recognize different ins and outs).
Eu sou a criação de meu dispositivo de entrada como o meu Duet, e como eu tenho o meu fone de ouvido conectado ao fone de ouvido do meu Duet, eu vou escolher Duet como a minha saída também.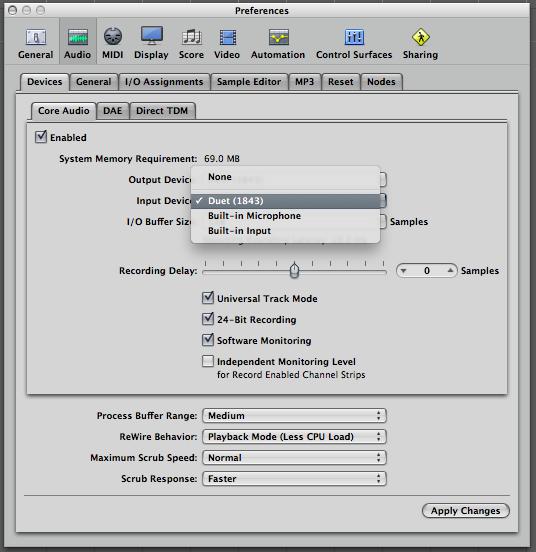 Passo 4

Eu recomendaria quando a gravação de áudio para se certificar de que 24-bit de gravação é sempre verificada. Se for deixado desmarcado Logic irá gravar áudio em 16 bits, que lhe dará uma menor gama dinâmica. Eu não tenho espaço aqui para explicar mais sobre profundidade de bits e taxas de amostragem, assim como verificar o Logic 101 e os 401 Logic fornece um estelar e um exame ainda mais próximo de profundidade de bits e taxa de amostragem, bem como a forma de um Mestre projeto em Lógica.
Turning monitoramento Software em lhe permitirá ouvir qualquer efeitos de inserção que você coloca em sua faixa de áudio durante a gravação.
Se você fez alguma alteração clique em Aplicar alterações e fechar a janela Preferences.
Passo 5

Tempo para fazer a gravação começar! Mas antes de irmos adiante é importante para salvar seu projeto atual. Isto tornará muito mais fácil para Logic saber onde colocar os arquivos de áudio gravados.
Escolha Arquivo
Escolha uma pasta e dar um nome ao projeto. Lógica, então, criar uma nova pasta com esse nome e um arquivo de projeto dentro dessa pasta nova. Eu realmente recomendo que você marque a caixa de seleção incluem ativos como isso vai lhe dar mais opções do que ativos ou arquivos e configurações serão salvas dentro da pasta do projeto.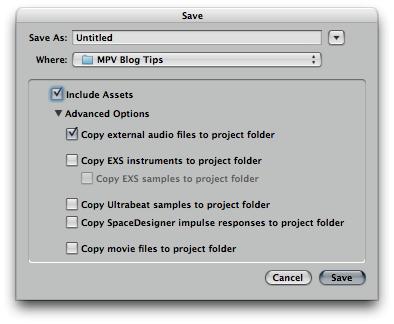 Clique em Salvar quando terminar.
Passo 6

Antes de saltar para a gravação, é preciso registrar que nossos faixa de áudio. Isso não poderia ser mais simples. Clique no "R" ícone (botão pronto Record) no topo da pista, ou o botão Record Ready na Faixa de Canais de Áudio no Inspector. Ambos são uma ea mesma coisa.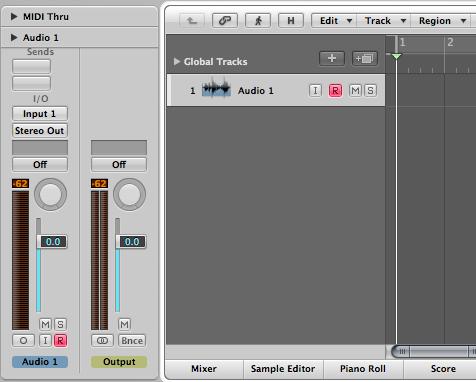 Agora você deve ser capaz de ouvir um sinal de sua interface de áudio. Se você não pode verificar o Audio 1 Canal de tiras a seção I / O. Certifique-se que a entrada ea saída coincide com a entrada física e saída em sua interface de áudio.
Este é um bom momento para tocar o instrumento e certifique-se que o sinal de áudio vindo para Logic nunca clipping ou distorção. Você pode controlar o ganho ou a entrada de nível na sua interface de áudio.
Passo 7

Em seguida, se você está gravando nada ritmo baseado, você pôde gostar de ajustar o andamento do projeto. Por padrão um novo projeto tem um ritmo de 120 bpm. Usando a trilha Clique no botão play e você pode começar uma sensação para o tempo e se é rápido ou lento demais. Em seguida, ajuste o valor do ritmo, clicando duas vezes sobre o valor numérico e entrando em um novo valor.

Passo 8

Quando estiver pronto, mova o indicador de reprodução para o início do projeto (ou qualquer ponto em que deseja iniciar a gravação de menos) e clique no botão Gravar no Transporte. Lógica começará a gravar e conte-nos para um bar por padrão.

Pressione Parar quando tiver terminado.
Agora é hora de ouvir de volta ao seu desempenho, clique no botão Record Ready na faixa cabeçalho para desativá-lo. Isto significa que não estará monitorando através de sua interface de áudio, bem como ouvir o que foi gravado em Lógica! Agora aperta o play sentar e desfrutar da sua apresentação gravada.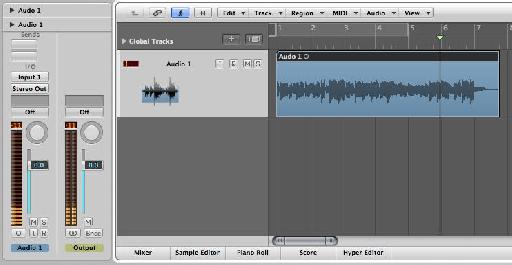 .
E isso é tudo que existe para ela ... Estes passos cobrem o esqueleto ... os princípios absolutos de gravação de áudio no Logic 9. Há muito mais para explorar e eu realmente não posso forçar bastante que a Lógica é profundo, maravilhoso e muito capaz. Para saber mais sobre a forma de punch-in, gravar e editar levar pastas, comp leva, soco na mosca, registo de entradas múltiplas, os erros de timing correto, etc, etc confira nossos tutoriais Logic Especialista aqui . O Logic 101: Lógica de Núcleo é o melhor lugar para continuar a sua viagem musical com o Logic 9.
Se você precisar de mais ajuda sobre este ou qualquer outra lógica ou problema de software Mac visite-nos em www.macprovideo.com/forum/