إنشاء الطبال انقر الصوت ودية في المسار برو المنطق
There's a common need amongst producers and bands who use Logic Pro: to record the click track to an audio file. Apple Certified Trainer, Rounik Sethi shares a quick and dirty 5 minute solution.
ثيريس مجموعة ممتازة من synths الطبل والطبلة صك المكونات الإضافية هناك ، وليس فقط من أجل الإلكترونية ، ولكن لالغيتار الصوتية والمستندة إلى الروك والبوب. هذا يجعل من الممكن تماما للبرنامج الخاص أنماط طبل الخاصة مع أكثر من تعقيدات ، والفروق الدقيقة التي الرتوش لاعب الدرامز الحقيقي يرتفع الى طاولة المفاوضات. وبينما thats كبيرة عندما كنت في رسم معالم هذا الترتيب في الاستوديو ، وعندما يلعب حية أو تسجيل أغنيتك النهائي ، في أكثر من المرجح يوول تريد أن يكون لها والبشرية الحقيقية "عصا التدوير' الطبال إلى الاعتماد عليها.
إيف بعد العثور على الطبل في المكونات التي يمكن برم العصي منتصف الأداء. يمكن الطبال الخاص برم العصي ، أليس كذلك؟

انها أصبحت أكثر شيوعا لاعب الدرامز ، في تسجيل الأجزاء طبلة النهائي في الاستوديو الخاصة بها عن بعد. في هذه الحالة سوف ينتهي بك الأمر إرسالها أغنيتك عن طريق البريد الحلزون أو عبر الشبكة. وثيريس one انهم طلب معينة لوضع فيه.. بنقرة والمسار للعب جنبا إلى جنب ل. هذه ليست مفيدة فقط اذا كنت تستخدم شعبة النهوض بالمرأة مختلفة للكم ، ولكن أمر ضروري إذا كان يحتوي على تغييرات أغنيتك الإيقاع.

في هذه المقالة أيضا اتخاذ نظرة على طريقة سريعة وسهلة من المستغرب لخلق ودية الطبال فوق المسار في برو المنطق بضع خطوات بسيطة...

الخطوة 1 -- ابدأ مع مشروع
ايم باستخدام مشروعا حيث يبدأ في وتيرة 89.9921 (أي الأكثر شيوعا وشعبية في الوتائر) وينتهي عند 98 نبضة في الدقيقة.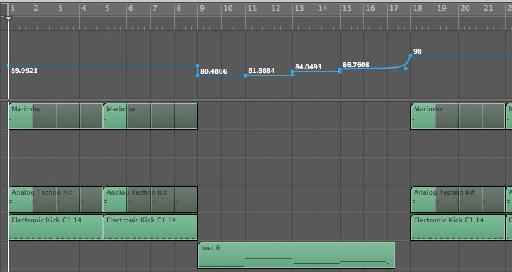 الخطوة 2 -- انقر على المسار
بدوره على المنطق انقر في شريط النقل أو عن طريق الأوامر المفتاح إذا كنت قد ارتكبت على الذاكرة.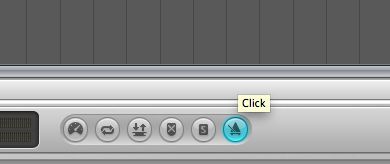 الخطوة 3 -- خيارات ترتد
في هذه الحالة أود أن ترتد المسار فوق الصوتية كملف منفصل (مختلطة في لأغنية بأكمله). اما كتم جميع المسارات في المنطقة من خلال ترتيب انقر الضرب تبديل المسار كتم أو كتم جميع المناطق.
اختر ملف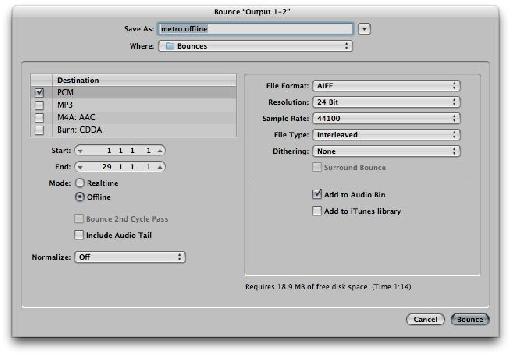 اضغط على زر ترتد مرة كنت جاهزا.
الخطوة 4 -- التحقق من تنطط
انها دائما فكرة جيدة للتحقق من الملف قبل إرسالها إلى شخص ما.
فتح بن (B على لوحة المفاتيح) وسترى ملف المسار النقر فوق المرتجعة هناك. اسحبه إلى مساحة فارغة في المنطقة وترتيب خط هذا الامر مع بدء المشروع ، أو في أي مكان اخترت لترتد منه.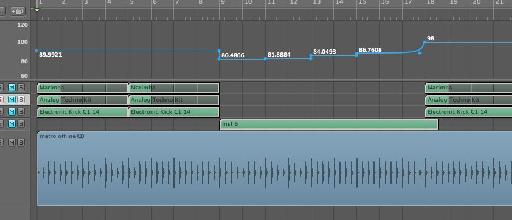 يجب أن تكون قادرا على رؤية من الموجي إذا كانت أي أصوات أخرى ارتدت عن طريق الخطأ إلى فوق ملف المسار دون الاستماع إليها مرة أخرى.
وهذا كل ما في الامر. لديك الآن فوق المسار كملف صوتي لإرسالها إلى لاعب الدرامز.