There's a common need amongst producers and bands who use Logic Pro: to record the click track to an audio file. Apple Certified Trainer, Rounik Sethi shares a quick and dirty 5 minute solution.
Theres une excellente gamme de synthés à tambour et le tambour instrument en plug-ins là -bas, non seulement pour l'electronica, mais pour la guitare acoustique et à base rock et pop. Cela rend tout à fait possible de programmer vos propres patterns de batterie avec la plupart des volants, les subtilités et les nuances qu'un vrai batteur apporte à la table. Et tandis que des thats beaucoup lorsque vous êtes esquisser un arrangement en studio, lors de la lecture en direct ou enregistrer votre chanson finale, ses plus de youll probablement envie d'avoir une vraie, humaine «bâton virevoltant 'le batteur sur qui compter.
Ive encore à trouver un tambour plug-in qui peut tournoyer des bâtons mi-performances. Votre batteur peut tournoyer des bâtons, non?

Il devient plus commun pour un batteur pour enregistrer les parties de batterie final dans leur propre studio à distance. Dans ce cas, vous finirez par en leur envoyant votre chanson par courrier ou sur le net. Et theres une theyre demander certains de mettre po .. un clic-piste à lire le long d'. Ce n'est pas seulement utile si ils utilisent un DAW différentes de vous, mais elle est essentielle si votre morceau contient des changements de tempo.

Dans cet article, ainsi jeter un oeil à une manière étonnamment rapide et facile de créer un batteur amicale cliquez-piste dans Pro Logic quelques étapes simples ...

Étape 1 - Commencez par un projet
Im en utilisant un projet où le tempo commence à 89,9921 (que la plupart des communes populaires et de tempos) et finit à 98 bpm.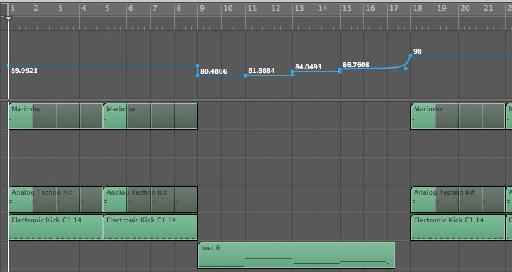 Etape 2 - Cliquez sur piste
Allumez le Logiques Cliquez dans la barre de transport ou par raccourci clavier si youve il s'est engagé à la mémoire.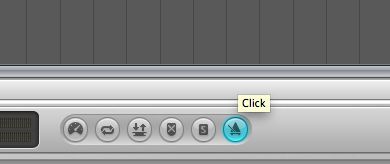 Étape 3 - Options de rebond
Dans ce cas, je souhaite faire rebondir la piste de clic comme un fichier audio séparé (mélangés dans la chanson en entier). Soit couper toutes les pistes dans la zone Arrangement par un clic-glisser les commutateurs muet de voie ou de couper toutes les régions.
Choisissez Fichier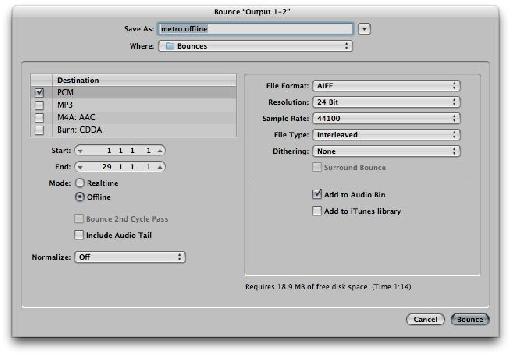 Cliquez sur le bouton Bounce fois vous êtes prêt.
Étape 4 - Vérifiez le rebond
C'est toujours une bonne idée de vérifier le fichier avant de l'envoyer à quelqu'un.
Ouvrez le bac (B sur votre clavier) et vous devriez voir le fichier de piste clic vous rebondi là -bas. Faites-le glisser dans un espace vide dans la zone Arrangement et s'aligner avec le début du projet, ou partout où vous avez choisi de rebondir à partir.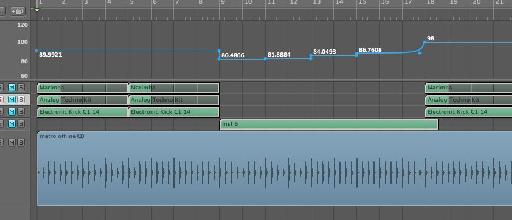 Vous devriez être capable de voir de la forme d'onde, si d'autres sons ont été erronément rebondi vers le fichier piste de clic sans écouter revenir.
Et c'est tout ce qu'il ya à faire. Vous avez maintenant une piste de clic comme un fichier audio à envoyer à un batteur.