로직 프로에서 드럼을 연주 했었는데 ì¹œì ˆí•œ 오디오 클릭 트랙 만들기
There's a common need amongst producers and bands who use Logic Pro: to record the click track to an audio file. Apple Certified Trainer, Rounik Sethi shares a quick and dirty 5 minute solution.
뿐 아니라 ì¼ë ‰íŠ¸ë¡œ 니카에 대한하지만, 음향 및 기타 기반의 바위와 팝업 그곳에 드럼 synths와 드럼 악기 플러그인의 훌륭한 범위를 Theres. 이것은 매우 가능한 하지요, 복잡한와 ì‹¤ì œ 드러머는 테이블에 ê°€ì ¸ë‹¤ë˜ëŠ" 뉘앙스의 대부분과 함께 ìžì‹ ì˜ 드럼 패턴을 프로그램합니다. ê·¸ë¦¬ê³  마지막 노래를 라이브 연주하거나 녹음 ë•Œ 스튜디오에서 협상을 스케치 개봉된 좋은 ê³³ì´ì£ ê°€, ê·¸ 가능성이 youll 이상에 의존하는 드러머가 진짜 인간 '휘두르네 스틱'을 ê°–ê³  싶어하는 동안.
필자는 아직 스틱 중간의 성능을 íŽ´ê³  수있는 플러그인 북을 찾을 수 있습니다. ë‹¹ì‹ ì˜ 드러머, ê·¸ë ‡ì§€ 스틱을 íŽ´ê³  수 있습니까?

그것은 원격으로 ìžì‹ ì˜ 스튜디오에서 최종 드럼 부품을 기록에 드럼에 대한 더 ì¼ë°˜ì ì¸ 돼가는 êµ°. 이 경우에 ë‹¹ì‹ ì€ 달팽이 메일이나 네트워크를 통해 그들이 노래를 보내는 끝ë'  것 같은데. ê·¸ë¦¬ê³  넣었 하나의 요청 theyre íŠ¹ì • theres .. 클릭 ì¶"ì í•˜ê¸° 위해 함께 ìž¬ìƒí•  수도 있습니다. 이것은 그들이 ë‹¹ì‹ ì—ê²Œ 다른 갈가 마귀를 사용하는 경우뿐만 아니라 ìœ ìš©í•©ë‹ˆë‹¤,하지만 노래는 템포의 변경 사항을 포함하는 경우 í•"ìˆ˜ì ìž…ë‹ˆë‹¤.

이 문서에 잘 로직 프로 간단한 단계를 몇에서 드럼을 연주 했었는데 ì¹œì ˆí•œ 클릭 ì¶"ì ì" 생성하기 위해 놀라울 ì •ë"ë¡œ ë¹ ë¥´ê³  쉬운 방법을 좀 봐 ...

1 단계 - í""ë¡œì íŠ¸ 시작
IM은 템포가 89.9921 (tempos의 가장 ì¼ë°˜ì ì´ê³  인기있는)에서 시작 BPM 98에서 끝나 í""ë¡œì íŠ¸ë¥¼ 사용합니다.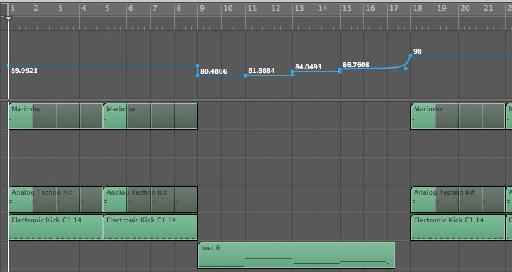 2 단계 - ì¶"ì ì" 클릭합니다
youveê°€ 메모리에 최ì" ì" ë‹¤í•˜ê³  경우 교통 표시줄에 또는 키 ëª…ë ¹ì" 통해 Logics 클릭 켭니다.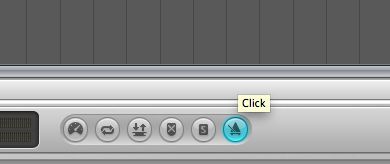 3 단계 - 바운스 옵션
이 경우 필자는 별도의 오디오 파일 (ì "ì²´ 노래에 혼합)ë¡œ 클릭 트랙을 ë°˜ì†¡í•˜ê³  싶습니다. 어느 트랙 음소거 스위치를 클릭 - 패스 í•œ 번 찍어 주시면으로 ì •ë ¬ 영역에있는 모ë"  트랙을 음소거하거나 모ë"  영역을 묵음.
파일을 ì" 택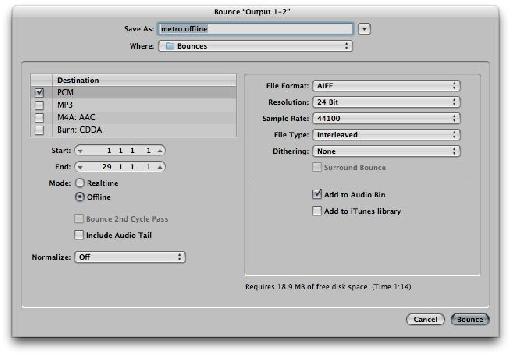 반송 버튼을 클릭하면 한 번 준비가 개봉된.
4 단계 - 바운스를 확인
그것은 항상 사람에게 그것을 보내기 ì "에 파일을 확인하는 것이 좋습니다.
빈을 (키보드에서 B)를 ì—´ê³  ë‹¹ì‹ ì´ 부도 클릭 ì¶"ì  파일을 참조해야합니다. ì •ë ¬ 영역의 빈 공간에 ê·¸ 파일을 드래그 앤 í""ë¡œì íŠ¸ì˜ 시작과 함께 줄을하거나로부터 반송하기로 곳으로.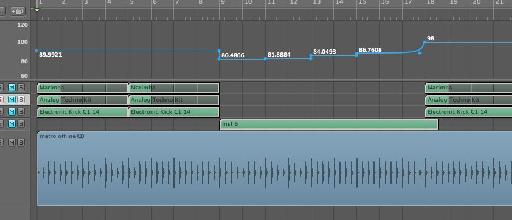 ë‹¹ì‹ ì€ 다른 소리가 실수로 그것을 다시 청취하지 ì•Šê³  클릭 ì¶"ì  파일에 보냅니다되었는지 파형에서 ë³¼ 수 있어야합니다.
모ë"  놀라워 그것 있습니다. ì´ì œ 드러머에게 보내주는 오디오 파일을 클릭 트랙을했습니다.