There's a common need amongst producers and bands who use Logic Pro: to record the click track to an audio file. Apple Certified Trainer, Rounik Sethi shares a quick and dirty 5 minute solution.
Theres uma excelente gama de sintetizadores e drum drum instrumento plug-ins lá fora, não apenas para música eletrônica, mas para guitarra acústica e baseada em rock e pop. Isso torna perfeitamente possível programar o seu próprio tambor padrões com a maioria dos frills, meandros e nuances que um baterista de verdade traz para a mesa. E enquanto isso é ótimo quando você está esboçando um arranjo no estúdio, quando tocar ao vivo ou gravar sua música final, seus mais de youll provavelmente quer ter um real, "pau twirling" humano baterista para confiar.
Ive para encontrar ainda um tambor plug-in que pode twirl varas mid-desempenho. Seu baterista pode twirl varas, certo?

Está se tornando mais comum para um baterista para gravar as partes de bateria final em seu próprio estúdio remotamente. Neste caso, você vai acabar enviando a sua música por correio ou através da rede. E há um theyre pedido certo para colocar dentro .. um clique-track para jogar junto. Este não é apenas útil se estiver usando um DAW diferente para você, mas é essencial para que a sua música contém mudanças de tempo.

Neste artigo também dar uma olhada em uma maneira surpreendentemente rápida e fácil para criar um baterista amigo clique faixa-in Logic Pro alguns passos simples ...

Passo 1 - Comece com um projeto
Im usando um projeto onde o tempo começa a 89,9921 (que o mais comum e popular de tempos) e termina em 98 bpm.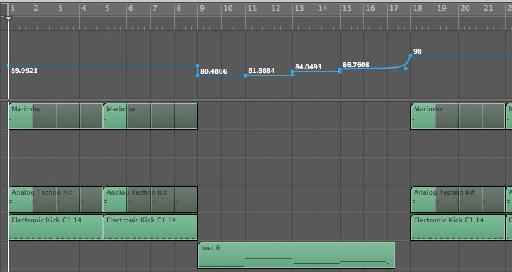 Passo 2 - Clique Track
Ligue o Logics Clique na barra de transporte ou por meio de comando chave se youve cometeu à memória.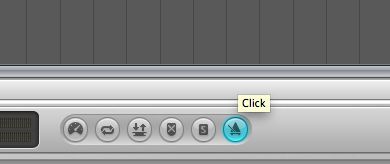 Passo 3 - Opções de Bounce
Neste caso eu gostaria de devolver o metrônomo como um arquivo de áudio separado (misturados para a canção inteira). Ou silenciar todas as faixas na área Organizar por click-swiping os interruptores track mute ou mudo todas as regiões.
Escolha Arquivo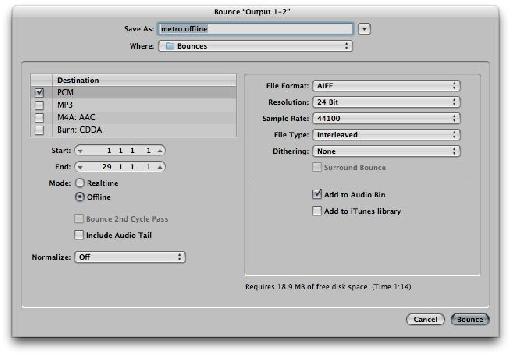 Aperte o botão Bounce uma vez você está pronto.
Passo 4 - Verifique o Bounce
É sempre uma boa idéia para verificar o arquivo antes de enviá-lo para alguém.
Abra o Bin (B no seu teclado) e você deverá ver o arquivo clique pista você voltaram lá. Arrastá-lo para um espaço vazio na área de Organizar e alinhá-lo com o início do projeto, ou onde quer que você escolheu para se difundir.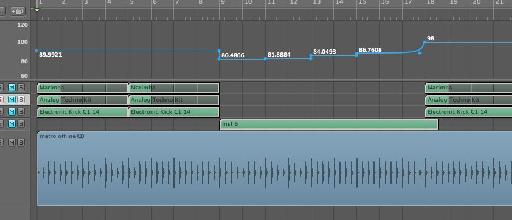 Você deve ser capaz de ver a forma de onda se houver outros sons têm sido erroneamente devolvida para o arquivo clique pista sem ouvir de volta a ele.
E isso é tudo que existe para ele. Agora você tem um metrônomo como um arquivo de áudio para enviar para um baterista.