Creating chord charts needn't be a long, drawn-out, laborious process. In this quick tutorial we'll explore how to make a chord chart quickly leaving you more time to create your music in Logic Pro.
منطق برو لديه بعض الأدوات يحرز تقدما جميلة. في هذا غيض سريع تشغيل إساءة لكم من خلال كيفية جعل رسما بيانيا وتر سريعة وقذرة لأغنية.
الخطوة 1
هناك طريقتان يمكنك القيام بذلك الخطوة الأولى. يمكنك أن تأخذ إما جزءا من القائمة MIDI أغنيتك التي تحدد الخطوط العريضة للهيكل وتر الأساسية (مثل لوحة) أو إنشاء جزء جديد. أيهما الطريقة التي تختارها ينبغي أن تكون بسيطة MIDI القتلى.
كل ما تريد هي voicings وتر الأساسية ، أي بت زخرفي! أدناه تستطيع أن ترى بعض الحبال الأساسية التي لعبت فيها إيف إيف المكممة أيضا لهم أيضا الشبكة. عند استخدام هذه التقنية ، بسيط هو أفضل.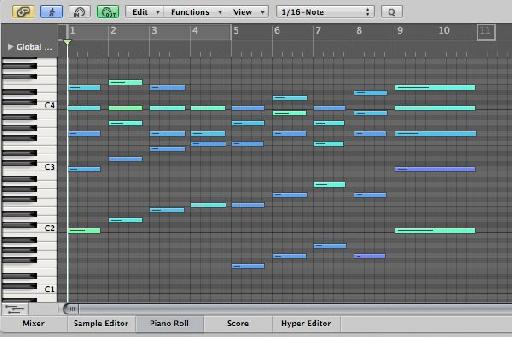 الخطوة 2
وبمجرد الانتهاء من جزء بسيط MIDI مزدوجا فوق التحكم في المسارات العالمية. تأكد من أن الحبل هو علامة.

الخطوة 3
مع الجزء الخاص MIDI فتح الممر المحدد لأعلى الحبل واضغط على "تحليل". ومنطق العمل بها ، وتظهر أسماء الحبال في حارة الحبل. هذا هو السبب يجب أن تبقي جزءا بسيطة بقدر الإمكان ، وإلا فإن هذا التحليل تصبح نوعا من الفوضى!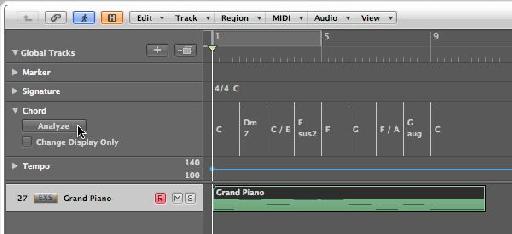 الخطوة 4
مع الجزء الخاص بك لا تزال مفتوحة حتى تحديد نقاط محرر صفحة الرأي وتمكين (زر أزرق). في الجزء معلمات مربع تغيير التنسيق لوظيفة ورقة. هذا هو تنسيق مشتركة للمخططات التي عادة الحبال الصوتية واللحن (مثل كتاب ريال مدريد).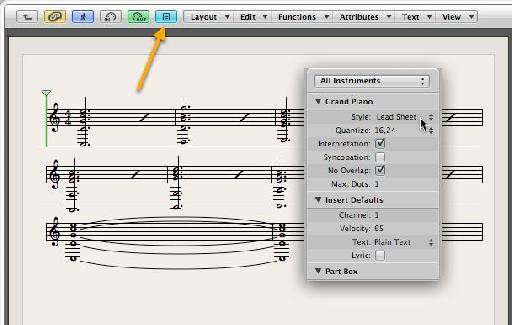 الخطوة 5
الآن في القائمة المحلية ، اختر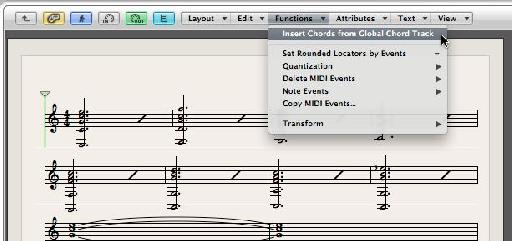 الخطوة 6
والحبال الخاصة بك الآن تظهر بطريقة سحرية على الرسم البياني.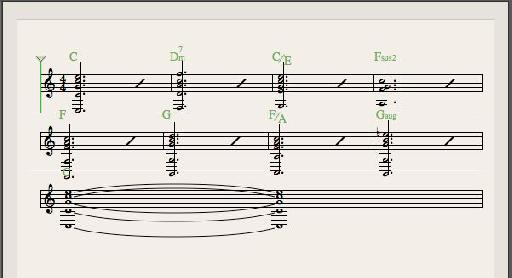 الخطوة 7
فأنت في هذه المرحلة الآن بحاجة لتنظيف الامور. نحن لا نحتاج إلى الملاحظات من الحبال على تجنب ذلك يذهب في وحذفها من الجزء MIDI. فأنت في نهاية المطاف مع مخطط الوتر نظيفة جميلة.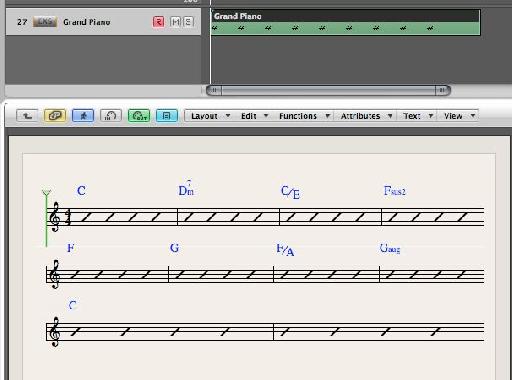 الخطوة 8
الآن نحن بحاجة فقط إلى إضافة اللقب. يتيح تنسيق الصفحات قليلا. فتح إعدادات نقاط العالمية. يمكنك القيام بذلك بطريقتين. إعدادات
ايم الذهاب الى إضافة بعض الهامش العلوي للصفحة حتى استطيع ادخال عنوان :

الخطوة 9
ثم في إطار نص مفتوح درجة إساءة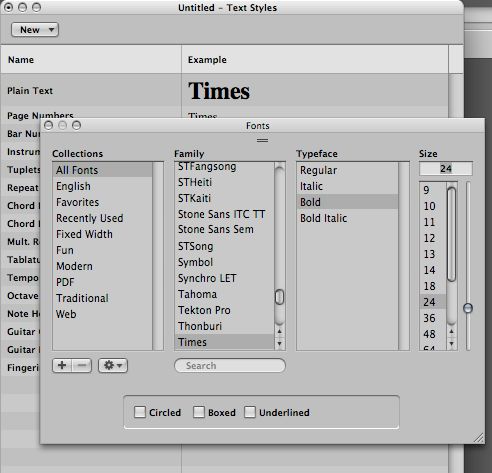 الخطوة 10
في مربع الجزء حدد رمز النص (والكبار) واسحب تسمية النص إلى الرأس.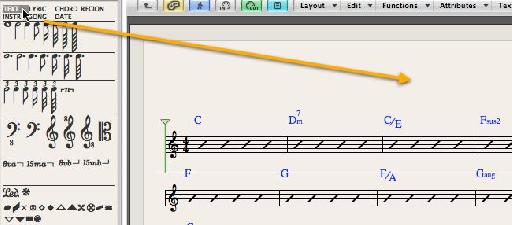 الخطوة 11
إعطاء اسم الأغنية.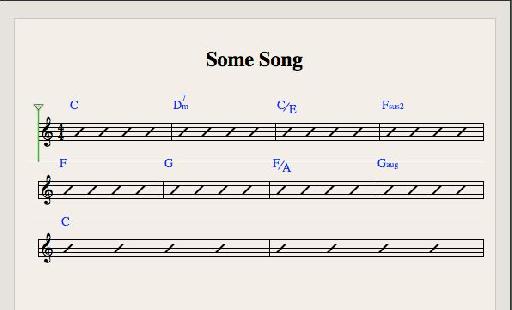 جميع thats غادر الى القيام به هو طباعة تحفة الخاص بك.
يمكنك جعل جعل الرسوم البيانية وبسيطة (مثل هذه) ، أو معقدة كما تشاء. أفعل كل هذا الوقت لمخططات سريعة لوتر العربات ، الخ... والكبير لأنه يأخذ حرفيا بضع دقائق القيام به في برو المنطق .