When it comes to music production, some little tricks can go a long way. Toby Pitman shows how to use MIDI pressure to add complex textures and motion to your synth sounds in Logic Pro X.
So here's a cool little technique I've been experimenting with lately. It's a great way to add complex motion and textures to synth sounds without a great deal of in-depth '˜synth' programming. It's also a very expressive and fun way to play with effects performances in mixes.
I've been been doing this using Maschine (for reasons I'll come to later) but it'll work with any MIDI keyboard that sends Aftertouch or even better Poly-Pressure (Polyphonic Aftertouch).
The idea was to use this pressure data to control Bus sends in Logic on a channel strip. The harder you press the greater the send level to the effects. This can add complex, unique and evolving elements to the sound really easily using certain effects chains on the Bus. Using pressure to control parameters is actually really natural and intuitive and can be played in a lot of rhythmic and dynamic ways.
Here's what I do. This is just a quick simple example.
Step 1 - Basic Sound
I've got a really basic synth pad in NI Massive playing some chords.

I've Created a Send on the synth track to Bus 1 where I've set up an ambient rhythmic FX patch. The rhythm is created by some sequenced gating in Audio Damage Big Seq. Then some Flanging and Reverb etc.

Step 2 - The Environment
I've created a New > Instrument in the Environment and called it '˜Pressure To Bus Send'.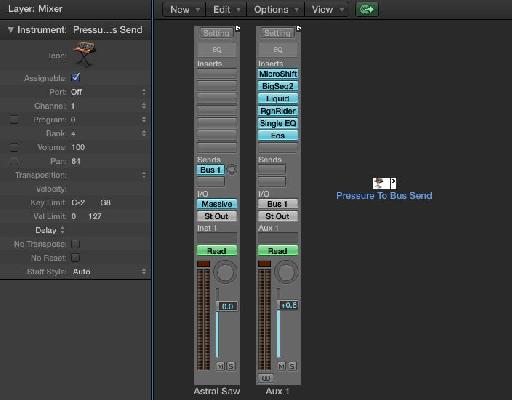 I've then created a New Track and assigned it to this Instrument.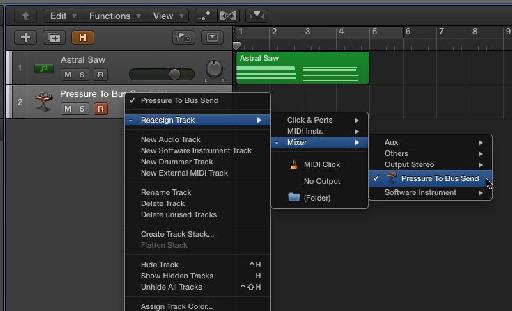 Back in the Environment I've created a New > Transformer and labeled it '˜Fix Pressure'. I've connected the '˜Pressure To Bus Send' Instrument into this Transformer and then out into the Massive channel strip.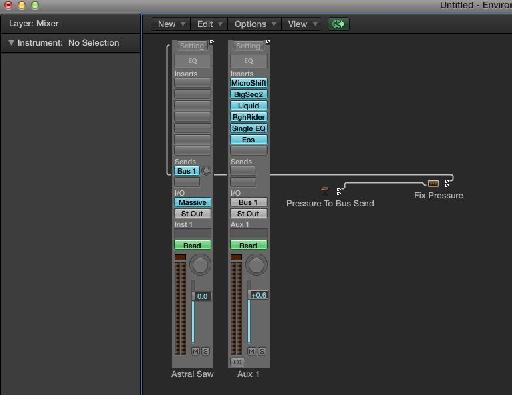 Now I need to add some functionality to the Transformer. First I need to find the parameter number of the Bus 1 send so I can target it. I do this by plugging the Massive Channel Strip in a New > Monitor. When I move the Send knob I can see it's a '˜Fader' message on MIDI Ch 1 with a parameter number of 28.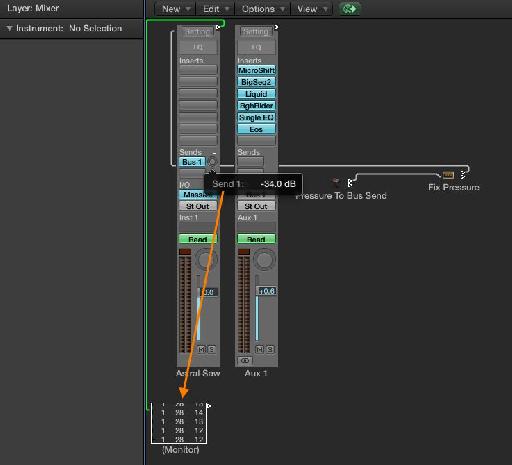 So now I just set up the Transformer to fix any Poly Pressure (if your keyboard uses Aftertouch select '˜Ch Pressure') message to a Fader message that targets parameter number 28. I've also set a limit for the Data Byte 2 (which is the pressure amount value) to a maximum of 90 which is 0 dB on the Send. I've also filtered (at the top menu) any MIDI events that aren't Poly Pressure so I don't trigger any actual notes events from the Maschine pads.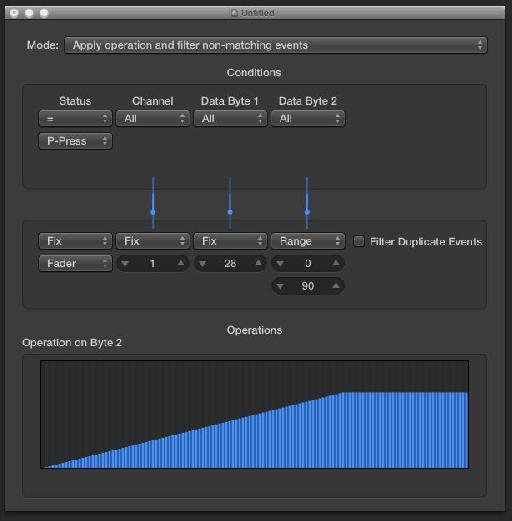 Step 3 - Record The Pressure FX
If I select the Instrument track and press on a Machine pad (Set Maschine in MIDI Control by pressing Shift+Control on Maschine) the Bus 1 Send is moving according to how hard I push down.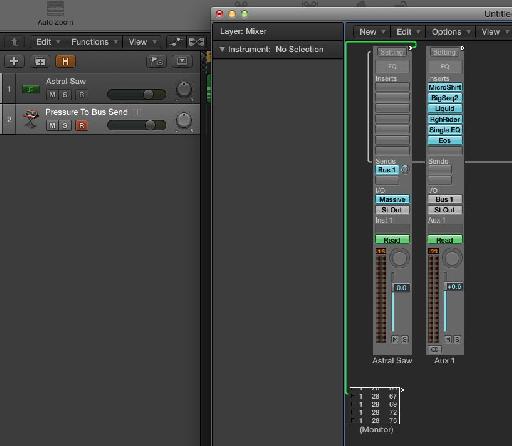 Now I can just record the pressure into a MIDI part.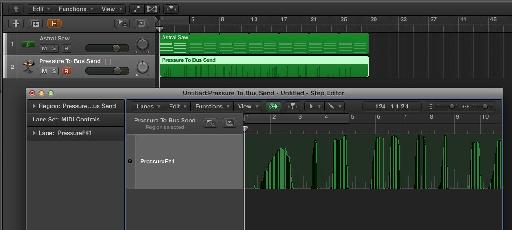 Here's what happens. I've added a hi hat so you can get the timing.
Here's just the Bus channel on its own with the effects on.
Nifty!!
Prepare for Cool Fact!
You'll notice in the Step Editor it says Pressure F#1. This is the cool thing!
Every pad (or note number) on Maschine outputs its own unique Pressure value. Polyphonic Aftertouch! This means from one Maschine pad bank you can uniquely control 16 parameters in real time and you can record and edit them all individually after.
These could be synth parameters or any parameters in Logic for that matter. The creative possibilities are endless. All via touch and pressure which is a very fun and creative way to work. It works great for timed dubstep wub wubs with pressure to filter cutoff.
Of course if your keyboard or controller transmits Aftertouch (mono) you're a bit limited but a fair few pad based controller output Poly Pressure so give it a try.
Obviously this is a simple example. It's a bit more complex to set up with multiple pads but hopefully you'll give it a try and work it out. Maybe I could cover that in another article?