Every DJ Mixer has a cross-fader. In fact every DJ Mixer has three essential functions. A volume fader for one audio source, a volume fader for a 2nd audio source and a crossfader.
Jeder DJ-Mixer verfügt über ein Cross-Fader. In der Tat jeden DJ Mixer verfügt über drei wesentliche Funktionen. Ein Lautstärke-Regler für eine Audio-Quelle, einem Lautstärkeregler für eine zweite Audioquelle und einem Crossfader. Der Crossfader kann der DJ zum Ausblenden einer Hand, während Fading in der anderen Hand.
Hier ist, wie ein einfaches, aber sehr effektiv Crossfader in Logic zu schaffen. Dieser Tipp ist nützlich für Logic 5, 6, 7 und 8 Benutzer! Sie können vorhandene Audio-oder Software-Instrument-Spuren, aber für dieses Beispiel werde ich einen Crossfader, zwei Audio-Tracks Remix erstellt werden.
Schritt 1 - mit zwei Tracks auf Start

Erstellen Sie zwei neue Stereo-Audio Tracks und importieren Sie Ihre Audio-Dateien auf jeder Spur in der Arrange-Bereich.

Schritt 2 - Geben Sie die Umwelt

Lassen Sie uns offen das Environment-Fenster: Fenster
Logic Environment ermöglicht dem Benutzer um Signale, Steuer-Fader, benutzerdefinierte Objekte und vieles mehr.
Klicken Sie auf das Layer-Dropdown-Menü im Inspector und wählen Sie den Mixer Schicht.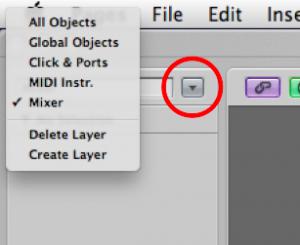 Schritt 3 - Time to Transform

Wir können Objekte zueinander sehr leicht eine Verbindung in die Umwelt. Einfach indem Sie die Ausgabe eines Objekts (in der oberen rechten Ecke des Objekts) und Ablegen der Kabel auf ein anderes Objekt wird ein Kabel von einem zum anderen.
Wenn Sie den Channel-Strip-1 zu verbinden, um Channel-Strip-2 und bewegen Sie den Lautstärkeregler auf der ersten Kanalzug werden Sie feststellen, dass Sie jetzt die Lautstärke-Fader auf dem zweiten Kanal Streifen zu.
Für unsere Crossfader wir wollen, dass die Veränderungen, die wir machen, um die Lautstärke-Fader auf einen der Channel-Strips, auf der anderen Kanalzug rückgängig gemacht werden. Also, wenn Kanal Bandes 1 der Lautstärkeregler auf dessen höchstem Niveau ist, ist Kanalzug 2, im Wesentlichen stumm ... Hier ist, wie wir das tun.
Neu
Kabel die Ausgabe von Channel-Strip-1 auf die Transformer. Jetzt Kabel den Ausgang des Transformators von Channel-Strips 2.
CS1
It should look something like this: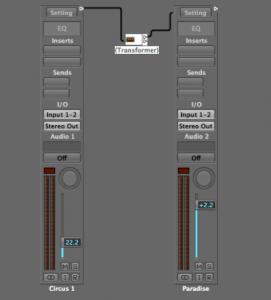 Schritt 4 - Die Umkehrung der Daten

Doppelklicken Sie auf die Transformer klicken, um es anzuzeigen. Wenn dies das erste Mal in die Umwelt dies mag ein wenig entmutigend, aber keine Sorge, dieses Bit ist nicht kompliziert, und Sie brauchen nicht zu tief, um diese zum Laufen zu bringen.
Ein Transformer kann, wie der Name schon vermuten lässt, nehmen ihm empfangenen Daten und verwandeln es in eine andere Art von Daten. Zum Beispiel könnten wir möchten MIDI-Noten-Events oder Volumen-oder Pan-Daten in etwas anderes verwandeln.
In diesem Fall, wenn verlassen wir die Bedingungen Zeile leer sind wir nicht heraus zu filtern alle Daten, die in den Transformer. Wir müssen jedoch auf den Wert der Volumendaten, sie rückgängig zu ändern. Dies ist unter Data Byte 2 im Bereich Operations wider.
Klicken Sie auf die DB2 Dropdown-Menü und wählen Sie umgekehrt.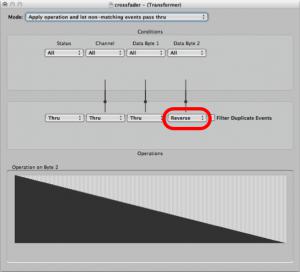 Nun bewegen Sie den Lautstärkeregler am Kanalzug 1 und du wirst diesen Kanal Band 2 der Lautstärkeregler bewegt sich in die entgegengesetzte Richtung beachten! Wir haben einen Crossfader!
Schritt 5 - Round-Tripin "

Wenn Sie die Lautstärke anzupassen Fader-Kanalzug ausprobieren 2 werden Sie feststellen, dass nichts passiert mit dem Lautstärkeregler am ersten Kanalzug. Dies liegt daran, das Volumen Fader Daten werden nicht aus dem Channel-Strip geschickt.
Kabel die Ausgabe von Channel-Strip-2 auf die Transformer
CS2
Nun versuchen Sie die Volume-Fader entweder auf der Channel-Strips und du wirst sehen, es funktioniert gut.
Schritt 6 - Erstellen der Crossfader

Obwohl es gut funktioniert, ist es kein Spaß Ziehen des Volume-Fader auf einen der Channel-Strips zu verblassen zwischen zwei Tracks zu überqueren. Lassen Sie uns einen größeren Crossfader.
Neu
Jetzt ist es ganz an Ihnen, das Aussehen der Fader zu wählen. Sie können jederzeit später ändern, indem Sie den gewünschten Style im Inspector.
Sie können die Größe neu den Fader, indem Sie das Quadrat in der rechten unteren Ecke des Objekts.
Make sure to cable from the new Horizontal Fader's output to one of the channel strips.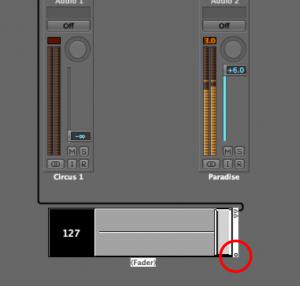 Wir haben nun eine voll funktionsfähige Crossfader!
Schritt 7 - Machen Sie eine schwimmende Crossfader

Sie können nun wollen Ihre neue Crossfader aus der Umwelt nehmen in den Arrangierbereich. Wir brauchen, um Ihre Umgebung in ein schwebendes Fenster zu machen, aber zuerst off-Link-Modus wiederum in das Environment-Fenster.

Nun, stellen Sie den Crossfader in der Spitze des Umwelt-Fenster. Auf dem grauen Hintergrund der Umwelt-Fenster mit der rechten Maustaste klicken und stellen Sie sicher, dass Protect Positionen und ausblenden Kabel angekreuzt und auch Frameless Schwebendes Fenster zu.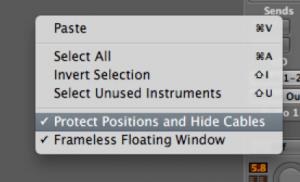 Sie können nun die Größe der Gleitumgebungen Fenster, so viel oder so wenig wie gewünscht zu zeigen und haben Zugang zu den Crossfader, wenn Sie in Ihrem Arrangierbereich.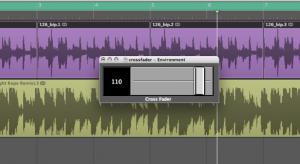 Möchten Sie mehr erfahren Logic Environment Tipps & Tricks ? Klicken Sie hier !