Every DJ Mixer has a cross-fader. In fact every DJ Mixer has three essential functions. A volume fader for one audio source, a volume fader for a 2nd audio source and a crossfader.
Chaque DJ Mixer est un cross-fader. En fait, chaque DJ Mixer a trois fonctions essentielles. Un potentiomètre de volume pour une source audio, un fader de volume pour une seconde source audio et un crossfader. Le crossfader permet au DJ de fade out une source, tandis que la décoloration dans l'autre source.
Voici comment faire pour créer un crossfader de base, mais très efficace dans l'environnement de Logic. Cette astuce est utile pour Logic 5, 6, 7 et 8 utilisateurs! Vous pouvez utiliser audio existants ou des pistes d'instruments logiciels, mais pour cet exemple, je vais créer un crossfader à mélanger deux pistes audio.
Étape 1 - Démarrer avec deux pistes

Créez deux nouvelles pistes audio stéréo et d'importer vos fichiers audio sur chaque piste dans la zone Arrangement.

Étape 2 - Entrez dans l'environnement

Ouvrons la fenêtre Environnement: Fenêtre
Environnement de Logic permet à l'utilisateur d'acheminer les signaux, les faders de contrôle, de créer des objets personnalisés et bien plus encore.
Cliquez sur le Menu contextuel des calques de l'inspecteur et sélectionnez le calque de mixage.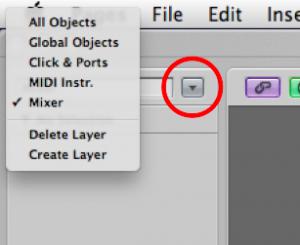 Étape 3 - temps de transformer

Nous pouvons relier des objets les uns aux autres très facilement dans l'environnement. Il suffit de glisser la sortie d'un objet (en haut à droite de l'objet) et l'abandon du câble sur un autre objet sera de créer un câble de l'un à l'autre.
Si vous connectez le canal 1 au canal de bande bande 2 et déplacez le curseur de volume sur la bande de la première chaîne, vous remarquerez que vous avez maintenant le contrôle du potentiomètre de volume sur la bande de deuxième canal aussi.
Pour notre crossfader nous voulons que les modifications que nous apportons au fader de volume sur une des bandes de canaux d'être inversé sur la bande d'autre voie. Donc, quand le fader de volume du canal bande 1 est à son plus haut niveau, des bandes de canaux 2 est, en substance, en sourdine ... Voici comment nous le faisons.
Nouveau
Câble la sortie du canal bande 1 au transformateur. Maintenant câble de la sortie du transformateur à des bandes de canaux 2.
CS1
It should look something like this: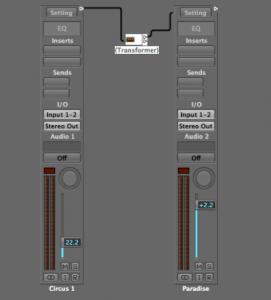 Étape 4 - Inversion des données

Double-cliquez sur le transformateur pour voir ses options. Si cela est votre première fois dans l'environnement cela peut sembler un peu intimidant, mais ne vous inquiétez pas, ce bit n'est pas compliqué, et vous n'avez pas besoin de fouiller trop profondément pour obtenir ce travail.
Un transformateur peut, comme son nom l'indique, de prendre les données qu'il reçoit et le transformer en un autre type de données. Par exemple, nous pourrions transformer les événements de note MIDI ou des données de volume ou pan en autre chose.
Dans ce cas, si nous laissons les conditions rangée vide, nous n'allons pas pour filtrer les données en provenance de la Transformateur. Nous, cependant, besoin de changer la valeur du volume de données de l'inverser. Ceci est reflété dans octet de données 2 dans la zone des opérations.
Cliquez sur la chute de DB2 dans le menu déroulant et choisissez inverse.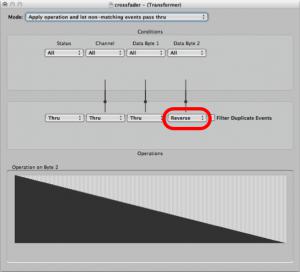 Maintenant, déplacez le curseur de volume sur le canal 1 et la bande, vous remarquerez que se déplace le canal de la bande 2 fader de volume dans la direction opposée! Nous avons un crossfader!
Étape 5 - Round-Tripin '

Si vous essayez d'ajuster le fader de volume sur le canal de bande 2, vous remarquerez que rien ne se passe au fader de volume sur la bande de la première chaîne. C'est parce que le fader de volume de données ne sont pas envoyées à partir de la bande de canaux.
Câble la sortie du canal de bande 2 au transformateur
CS2
Maintenant, essayez de déplacer le curseur de volume soit sur des bandes de canaux et vous verrez qu'il fonctionne très bien.
Étape 6 - Création du crossfader

Bien que cela fonctionne très bien, c'est pas drôle en faisant glisser le fader de volume sur une des bandes de canaux d'un fondu enchaîné entre deux pistes. Créons un grand crossfader.
Nouveau
Maintenant, il est complètement à vous de choisir l'apparence du fader. Vous pouvez toujours le changer plus tard en choisissant le style souhaité dans l'Inspecteur.
Vous pouvez redimensionner le fader en faisant glisser le carré dans le coin inférieur droit de l'objet.
Make sure to cable from the new Horizontal Fader's output to one of the channel strips.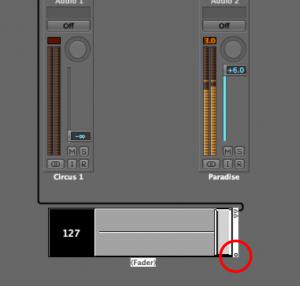 Nous avons maintenant un crossfader entièrement fonctionnel!
Étape 7 - Faire un crossfader flottante

Vous pouvez maintenant voulez prendre vos crossfader partir de l'environnement dans la zone Arrangement. Nous avons besoin pour rendre votre environnement dans une fenêtre flottante, mais d'abord désactiver le mode Link dans la fenêtre de l'Environnement.

Maintenant, la position du crossfader en haut à gauche de la fenêtre de l'Environnement. Faites un clic droit sur ​​le fond gris de la fenêtre de l'environnement et faire en sorte que protéger les positions et cacher les câbles est cochée et aussi Frameless fenêtre flottante aussi.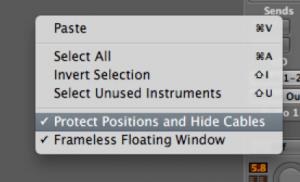 Vous pouvez désormais redimensionner la fenêtre flottante pour l'environnement montrent autant ou aussi peu que désiré et avoir accès à du crossfader chaque fois que vous êtes dans votre zone Arrangement.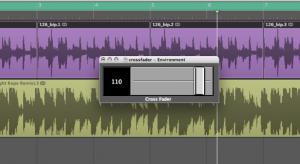 Vous voulez en savoir plus Astuces Logic Environnement Conseils n ' ? Cliquez ici !