Every DJ Mixer has a cross-fader. In fact every DJ Mixer has three essential functions. A volume fader for one audio source, a volume fader for a 2nd audio source and a crossfader.
Ogni DJ Mixer è un cross-fader. Infatti ogni Mixer DJ ha tre funzioni essenziali. Un fader di volume per una sorgente audio, un fader di volume per una seconda sorgente audio e un crossfader. Il crossfader permette al DJ di dissolvenza una fonte, mentre in dissolvenza l'altra fonte.
Ecco come creare un crossfader di base, ma molto efficace in ambiente Logic. Questo suggerimento è utile per Logic 5, 6, 7 e 8 utenti! È possibile utilizzare audio esistenti o tracce di strumenti software, ma per questo esempio ho intenzione di creare un crossfader per miscelare due tracce audio.
Fase 1 - Inizia con due brani

Creare due nuove tracce audio stereo e importare i file audio su ciascuna traccia nella zona Arrange.

Fase 2 - Inserire l'Ambiente

Apriamo la finestra Ambiente: Window
Ambiente Logic permette all'utente di indirizzare i segnali, i fader di controllo, creare oggetti personalizzati e molto altro ancora.
Fare clic sul menu layer discesa nelle Impostazioni e selezionare il livello Mixer.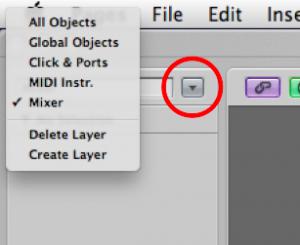 Fase 3 - Tempo di Transform

Ci si può collegare oggetti tra loro molto facilmente nell'ambiente. Semplicemente trascinando l'output di un oggetto (in alto a destra dell'oggetto) e rilasciando il cavo su un altro oggetto creerà un cavo da uno all'altro.
Se si collega il canale 1 al canale striscia fascia di 2 e spostare il fader di volume sulla striscia primo canale noterete che ora controllano il fader di volume sul secondo canale striscia di troppo.
Per il nostro crossfader vogliamo i cambiamenti che facciamo per il fader di volume su una delle strisce di canale da invertire la striscia di canale. Così, quando fader di volume channel strip 1 è al suo massimo livello, channel strip 2 è, in sostanza, mute ... Ecco come lo facciamo.
Nuovo
Il cavo di uscita dal canale striscia 1 al trasformatore. Ora il cavo di uscita dal trasformatore di channel strip 2.
CS1
It should look something like this: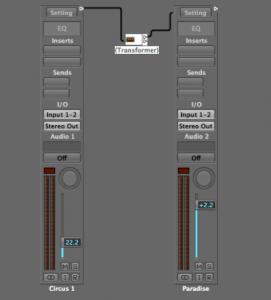 Fase 4 - Inversione dei dati

Fare doppio clic sul trasformatore per poterlo vedere le opzioni. Se questa è la prima volta in ambiente questo può sembrare un po 'scoraggiante, ma non preoccupatevi, questo bit non è complicato, e non c'è bisogno di scavare troppo in profondità per ottenere questo lavoro.
Un trasformatore può, come suggerisce il nome, prendere dati che riceve e di trasformarlo in qualche altro tipo di dati. Per esempio, potremmo voler trasformare eventi di nota MIDI o dati di volume o pan in qualcos'altro.
In questo caso, se lasciamo le Condizioni riga vuota non abbiamo intenzione di filtrare tutti i dati in arrivo al trasformatore. Noi, tuttavia, necessario modificare il valore dei dati del volume per invertire tale tendenza. Ciò si riflette in Byte dati 2 nella zona di operazioni.
Fare clic sul menu DB2 tendina e scegliere Reverse.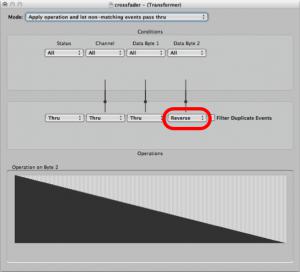 Ora, spostare il fader del volume sul canale striscia 1 e noterete che il canale fascia di 2 le mosse di fader di volume nella direzione opposta! Abbiamo un crossfader!
Fase 5 - Round-Tripin '

Se provare a regolare il fader di volume sul canale fascia di 2 noterete che non succede nulla al fader di volume sulla striscia primo canale. Questo perché i dati di fader di volume non è stato inviato fuori dalla striscia di canale.
Il cavo di uscita dal canale fascia di 2 al trasformatore
CS2
Ora provare a spostare il fader del volume su una delle strisce di canale e vedrete che funziona bene.
Fase 6 - Creazione del crossfader

Anche se funziona bene, non è divertente trascinando il fader di volume su una delle strisce di canale per dissolvenza incrociata tra due tracce. Creiamo un crossfader più grande.
Nuovo
Ora, è completamente a voi scegliere l'aspetto del fader. Si può sempre cambiare in seguito scegliendo lo stile desiderato nella finestra di ispezione.
Si può ridimensionare il fader trascinando il quadrato nell'angolo in basso a destra dell'oggetto.
Make sure to cable from the new Horizontal Fader's output to one of the channel strips.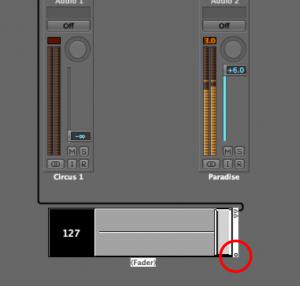 Ora abbiamo un crossfader completamente funzionale!
Fase 7 - Fare un crossfader galleggiante

Si può ora vogliono prendere il vostro nuovo crossfader dall'ambiente in zona Arrange. Abbiamo bisogno di rendere il vostro ambiente in una finestra mobile, ma prima disattivare la modalità di collegamento nella finestra di ambiente.

Ora, la posizione del crossfader in alto a sinistra della finestra di ambiente. Tasto destro del mouse sullo sfondo grigio della finestra Ambiente e assicurarsi che Proteggere posizioni e nascondere i cavi è spuntata anche senza telaio finestra mobile troppo.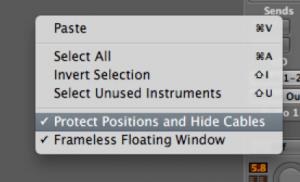 Ora è possibile ridimensionare la finestra mobile ambiente per mostrare come più o meno come desiderato e accedere al Crossfader ogni volta che siete nella vostra zona Arrange.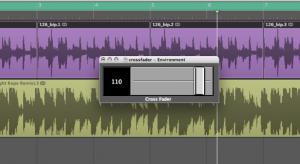 Vuoi saperne di più logica Ambiente Tips n 'Tricks ? Clicca qui !