Every DJ Mixer has a cross-fader. In fact every DJ Mixer has three essential functions. A volume fader for one audio source, a volume fader for a 2nd audio source and a crossfader.
Todo DJ Mixer tem um cross fader. Na verdade, cada DJ Mixer tem três funções essenciais. Um fader de volume para uma fonte de áudio, um fader de volume para uma segunda fonte de áudio e um crossfader. O crossfader permite ao DJ para fade out uma fonte, enquanto desaparecendo na outra fonte.
Veja como criar um crossfader básico, mas muito eficaz no ambiente Logic. Esta dica é útil para Logic 5, 6, 7 e 8 usuários! Você pode usar áudio existentes ou faixas Instrumento Software, mas para este exemplo vou criar um crossfader para misturar duas faixas de áudio.
Passo 1 - Comece com duas faixas

Criar duas novas faixas de áudio estéreo e importar seus arquivos de áudio para cada trilha na área Arrange.

Passo 2 - Digite o Meio Ambiente

Vamos abrir a janela Ambiente: Window
Ambiente Logic permite ao utilizador sinais de rota, faders de controle, criar objetos personalizados e muito mais.
Clique em A queda para baixo da camada de menu no Inspector e selecione a camada Mixer.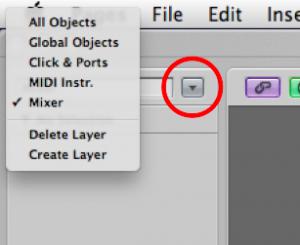 Passo 3 - Tempo para Transformar

Podemos ligar objetos uns aos outros com muita facilidade no ambiente. Simplesmente arrastando a saída de um objeto (no canto superior direito do objeto) e soltando o cabo em outro objeto irá criar um cabo de um para o outro.
Se você conectar o canal 1 a strip strip canal 2 e mova o fader de volume na faixa de canal primeiro você vai perceber que agora você controlar o fader de volume na faixa de canal segundo também.
Para o nosso crossfader queremos as mudanças que fazemos para o fader de volume em uma das faixas de canal a ser revertida na tira outro canal. Assim, quando um fader do canal faixa de volume está no seu mais alto nível, faixa de 2 canal é, em essência, mudo ... Aqui está como fazemos isso.
Novo
Cabo a saída do canal 1 para o strip Transformer. Agora o cabo de saída do transformador para o canal strip 2.
CS1
It should look something like this: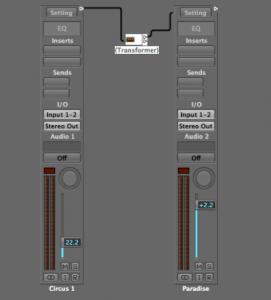 Passo 4 - Invertendo os dados

Dê um duplo clique sobre o Transformer para vê-lo de opções. Se esta é sua primeira vez em Meio Ambiente isto pode parecer um pouco assustador, mas não se preocupe, este bit não é complicado, e você não precisa se aprofundar demais para começar este trabalho.
Um transformador pode, como o próprio nome sugere, levar os dados que recebe e transformá-lo em algum outro tipo de dados. Por exemplo, podemos querer transformar eventos de nota MIDI ou dados de volume ou pan em outra coisa.
Neste caso, se deixarmos as Condições linha em branco, não vamos para filtrar os dados que entram no Transformer. Temos, no entanto, necessidade de alterar o valor do volume de dados para revertê-la. Isso se reflete em Dados Byte 2 na área de Operações.
Clique sobre a queda DB2 down menu e escolher Reverse.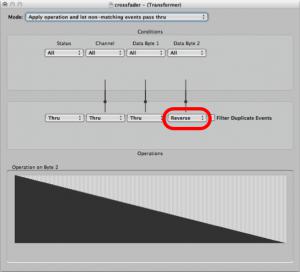 Agora, mova o fader de volume no canal tira 1 e você notará que o canal faixa de 2 move-se o volume fader na direção oposta! Temos um Crossfader!
Passo 5 - Round-Tripin '

Se você tentar ajustar o fader de volume na faixa de 2 canais você verá que nada acontece com o fader de volume na faixa de canal em primeiro lugar. Isso ocorre porque os dados fader de volume não está sendo enviado para fora da faixa de canal.
Saída do canal de cabo a faixa de 2 a Transformer
CS2
Agora tente mover o fader de volume em qualquer uma das faixas de canais e você verá que ele funciona muito bem.
Passo 6 - Criando o Crossfader

Embora ele funciona bem, não é divertido arrastando o fader de volume em uma das tiras de canal para cross fade entre duas faixas. Vamos criar uma maior crossfader.
Novo
Agora, é completamente até você para escolher a aparência do fader. Você pode sempre alterá-lo posteriormente, escolhendo o estilo desejado no Inspector.
Você pode redimensionar o fader, arrastando o quadrado no canto inferior direito do objeto.
Make sure to cable from the new Horizontal Fader's output to one of the channel strips.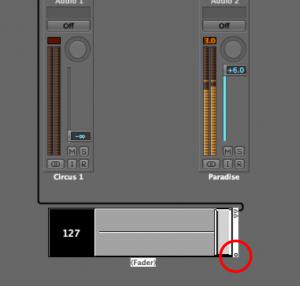 Agora temos um Crossfader totalmente funcional!
Passo 7 - Faça uma Crossfader flutuante

Você pode agora querer tomar o seu crossfader novo do Meio Ambiente para a área Arrange. Precisamos tornar o ambiente em uma janela flutuante, mas primeiro desativar o modo de ligação na janela do Ambiente.

Agora, a posição do Crossfader no canto superior esquerdo da janela do Meio Ambiente. Botão direito do mouse sobre o fundo cinza da janela do Meio Ambiente e certifique-se que proteger posições e Ocultar Cabos está marcada e também janela flutuante Frameless também.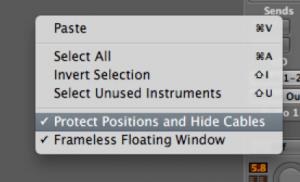 Agora você pode redimensionar a janela flutuante ambiente para mostrar tanto ou tão pouco como desejado e ter acesso ao Crossfader sempre que estiver em sua área Arrange.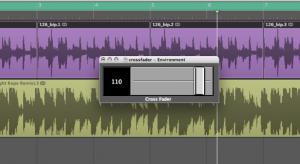 Quer saber mais truques Logic Ambiente Dicas n ' ? Clique aqui !