If you want to make your sample libraries in Logic Pro X behave and perform more realistically, then you'll want to understand how to use the EXS24's Articulation IDs. Joe Albano shows you how.
Logic's EXS24 Sampler was one of the first software samplers, and at first glance, it looks like it hasn't changed all that much since it first hit the scene. But while EXS24' front panel is largely unchanged, there have been numerous upgrades and additions under the hood.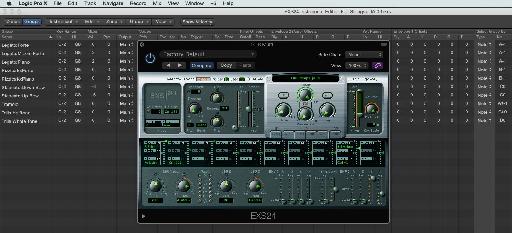 Fig 1 The EXS24 sampler
These improvements'"coupled with EXS' integration into Logic itself, which in effect adds all of Logic's latest & greatest features to EXS' programming palate'"have transformed EXS from a cute but lightweight built-in to a much more capable, high-end sampler.
The Little Sampler That Could
Under-the-hood features added to EXS over the years have included Group-based Filter & Envelope Offsets (to augment EXS' single set of front-panel parameters), various randomization options for Pitch, Velocity, & Sample Select (to combat the dreaded sampler 'machine-gun effect'), and Exclusive Groups (for proper polyphonic hi-hat cutoff behavior, among other uses). In this article, I'm going to look at one of the features of EXS that, although it's been around for a little while, is still unfamiliar to many people'"Articulation IDs.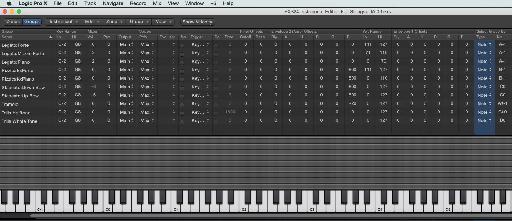 Fig 2 EXS's Instrument Editor window Groups view
Articulate That
In EXS' Group view'"hidden away in the businesslike Instrument Editor window'"is a parameter called Select Group By. This is EXS' way of letting you combine multiple keymaps of the same instrument, for more expressive performance variations. A classic example of this is Orchestral Strings. String players may employ various performance techniques'"often called articulations'"during a performance, ranging from standard legato (smooth bowing), to staccato (short, sharp notes), to pizzicato (plucking), to tremolo (repetitive bowing for tension), to musical trills.
A string passage may incorporate several of these techniques, with the players changing on the fly. In olden days, if you had multiple keymaps of these articulations for EXS, you'd have had to load each one into a separate EXS plug-in instance, and record the musical lines piecemeal. But by utilizing EXS' Select Group By function, you can play'"and record'"a string part in real time, changing bowing techniques (articulations) on the fly. There are several ways to accomplish this'"I'll show them with the included Cinema Strings patch, which incorporates all of the above articulations as individual keymap Groups in one extra-large EXS instrument.
Keyswitching
Many sample libraries make use of keyswitching to provide real-time access to multiple articulations. This usually requires a full-size 88-note keyboard controller, so you can use the lowest notes (unused by the instrument) as switches, to call up the different Groups of the different performance techniques.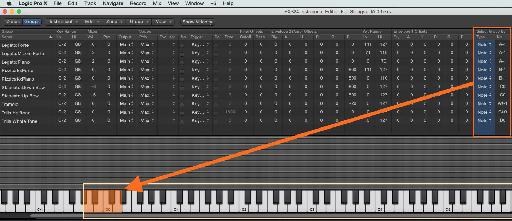 Fig 3 Keyswitching: Different Groups in EXS controlled by different (unused low) notes on a controller
In EXS, you'd set the Select Group By option for each Group to a different key'"then by tapping the keys while playing, you'll switch between different sample sets, for different playing techniques. You can even switch Groups while notes are being held'"the next notes played will use the new articulation.
Keyswitching works fine, but there are some drawbacks. What if your keyboard is too short to spare any notes? Well, you can accomplish the same thing by assigning an unused controller to switch Groups instead. Any CC will do'"Apple used ModWheel for the Jam Pack libraries, and that would be a pretty standard choice. But a drawback to using either notes or a controller to switch articulations is that now you have to keep track of additional data in the MIDI recordings when you want to edit the part. It's easy for the keyswitch notes or controller data to get separated or out-of-sync with the music, resulting in the wrong playing technique for some notes after a complex edit.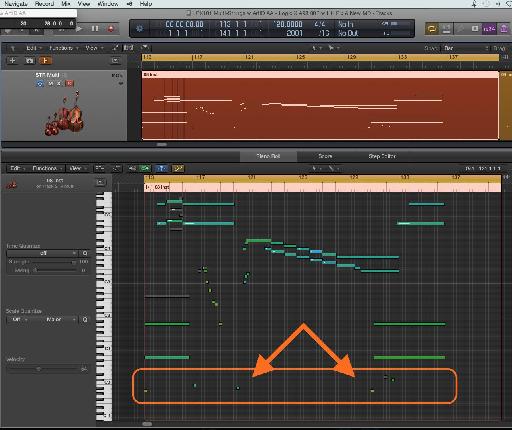 Fig 4 The resulting MIDI recording, with the keyswitch notes visible at the bottom of the display
Articulation IDs to the rescue
Enter Articulation IDs. These are not bits of standard MIDI data, they're bits of internal metadata that are tied to the notes themselves'"you can view and edit them in the event Editor (Fig 5).
Fig 5 Articulation IDs can be viewed and edited in the Event editor
To utilize them in EXS, you just select Articulation ID, instead of Note or Controller, for each Group in Select Group By, and make sure each group has a different ID number (Fig 6).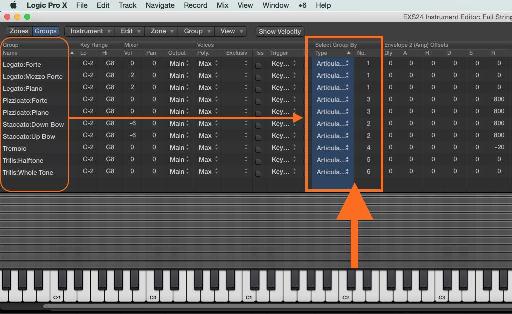 Fig 6 Articulation IDs assigned to different groups in EXS' Edit window->Groups view->Select Group By area
But now how do you assign these ID tags to the notes in a MIDI recording? Well, if you have a performance that's already been recorded, you can simply go through the MIDI sequence, selecting different phrases, and applying the appropriate Articulation ID tags in the Event Editor (Fig 5). Once this is done, the correct articulation will be permanently tied to each note/phrase, so you can edit freely, and always be assured of hearing the correct performance technique'"no additional MIDI data needed.
Real-time expression
But many (most?) people want to be able to play & record the parts in real time, changing articulations on the fly, as with key or controller switching, but when the performance is done, they want a MIDI recording without any stray MIDI switching data'"just the notes with appropriate Articulation IDs tied to them. Now, it's easy enough to assign, say, a MIDI controller to switch Articulation IDs in EXS in real time, via the Modulation Matrix (Router). You just assign Articulation ID as the Destination, the controller of choice'"like ModWheel'"as the source, and set Intensity to max. But while this will let you switch articulations on-the-fly, you'll end up recording the ModWheel data, negating the main advantage of Articulation IDs'"the fact that they're tied to the notes themselves!
So, instead of assigning ModWheel directly to Articulation ID via the Mod Matrix, you'd assign a Smart Control knob or button to switch Articulation IDs, and then set an external controller (ModWheel again, for this example) to control the Smart knob. The result will be the same'"you can play in real time, switching Articulation IDs on-the-fly with the ModWheel'"but since the external controller setting in the Smart Controls panel intercepts ModWheel messages, they won't be recorded. Instead, the resulting movements of the Smart knob will be, adding the appropriate Articulation ID to each note recorded'"exactly the desired result.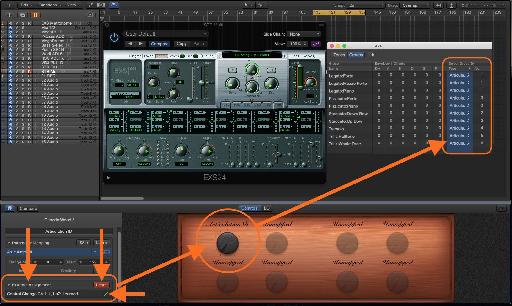 Fig 7 A Smart Control set to switch Articulation IDs, controlled by the ModWheel via External Assignment
The only caveat here is that while the ModWheel is assigned to a Smart Control, it can't be used for other, normal purposes. So when you're done recording your string parts, you'll want to click the little pencil icon at the bottom of the Smart Control panel External Assignment area and delete the ModWheel assignment, restoring its normal function.
Express Yourself
The Cinema Strings patch comes with Articulation IDs already assigned in EXS, and a Smart Control panel already provided'"all you have to do is set up the external controller assignment for real-time switching from the keyboard. But if you want to change or expand the supplied articulation options, or add Articulation IDs and real-time control to any other EXS Instruments with a collection of performance techniques, it's easy enough to do, and it can help to add that all-important level of expressiveness to MIDI performances and recordings.