Mike Watkinson, ADE, shows how to quickly and effortlessly create a solo violin sampled instrument in Logic Pro - something strangely lacking in the included content for Apple's flagship DAW.
Una pregunta que suele plantearse en los foros se refiere a la falta de instrumentos violín solista en Pro Logic. Hay un montón de grandes instrumentos que suenan Conjunto de Cuerdas - pero hay versiones en solitario! En este tutorial vamos a ver cómo poner remedio a esta situación mediante la creación de uno propio.

Descargue las muestras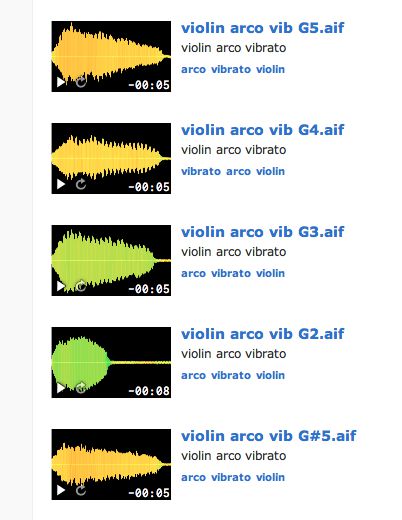 En primer lugar, usted tendrá que localizar una fuente de muestras gratuitas de solistas de violín. ¿Por qué gratis? Bueno, si usted ha pagado por una biblioteca instrumento orquestal para EXS24, entonces es probable que usted ya tiene un solo de violín en perfecto estado! Quiso la suerte que tienen, hay un conjunto de muestras bien grabado violín en freesound.org . Un violinista profesional con el nombre de usuario ldk1609 ha tomado la molestia de grabar cada nota de su violín con y sin vibrato, con un par espaciado de Earthworks QTC MP40 micrófonos. Los paquetes de muestra están disponibles en los siguientes enlaces:
Vibrato paquete de muestra -
http://www.freesound.org/people/ldk1609/packs/3560/
No vibrato paquete de muestra -
http://www.freesound.org/people/ldk1609/packs/3559/
A los efectos de este tutorial, seguir adelante y descargar packs - usted necesita para convertirse en un miembro de freesound.org si no está ya, e inicie sesión en el sitio para descargar.
Crea tu instrumento
En Logic Pro, abierto EXS24, a continuación, haga clic en el botón Editar para abrir el Editor de instrumentos y en el menú Instrumento elegir nuevo instrumento.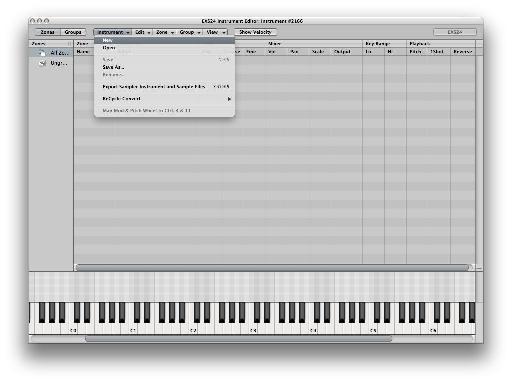 En el menú Zona elija Cargar múltiples muestras.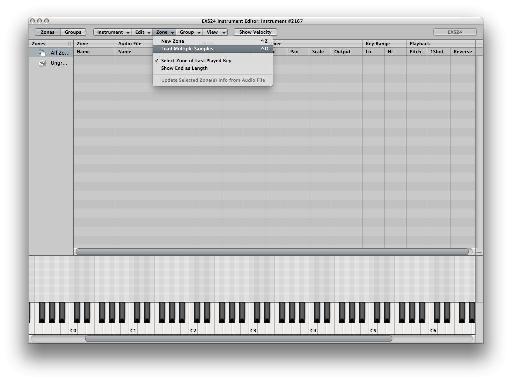 En el cuadro de diálogo que aparece, vaya a las muestras que ha descargado (ya sea pack) y seleccione todas las muestras en la carpeta.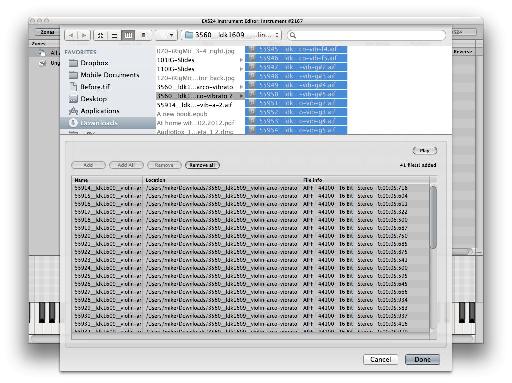 Al hacer clic en Agregar, se le dará tres opciones. Extrañamente, después de un poco de experimentación, la opción que he encontrado funciona como se requiere en este caso es el tambor sin zonas clave raíz gama, desde el archivo de audio. Sin embargo, existe un problema no resuelto con el Editor de instrumentos - Las muestras se asignará a la nota correcta en función del nombre de archivo (Preferencias - por defecto), pero en este caso, esas notas con una parte de su nombre en el formato C-3 (donde el - representa un agudo) esto no ocurra correctamente. La solución a esto es cambiar manualmente el - en estos nombres de archivo a un #. Suena como una tarea pero no toma tanto tiempo!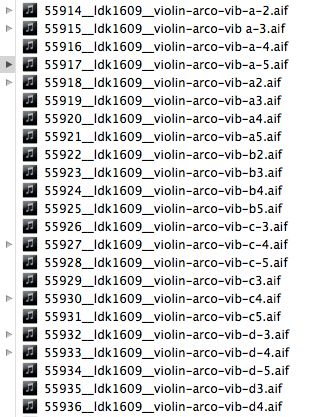 Cambiar el "-" ...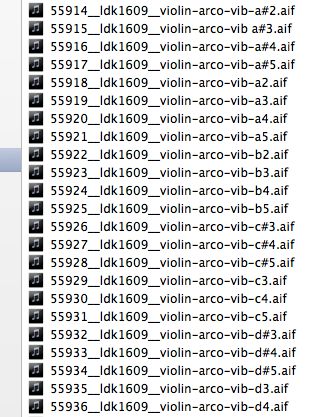 a un "#".
Con nombres de archivos corregidos de las muestras se debe asignar a través del teclado como se esperaba.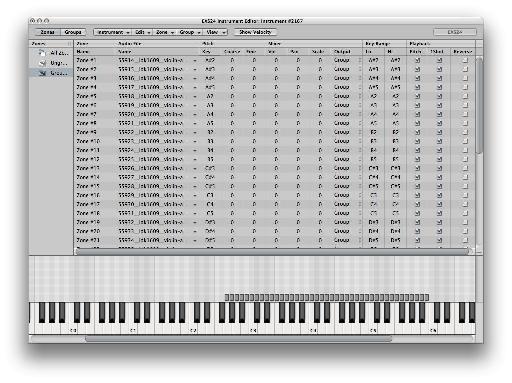 Seleccione todas las zonas en EXS24 (click sobre uno y pulse Comando + A) y quite la marca de la opción 1SHOT - esto es, por supuesto, el valor predeterminado de muestras de batería, que es lo EXS24 espera que cargue.
Usted notará que estas muestras han sido colocados en un grupo - se puede cambiar el nombre del grupo si así lo desea, haga doble clic en el nombre del grupo.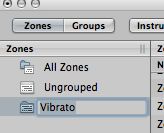 En mi ejemplo, he añadido las muestras de vibrato en primer lugar, por lo que el siguiente paso (si quieres tanto vibrato y muestras no vibrato en el mismo instrumento) es repetir los pasos anteriores y añadir el segundo conjunto de muestras para su instrumento. El segundo conjunto de muestras se debe agregar a un nuevo grupo, que también se puede cambiar el nombre si lo desea.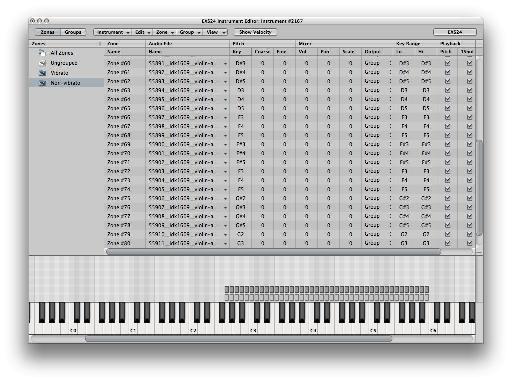 La ventaja de agrupar las zonas de esta manera es que se puede establecer los parámetros globales para cada grupo. Dos ejemplos útiles son:
Velocidad
Puede que tenga que elija Ver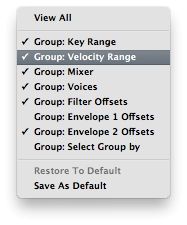 Establecer el grupo no vibrato con un rango de velocidad de 0 a 63
Ajuste el grupo de vibrato con un rango de velocidad de 64 a 127
De esta manera usted puede disparar la muestra vibrato simplemente tocando las teclas con más velocidad (más de 64).
A DSR (H)
También se puede adaptar la envolvente de las muestras cuando se activa como un grupo, si es necesario.

El rango de velocidad y el sobre como configurar los parámetros del grupo.
Oh - y no se olvide de guardar su instrumento sampler! Para ello, en el menú Instrument (en el Editor de instrumentos) selecciona Guardar como ...