Mike Watkinson, ADE, shows how to quickly and effortlessly create a solo violin sampled instrument in Logic Pro - something strangely lacking in the included content for Apple's flagship DAW.
Une question souvent posée sur les forums concerne le manque de violon solo instrument dans Logic Pro. Il ya beaucoup de grands instruments sonnent ensemble à cordes - mais pas de versions en solo! Dans ce tutoriel nous verrons comment remédier à cette situation en créant l'un des vôtres.

Téléchargez les échantillons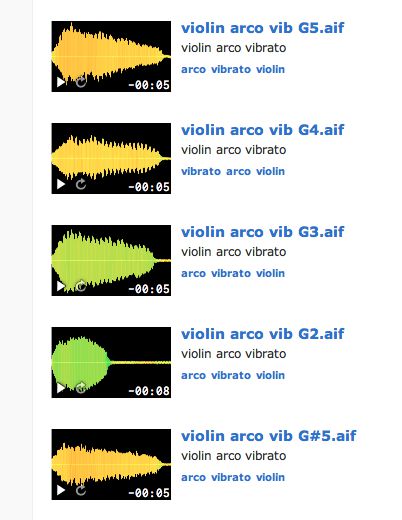 Tout d'abord, vous aurez besoin de localiser une source d'échantillons gratuits de violon solo. Pourquoi gratuitement? Eh bien, si vous avez payé pour une bibliothèque instrument d'orchestre pour EXS24, alors les chances sont que vous avez déjà un violon solo parfaitement bien! Comme par hasard aurait-il, il existe un ensemble bien enregistré d'échantillons violon sur freesound.org . Un violoniste professionnel par le nom d'utilisateur de ldk1609 a pris la peine d'enregistrer chaque note sur leur violon avec et sans vibrato, avec une paire espacée de terrassement QTC MP40 microphones. Les packs d'échantillons sont disponibles aux liens suivants:
Pack échantillon Vibrato -
http://www.freesound.org/people/ldk1609/packs/3560/
Pack d'échantillons non-vibrato -
http://www.freesound.org/people/ldk1609/packs/3559/
Pour les besoins de ce tutoriel, n'hésitez plus et télécharger deux packs - vous aurez besoin pour devenir un membre de freesound.org si vous n'êtes pas déjà , et connectez-vous au site afin de télécharger.
Créez votre instrument
Dans Logic Pro, ouvrez l'EXS24, puis cliquez sur le bouton Modifier pour ouvrir l'Éditeur d'instruments et de choisir dans le menu Instrument nouvel instrument.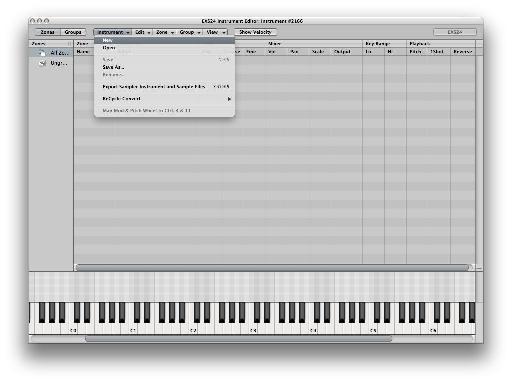 Dans le menu Zone choisissez Charger plusieurs échantillons.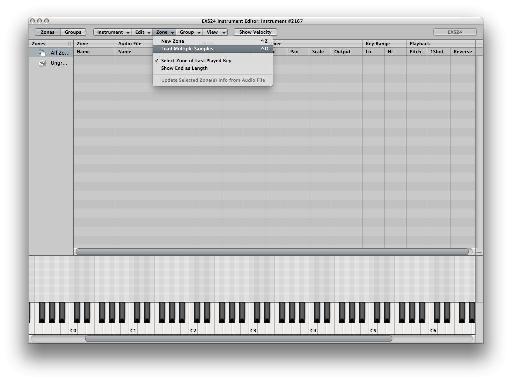 Dans la boîte de dialogue qui s'affiche, accédez aux échantillons que vous avez téléchargés (soit pack) et sélectionnez tous les échantillons dans le dossier.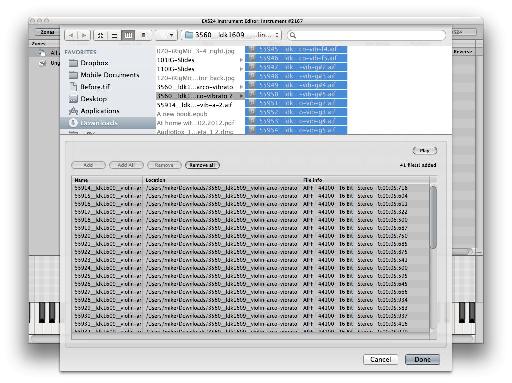 Lorsque vous cliquez sur Ajouter, vous aurez trois choix. Bizarrement, après quelques essais, l'option que j'ai trouvé fonctionne comme nécessaire dans ce cas est sans tambour zones clé racine plage, du fichier audio. Il ya cependant un problème non résolu avec l'Éditeur d'instruments - les échantillons seront mis en correspondance avec la note correcte basée sur le nom du fichier (Préférences - par défaut), mais dans ce cas, ces notes avec une partie de leur nom dans le format C-3 (où le - représente une nette), cela ne se produit pas correctement. La solution pour cela est de modifier manuellement le - dans ces noms de fichiers à un #. Il sonne comme une corvée, mais il ne prend pas longtemps!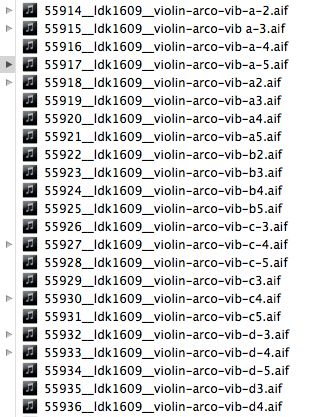 Changer le "-" ...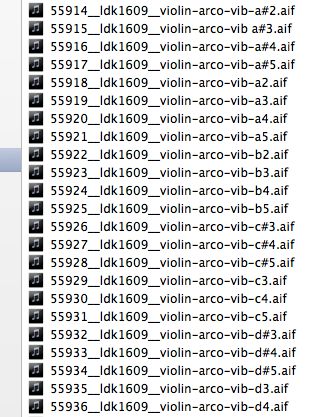 à un "#".
Avec les noms de fichiers corrigés des échantillons doit être mappé sur le clavier comme prévu.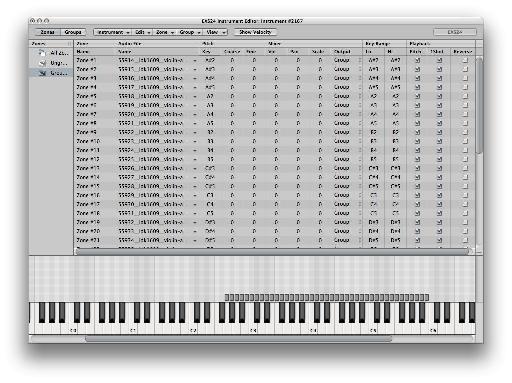 Sélectionnez toutes les zones de EXS24 (cliquez sur l'un et appuyez sur Commande-A) et décochez l'option 1SHOT - c'est bien sûr la valeur par défaut pour les échantillons de batterie, ce qui est ce que EXS24 attend de charger.
Vous noterez que ces échantillons ont été placés dans un groupe - vous pouvez renommer le groupe si vous le souhaitez en double-cliquant sur le nom du groupe.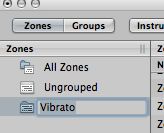 Dans mon exemple, j'ai ajouté les échantillons vibrato première fois, donc la prochaine étape (si vous voulez à la fois vibrato et non vibrato échantillons dans le même instrument), à répéter les étapes ci-dessus et ajoutez la seconde série d'échantillons à votre instrument. La deuxième série d'échantillons doit être ajouté à un nouveau groupe, que vous pouvez également renommer si vous le souhaitez.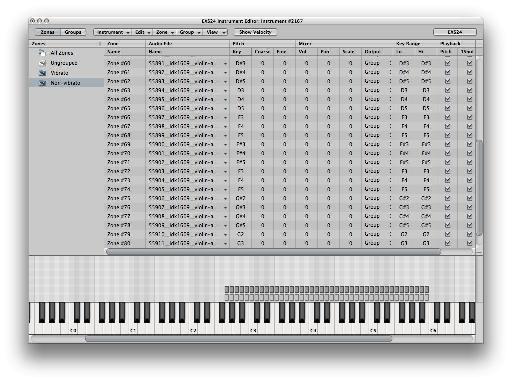 L'avantage de regrouper les zones de cette manière est que vous pouvez régler des paramètres globaux pour chaque groupe. Deux exemples utiles sont:
Vitesse
Vous devrez peut-être choisir View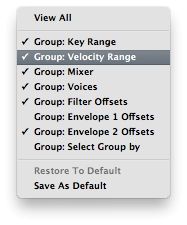 Réglez le groupe non-vibrato avec une plage de vitesse de 0 à 63
Réglez le groupe Vibrato avec une plage de vitesse de 64 à 127
De cette façon, vous pouvez déclencher l'échantillon vibrato en jouant simplement sur les touches avec plus de vitesse (plus de 64).
Un DSR (H)
On peut également adapter l'enveloppe des échantillons en cas de déclenchement en tant que groupe, si nécessaire.

Plage de vélocité et de l'enveloppe définie comme paramètres du groupe.
Oh - et n'oubliez pas d'enregistrer votre instrument Sampler! Pour ce faire, dans le menu Instrument (dans l'Éditeur d'instruments), choisissez Enregistrer sous ...