Logic comes with a built-in arpeggiator. It's true! Many new Logic users search for it within the DSP Effects area to no avail - or hope that it may be an option within the included instruments. Inste
Logic est livré avec un arpégiateur intégré. C'est vrai! Beaucoup de nouveaux utilisateurs à rechercher la logique pour elle dans la zone effets DSP en vain - ou espérer que cela peut être une option dans les instruments inclus. Au lieu de cela nous aurons besoin pour plonger dans l'environnement de Logic pour créer un arpégiateur qui vais travailler beaucoup une fois que vous savez comment l'utiliser.
Il ya deux principales façons de configurer l'arpégiateur dans Logic. Dans ce tutoriel, nous allons explorer la façon la plus simple de le en marche et de créer quelques modèles arpégés.
01 - Choisissez votre instrument
I've started out by creating a new Software Instrument track and have chosen to use Sculpture as my instrument of choice. If you'd like to follow along I've used the preset:
06 Mallet Instruments > Classic Vibraphone
Ensuite, j'ai créé une région MIDI sur la piste Vibraphone et au crayon quelques accords: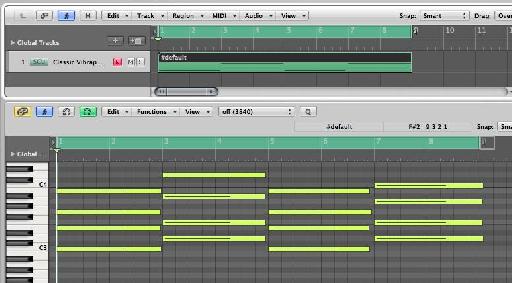 Voici ce que notre instrument sonne comme:
[Audio id = "628"]
02 - Créer un arpégiateur
Si vous n'avez jamais aventurés dans l'environnement de Logic avant et la pensée de le faire perturbe votre sommeil, n'ayez aucune crainte. C'est vraiment un lieu convivial une fois que vous comprenez les bases, et une fois maîtrisé, vous comprendrez pourquoi la logique est si populaire!
Nous allons créer un objet nouveau et il arpégiateur routage à la piste vibraphone.
Choisissez Fenêtre
Choisissez Nouveau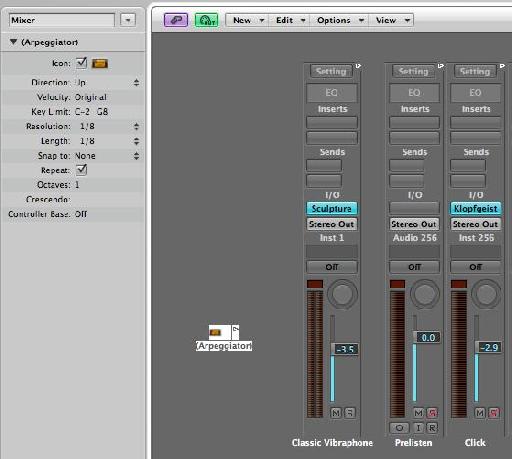 Un objet arpégiateur est créé. Vous pouvez faire glisser ce tour et de le placer dans un endroit commode dans la fenêtre de l'Environnement.
03 - il Raccordement
L'arpégiateur est un triangle à elle est en haut à droite. Ceci est une fente de sortie. Cela nous permet de le connecter à un autre objet et de sortie du signal MIDI de l'objet arpégiateur à une bande de canal.
Dans ce cas, nous voulons arpéger l'instrument vibraphone. Alors faites glisser ce triangle et un câble de sortie apparaît. Déposer ce câble à la bande de canaux vibraphone. Une connexion est faite!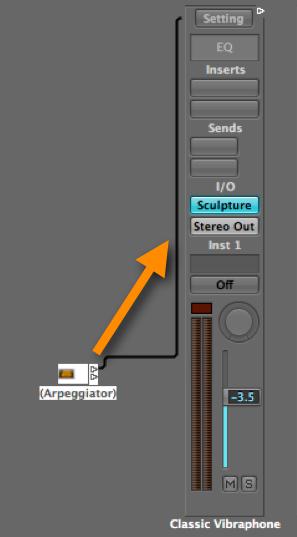 Nous avons acheminé la sortie de l'Arp à la voie vibraphone.
04 - Une piste pour l'arpégiateur
Nos besoins arpégiateur c'est propre piste. Il ne peut pas créer le son, mais il peut arpéger les notes MIDI que nous jouons (ou le placer sur la piste) et les envoyer à la piste Vibraphone connecté.
Retour dans la zone Arrangement créer une nouvelle piste. Ce n'est pas grave ce type de piste que nous allons l'assigner à notre arpégiateur.
Position de la fenêtre de l'environnement de sorte que vous pouvez voir la liste des tête de piste sur la page Arrange. Faites glisser l'objet Arpeggiator de la fenêtre de l'environnement sur la tête de la nouvelle piste. L'objet arpégiateur est maintenant affecté à cette piste.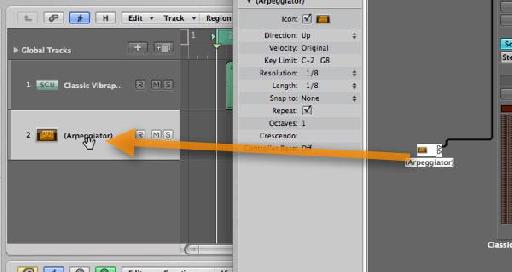 Si vous frappez jouer maintenant, vous allez entendre les cordes Vibraphone d'origine, sans aucune arpèges qui leur sont appliquées.
L'arpégiateur ne peut pas arpéger les notes MIDI d'une région sur une piste différente. La solution? Il suffit de déplacer la région de la piste pour suivre le vibraphone arpégiateur dans la zone Arrangement.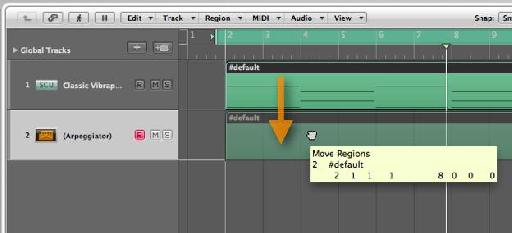 05 - en temps réel la réalité!
Si vous frappez une note MIDI sur votre contrôleur MIDI ou en utilisant le clavier Caps Lock vous n'entendez que la seule note / accord joué. C'est parce que arpégiateur Logic fonctionne uniquement en temps réel: le transport doit être exécuté, ou en d'autres termes, vous devez être en "jouer" en mode.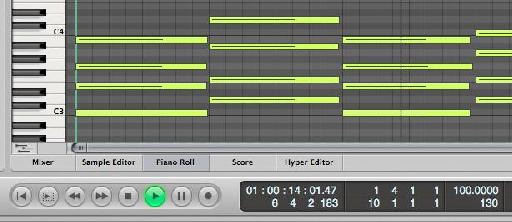 Hit jouer et vous allez entendre l'arpège qui a été créé à partir de notre modèle de corde.
[Audio id = "634"]
06 - Options arpégiateur
Il ya beaucoup de choses que nous pouvons faire pour changer la façon dont les accords sont arpégés.
Sélectionnez la piste arpégiateur et dans l'Inspecteur cliquez sur la flèche de l'arpégiateur Track Divulgation pour afficher les options supplémentaires.
Ici vous pouvez définir la direction de la corde arpégés. Par exemple, jusqu'à jouera les notes les plus à la plus haute, Bas vont du plus élevé au plus bas et aléatoires vont jouer les notes dans un ordre aléatoire.
Vous pouvez également régler la vélocité des notes de l'arpège, choisir de limiter la plage de hauteur afin de déterminer quelles notes seront arpégés. (Toutes les notes en dehors de la gamme de clés Limit ne sera pas arpèges).
La résolution détermine la division note de la tendance arpégés. Cela pourrait également être décrite comme la vitesse. Par exemple, régler la résolution à 1 / 8 se traduira par un ralentissement de tendance de 1 / 16. Si vous êtes après une très avant-gardiste effet essayer de régler la résolution à l'aléatoire!
Une autre option intéressante est la mise en octaves qui peuvent s'étendre sur des notes arpégées être répété jusqu'à 10 octaves!
Il est possible de «télécommande» ces paramètres dans l'arpégiateur, mais cela dépasse le cadre de ce tutoriel. Conseils arpégiateur plus avancés et astuces peuvent être trouvés dans tutoriel Steve H Logic Tnt1 ici .
07 - Obtenir Creative
Comme l'arpégiateur est un objet environnement, il peut être acheminé vers d'autres instruments pour créer des motifs d'arpèges couches.
Create a new Software Instrument track and place an Instrument of choice on the track. In this example I'm using the ES2 and the setting:
12 Synth Keyboard > Electric Harmonics
Maintenant revenir à la fenêtre de l'Environnement et faites glisser la deuxième sortie de l'arpégiateur à cette bande de canal logiciel nouvel instrument. Avec quelques ajustements, vous pouvez créer des tendances intéressantes arpégés. Bien sûr, les sons que vous choisissez peut faire une grande différence. Expérience avec des basses plus courte synthé et des sons de couteau de la danse et la musique Trance.
[Audio id = "636"]
Cependant, il ya un bémol à la mise en place de l'arpégiateur de cette façon. L'arpégiateur ne pas écrire la sortie de la note comme un motif d'arpège (si vous les enregistrer sur la piste ou l'utilisation d'une région MIDI). Donc, si vous enregistrez une progression d'accords à la piste d'arpège, vous allez enregistrer les notes originales que vous jouez et pas le modèle arpèges que vous entendez.
En conséquence, si vous souhaitez rendre le modèle de l'audio puis assurez-vous d'utiliser le mode en temps réel lors de rebondir. Cela permet à la logique d'envoyer les cordes d'origine grâce à l'arpégiateur et enregistrer la sortie, qui doit être fait en temps réel.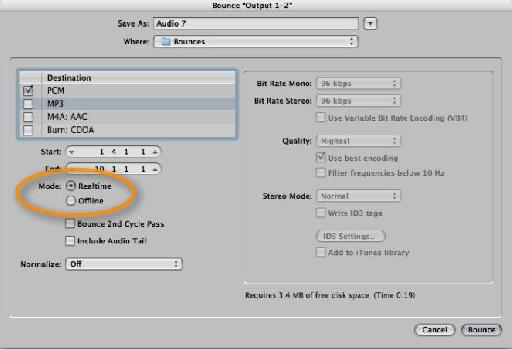 Après avoir créé un arpégiateur, vous pouvez enregistrer votre projet comme un modèle pour éviter ainsi d'avoir à recréer un arpégiateur à partir de zéro. Cependant, restez à l'écoute pour la partie 2 de ce tutoriel où nous allons regarder dans la création d'un environnement arpégiateur qui peut être activée / désactivée et peut être appliqué à n'importe quelle piste d'instruments logiciels, sans câblage supplémentaire nécessaire salissante ... Cette méthode sera aussi écrire les modèles arpèges direct à vos pistes choisies.
Téléchargez le fichier de projet Logic 9 pour accompagner ce tutoriel ici.
Ne peut pas attendre pour la partie 2 à l'arrivée? Pas de problème! Vérifiez ce tutoriel, même pour des conseils et astuces environnement plus qui feront de vos productions de musique se démarquer de la foule!