Logic comes with a built-in arpeggiator. It's true! Many new Logic users search for it within the DSP Effects area to no avail - or hope that it may be an option within the included instruments. Inste
Lógica vem com um built-in arpeggiator. É verdade! Muitos novos usuários Logic pesquisa para ele dentro da área de Efeitos DSP sem sucesso - ou esperança de que ele pode ser uma opção no âmbito dos instrumentos incluídos. Em vez disso, terá que mergulhar no ambiente Logic para criar um arpejador que vai funcionar grande quando você sabe como usá-lo.
Há duas maneiras principais para configurar o arpeggiator em Lógica. Neste tutorial vamos explorar a maneira mais simples para ele funcionando e criar alguns padrões de arpejo.
01 - Escolha o seu Instrumento
I've started out by creating a new Software Instrument track and have chosen to use Sculpture as my instrument of choice. If you'd like to follow along I've used the preset:
06 Mallet Instruments > Classic Vibraphone
Em seguida, eu criei uma região MIDI na pista Vibrafone e lápis em alguns acordes: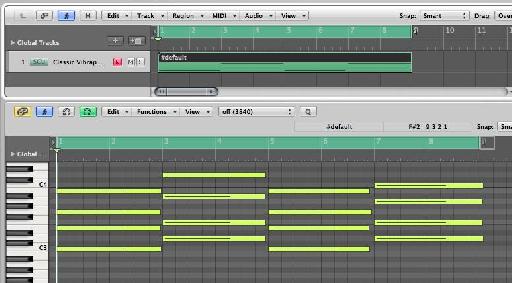 Aqui está o que o nosso instrumento soa como:
[Audio id = "628"]
02 - Criar um Arpeggiator
Se você nunca se aventurou em Meio Ambiente Logic antes eo pensamento de fazê-lo perturba o seu sono, não tenho medo. É realmente muito um lugar agradável uma vez que você entender o básico, e uma vez dominado você vai entender porque a lógica é tão popular!
Nós vamos estar criando um objeto novo Arpeggiator e encaminhá-lo para a pista Vibraphone.
Escolha Janela
Escolha Novo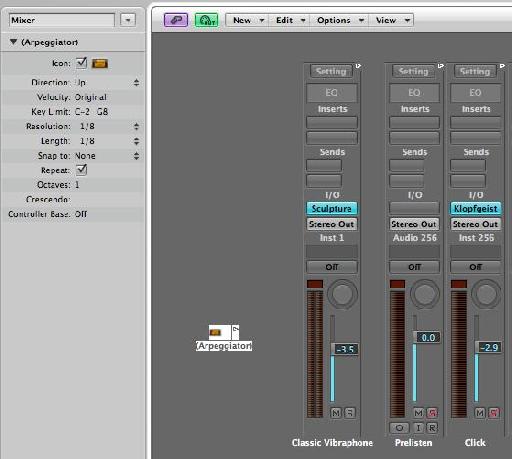 Um objeto Arpeggiator é criado. Você pode arrastar esta em volta e coloque-o em um lugar conveniente na janela de Meio Ambiente.
03 - Conectando-lo
O arpejador tem um triângulo em que é superior direito. Este é um slot de saída. Isso nos permite conectá-lo a outro objeto e saída do sinal de MIDI do objeto Arpegiator a uma faixa de canal.
Neste caso, queremos arpeggiate o instrumento vibrafone. Então arraste esse triângulo de saída e um cabo irá aparecer. Queda deste cabo para a faixa de canal Vibraphone. A conexão é feita!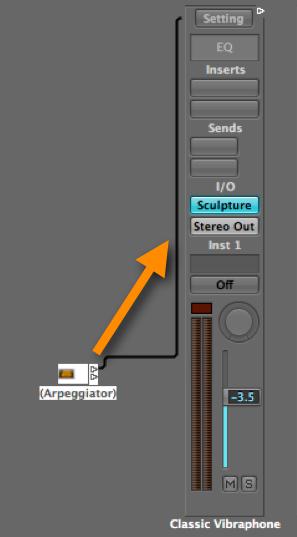 Nós temos encaminhado a saída do Arp para a faixa de canal Vibraphone.
04 - A trilha para o Arpeggiator
Nosso Arpeggiator necessidades é própria trilha. Não pode criar um som, mas pode arpeggiate as notas MIDI que jogamos (ou o local na pista) e enviá-los para a pista Vibraphone conectado.
De volta na área Arrange criar uma nova faixa. Não importa que tipo de pista, vamos atribuí-lo ao nosso Arpeggiator.
Posição da janela Ambiente para que você possa ver a lista de cabeçalho de trilha na página Arrange. Arraste o objeto Arpeggiator da janela de Meio Ambiente para a nova faixa de cabeçalho. O objeto arpeggiator agora é atribuído a essa faixa.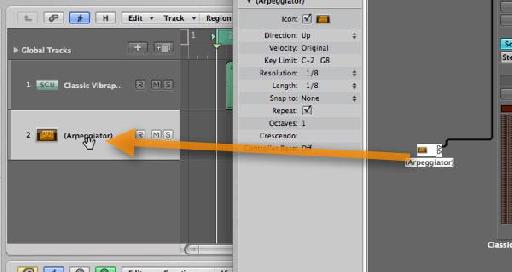 Se você acertar jogar agora, você vai ouvir os acordes Vibraphone original, sem qualquer arpejo aplicado a eles.
O Arpeggiator não pode arpeggiate as notas MIDI de uma região em uma pista diferente. A solução? Basta mover a região a partir da faixa Vibraphone para acompanhar o Arpeggiator na área Arrange.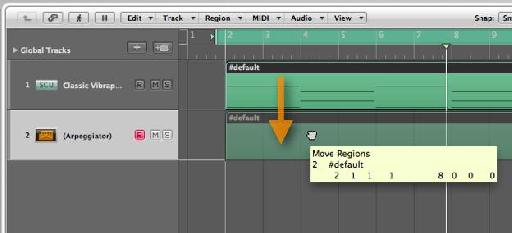 05 - Realidade em tempo real!
Se você acertar uma nota MIDI no seu controlador MIDI ou usando o teclado Caps Lock você só vai ouvir a única nota / acorde que está sendo jogado. Isto é porque Arpeggiator Logic só funciona em tempo real: o transporte tem de ser executado, ou em outras palavras, você deve estar no modo "Play".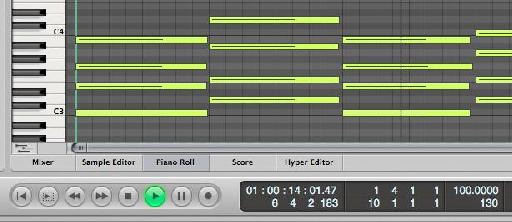 Hit jogo e você ouvirá o arpejo que foi criado a partir de nosso padrão de acordes.
[Audio id = "634"]
06 - Opções Arpeggiator
Há muitas coisas que podemos fazer para mudar a forma como os acordes são arpeggiated.
Selecione a faixa Arpeggiator e no Inspector clique na seta do Arpeggiator Divulgação Pista para mostrar mais opções.
Aqui você pode definir a direção da corda arpeggiated. Por exemplo, Up vai jogar a notas mais baixas para o mais alto, para baixo vão maior para o menor e Random vai tocar as notas em uma ordem aleatória.
Você também pode definir a velocidade das notas arpeggiated, optar por limitar a faixa de campo para determinar quais notas serão arpeggiated. (As notas fora da faixa limite-chave não será arpeggiated).
A Resolução determina a divisão nota do padrão arpeggiated. Isso também poderia ser descrito como velocidade. Por exemplo, configurar a resolução para 08/01 irá resultar em uma menor padrão do que 1 / 16. Se você estiver após um efeito de vanguarda muito tentar definir a resolução para Random!
Outra opção interessante é a configuração Oitavas que pode abranger as notas arpeggiated a ser repetida ao longo de até 10 oitavas!
É possível "controle remoto" estas definições no Arpeggiator, mas isso está além do escopo deste tutorial. Arpeggiator dicas e truques mais avançados podem ser encontrados em TNT1 Steve H Logic tutorial aqui .
07 - Getting Criativo
Como o arpejador é um objeto Ambiente pode ser encaminhado para outros instrumentos para criar padrões de camadas de arpejo.
Create a new Software Instrument track and place an Instrument of choice on the track. In this example I'm using the ES2 and the setting:
12 Synth Keyboard > Electric Harmonics
Agora voltar para a janela Ambiente e arraste a segunda saída do Arpeggiator a esta nova faixa de canal software do aparelho. Com alguns ajustes você pode criar alguns padrões interessantes arpeggiated. É claro que os sons que você escolher pode fazer uma grande diferença. Experiência com graves mais curtos e sons synth facada de Dança e música Trance.
[Audio id = "636"]
No entanto, há uma ressalva a criação do Arpeggiator desta forma. O Arpeggiator não escrever a saída das notas como um padrão de arpejo (se você gravá-los para a pista ou usar uma região MIDI). Então, se você gravar uma progressão de acordes para a faixa Arpeggio, você irá gravar as notas originais que você joga e não o padrão arpeggiated que você ouve.
Como resultado, se você quiser tornar o padrão para áudio, em seguida, certifique-se de usar o modo em tempo real quando saltar. Isto permite Logic para enviar os acordes originais através do arpeggiator e registrar a saída, que deve ser feito em tempo real.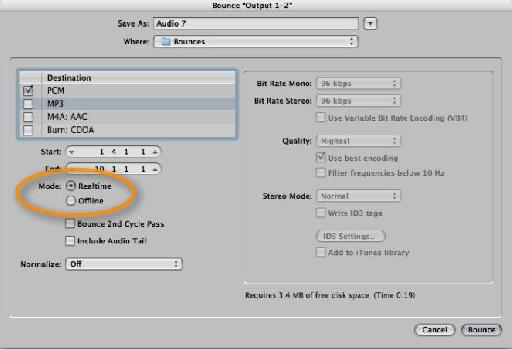 Depois de ter criado um Arpeggiator, você pode desejar para salvar seu projeto como um modelo para evitar a necessidade de re-criar um arpeggiator a partir do zero. No entanto, fique atento para a parte 2 deste tutorial, onde vamos olhar para criar um ambiente Arpeggiator que pode ser alternado on / off e pode ser aplicado para qualquer faixa Instrumento Software sem cabos desarrumado extra necessário ... Este método também irá escrever os padrões arpeggiated direto para suas faixas escolhidas.
Baixe o arquivo Logic Projeto 9 para acompanhar este tutorial aqui.
Não pode esperar para a parte 2 para chegar? Não tem problema! Confira este tutorial, mesmo para mais dicas e truques Meio Ambiente que vai fazer produções musicais se destacam da multidão!