Dub Reggae broke some crazy sonic boundaries back in the day, and is heard everywhere in modern music from Rap and Pop to Metal and Electronica. The use of delays and limited analog gear was utilized
Dub Reggae broke some crazy sonic boundaries back in the day, and is heard everywhere in modern music from Rap and Pop to Metal and Electronica. The use of delays and limited analog gear was utilized to its utmost to create exciting new sounds. Today we are going to explore how to create dub-style delays. These delays can be applied to any genre to create both interest and movement. I am going to explain how to create interesting dub delays in Logic 9 using its bundled delay plugins and automation features. This can be achieved in any other DAW using the same principles.

01 - The Theory Behind It

Founding Dub producers like Lee '˜Scratch' Perry, Mad Professor, Jah Shaka etc. were very limited in the gear they used, but the results they created with this gear still stands to this day. These producers used their gear in ways it was not intended for. They created feedback loops with their delay units, and manipulated them using auxiliary channels on their mixing consoles. Imagine if they had had the tools we have access to today.
What's exciting about dub-style delay is that it feels like you are 'playing' the delays as opposed to mixing and editing them in. With Logic's Tape Delay plugin, automation features, and a MIDI controller, you can really go the whole hog in creating fun interesting dub delays.
02 - What to Do

I am going to create a simple drum loop using Ultrabeat, and then send the snare and hats out to aux channels. Make sure to choose a Multi-Output Ultrabeat instrument. This will allow us to send single drum sounds out to different auxiliary channels to be processed individually.
Here is the simple drum pattern I have created:
02 - Send Those Drums Out

Now switch over to the Mixer Window (Command+2). Click the small plus sign at the bottom of the Ultrabeat channel strip twice, to create 2 x Aux channel's for the snare and hats we are going to send out.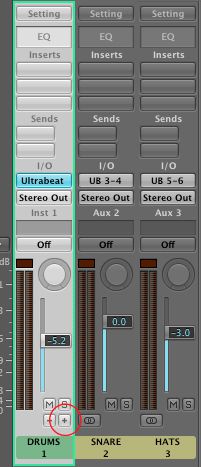 Then go back to Ultrabeat's interface. On the output channel of the snare choose Output 3-4, and on the hats choose Output 5-6.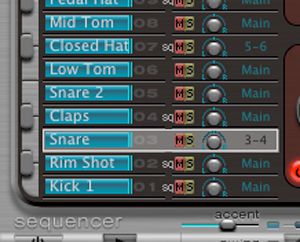 Now when you switch back to the Mixer windows you will now see the snare and hats come through the Aux channels we created earlier. You can rename these Aux channels to '˜Snare' and '˜Hat'. Next, right-click on each Aux channel and choose Create/Select Arrange Track. These will now be visible in the Arrangement windows for further automation later.
03 - Time For The Delay

It is time to setup the Delay Aux channel. In the Mixer Windows choose to create a new Aux channel (Options > Create New Auxiliary Channel Strips). You will notice this Aux will have the input of Bus 1. Insert a Tape Delay in this channel. Rename this channel to DEL SEND. This Tape Delay plugin emulates the Tape Delay units of the late 60's to early 70's.
In the Tape Delay presets menu choose Ultra Dub, this is a really nice Dub delay preset. This preset uses the Tape Delay LFO Rate and Depth, and the Flutter Rate and Intensity settings to degrade the delays. The filter section filters out any frequencies that could cause harsh digital distortion due to the high feedback on the delay.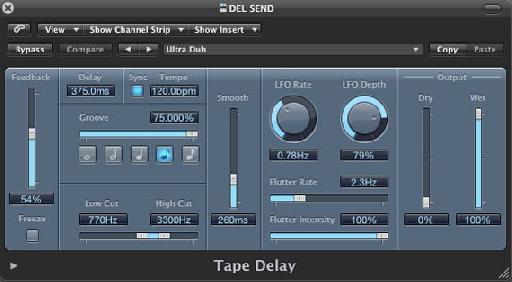 04 - Send It To The Delay

Next create a Bus (set to Bus 1) on the Snare and Hat channels that sends to the Delay channel. By increasing the Bus level you will notice the delays coming through on the Snare and Hat channel. Listen to that beautiful Dub vibe. To really make this interesting, let's automate these delays.

05 - Automate That Delay

Switch back to your arrange page now and choose View > Track Automation to view the automation lanes on the arrange page. On the Snare and Hat Aux channels you created, in the box to choose the automation lane, choose Main > Send 1 or 2 > DEL SEND. Now you can either draw in the amount of the send value, or if you have a controller assigned to one of the knobs or faders to the bus on the snare and hats channels, you can use the Latch automation mode to really 'play' that delay send level.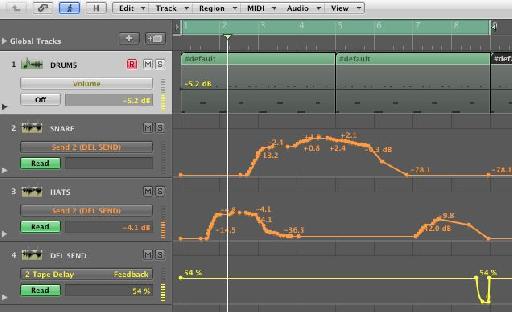 For more information on Automation modes and Controller assigning check out Mo Volans' article here:
http://www.macprovideo.com/hub/logic-pro/quick-tip-logics-automation-modes-explained
Here is the audio example of our dub-delay loop:
It is nice to keep the Kick dry or else you loose some of its impact.
06 - Conclusion

Test these dub-delay tricks out for yourself on your material. It will bring about interest and movement in to sections that may be lacking. It works wonders in breakdown and bridge sections of tracks. Go Dub Crazy!
Don't forget to check out Steve H's Tips and Tricks Video Tutorials to help improve your Logic workflow and give you a range of Logic based production and sound design tricks:
http://www.macprovideo.com/tutorial/logic9303tnt2
http://www.macprovideo.com/tutorial/logic304