Dubstep is all the rage with its big wobble sounds. This pseudo style is a mixture of Dub Reggae, 2-Step, Grime with elements of Drum 'n Bass. Join Gary Hiebner as he shakes it up in Logic Pro.
Dubstep is all the rage right now and it's hard not to get pulled in by its poisonous big sounds, and illustrious productions. This pseudo style is a mixture of Dub Reggae, 2-Step, Grime with elements of Drum 'n Bass. But what really stands out when listening to Dubstep are those huge "wobble" bass lines. They can actually be created quite easily using Logic's ES2 Virtual Instrument and, with some automation added to the recipe, you can really create some interesting DubStep synth lines in your productions.

01 - Sounds mit dem ES2
Zuerst instanziieren die ES2 auf einem Software-Instrument-Kanal. Unter den Presets wählen Sie die Analog unter den 12 Tutorial Einstellungen Untermenü Saw Init. Dies ist eine grundlegende Saw Wave Synthesizer-Sound, den wir bauen auf die unsere DubStep Basslinien erstellen.
Hier habe ich eine sehr einfache Basslinie erstellt werden, da die meisten Dubstep Basslinien in der Tat sehr einfach in der Natur sind. Es ist wirklich der LFO Automatisierung, füllt die Basslinie zu verfolgen und schafft Interesse.
Audio Beispiel Analog Saw Bass:
[Audio-id = "2209"]
02 - Erstellen der "Wobble"
Nächstes werden wir die wackeln Klänge, die in der Dubstep Synthesizer-Linien zu hören sind zu schaffen. Diese sind mit dem ES2 ist LFO und die ES2 ist Modulation Matrix-Menü erstellt. Die Modulations-Matrix-Menü ist ein sehr nützliches Werkzeug auf der ES2 und kann wirklich bringen Sie Ihren Sounds zum Leben, während das Hinzufügen einiger interessanter Bewegung in Ihre Synth-Sounds. Lassen Sie uns zunächst entscheiden, was wir den LFO moduliert werden soll. In der Modulations-Matrix auf einem der Kanäle, in die Target wählen: Cut 1 2. Dies wird modulieren sowohl die Schwellenwerte von Envelope 1 und 2. In das Feld Quelle wählen LFO2. Wir wählen LFO, weil es Ihnen um die Rate Divisionen des Tempos, wie 1 / 8 und 1/16T Noten ändern können.
Setzen Sie den LFO2 Sie hier, um Notizen. Hier können Sie hören ein leichtes Wackeln an der Basslinie.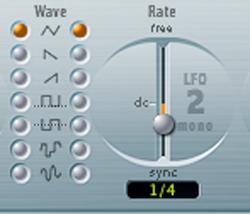 Abbildung 4 - LFO2
Audio Beispiel ES2 mit LFO:
[Audio-id = "2211"]
Lassen Sie würzen die Bass-Sound, klingt es ein wenig flach. Lassen Sie uns also aktivieren Sie die anderen Oszillatoren und wählen Sie einige verschiedene Wellenformen. Für Oszillator 2 wählen Sie eine Rechteck-Wellenform und verstimmt es eine Oktave nach unten, um mehr Low-End für den Bass-Sound hinzufügen. Auf Oszillator 3 wählen Variante Saw Wellenform. In der Triangle Mix-Fenster, mischen die drei Töne, bis Sie einen Ton, den Sie gerne gefunden haben.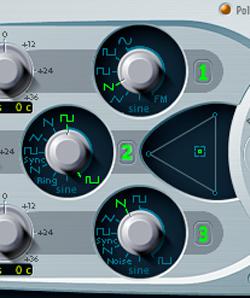 Abbildung 5 - Triangle Mixer
Audio Beispiel Analog Saw mit extra Oszillatoren:
[Audio-id = "2213"]
03 - Hinzufügen von Automation um die Wobbles Umzug
Jetzt ist es Zeit, einige Automatisierung der LFO hinzufügen zu akzentuieren die "wackelt".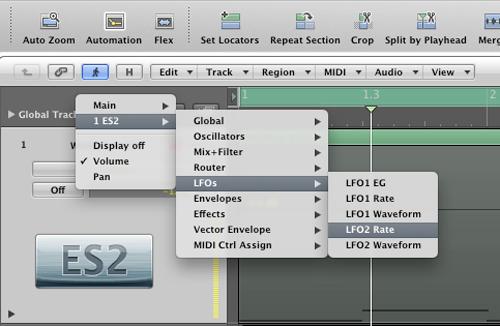 Abbildung 6 - Wählen LFO2 Rate
Öffnen Sie die Automation lane (View
Audio Beispiel LFO2 Wobble mit Automation:
[Audio-id = "2216"]
04 - Nun lasst uns, dass Pitch Automatisieren
Sie können noch einen Schritt weiter und sogar automatisieren die Tonhöhe Sie Bass, noch mehr Interesse bei den Sound zu kreieren. In der Modulation Fenster haben wir Pitch123 aus dem Menü Ziel gewählt, um alle Oszillatoren (1,2 und 3) Pech, und wir haben uns LFO1 dieser Zeit als Quelle zur Modulation der Tonhöhe. Sie können auch verrückt mit diesem. Verwenden Sie die Touch-Automation-Modus und bewegen Sie den Schieberegler in der Modulations-Matrix in der Automatisierungstechnik zu ziehen, während der Track spielt. Werfen Sie einen Blick auf Mo Volans 'Artikel an einen besseren Halt der verschiedenen Automatisierungs-Logic-Modi zu bekommen .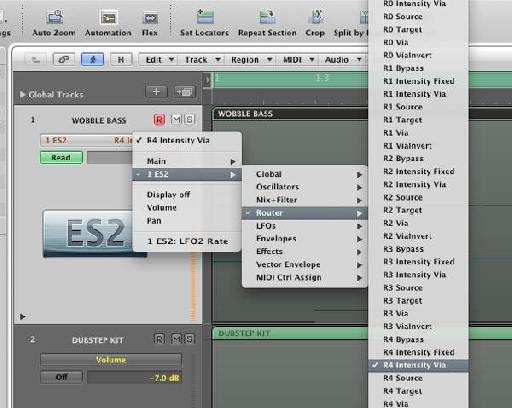 Abbildung 8 - R4 Intensity Via
Dadurch ändert sich die ES2 Router R4 Intensity Via Automatisierung Feld:
Audio Beispiel für Bass mit Pitch Automation:
[Audio-id = "2219"]
05 - Doppel-and Dirty bis die Wobble-Bass
Um schmutzige bis dieser Bass-Sound mehr, duplizieren Sie die Bass-Channel-Strip mit den gleichen Einstellungen. Dann fügen Sie einige Pedal-Boards Distortion-Pedale, die Overdrive-Effekt, und Ring Shifter-Plug-in, um wirklich Dreck bis dieses Geräusch. Mischen Sie die beiden Bass-Sounds zusammen, bis die Pegel jedes gut klingen.
Audio Beispiel verdoppelt ES2 Bass:
[Audio-id = "2221"]
06 - Lassen Sie uns nun in einem Dubstep Beat
Dubstep Beats sind recht einfach. Die Schlingen sind mehr als oft nicht auf dem 3. und 7.. Hier ist der Beat I geschaffen. Diese Beats mag einfach sein, aber sie erlauben die Wobble-Bass-Linien beschäftigt zu sein und verrückt, und sie eröffnen Platz im Mix für diese Dubstep Linien.
Audio Beispiel DubStep Loop:
[Audio-id = "2222"]
Und jetzt ist hier die Dubstep-Loop und Grimey Wobble Bass Line zusammen.
Audio Beispiel DubStep Schleife
[Audio-id = "2223"]
07 - Sie können auch die ES2 Tutorial
Wenn Sie tiefer in die ES2 möchten, lesen Sie in der Steve Horlick das Tutorial über die Ins und Outs der ES2 . Dieses Tutorial erklärt alle seine Funktionen.
Wenn Sie aufpolieren möchten, dass Ihre elektronischen Produktionen auch heraus überprüfen Olav Basoski die Tutorials auf die Produktion von elektronischer Tanzmusik.

So da rein und wackeln und Schmutz bis die Bass-Linien. Viel Spaß!