Dubstep is all the rage with its big wobble sounds. This pseudo style is a mixture of Dub Reggae, 2-Step, Grime with elements of Drum 'n Bass. Join Gary Hiebner as he shakes it up in Logic Pro.
Dubstep is all the rage right now and it's hard not to get pulled in by its poisonous big sounds, and illustrious productions. This pseudo style is a mixture of Dub Reggae, 2-Step, Grime with elements of Drum 'n Bass. But what really stands out when listening to Dubstep are those huge "wobble" bass lines. They can actually be created quite easily using Logic's ES2 Virtual Instrument and, with some automation added to the recipe, you can really create some interesting DubStep synth lines in your productions.

01 - sons avec l'ES2
D'abord instancier l'ES2 sur un canal d'instrument logiciel. Sous les préréglages choisissez l'analogique Saw Init sous les 12 paramètres Tutoriel sous-menu. C'est un bruit de scie base d'ondes de synthé, ce qui nous miserons sur la création de nos lignes de basse dubstep.
Ici, j'ai créé une ligne de basse très simple parce que la plupart des lignes de basse de Dubstep sont en fait très simple dans la nature. C'est vraiment l'automatisation LFO qui remplit la piste ligne de basse et crée l'intérêt.
Exemple audio analogique du Saw Bass:
[Audio id = "2209"]
02 - Création du "wobble"
Ensuite, nous allons créer ces sons qui sont entendus oscillation dans les lignes de synthé Dubstep. Elles sont créées en utilisant les ES2 LFO et l'ES2 Matrice de modulation du menu. Le menu Modulation Matrix est un outil très pratique sur l'ES2, et peut vraiment apporter vos sons à la vie tout en ajoutant quelques mouvements intéressants à vos sons de synthé. D'abord nous allons choisir ce que nous voulons le LFO pour moduler. Dans la matrice de modulation sur l'un des canaux, dans la cible de choix: Couper 1 2. Ce sera moduler à la fois les seuils de l'enveloppe 1 et 2. Dans le champ Source choisissez LFO2. Nous choisissons LFO, car il vous permet de changer le taux de divisions du tempo comme le 1 / 8 et note 1/16T.
Réglez le LFO2 ici pour notes. Ici vous pouvez entendre un léger vacillement de la ligne de basse.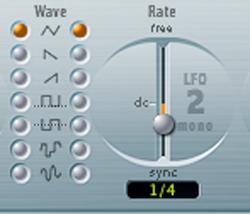 Figure 4 - LFO2
Exemple audio de ES2 avec LFO:
[Audio id = "2211"]
Épices Faisons le son de basse, ça sonne un peu plat. Donc, nous allons activer le oscillateurs autre et choisir des formes d'onde différentes. Pour l'oscillateur 2 choisissez un signal carré et il désaccorder le bas d'une octave d'ajouter plus bas de gamme au son de basse. Sur l'oscillateur 3 Choisissez la variante de scie de forme d'onde. Dans la fenêtre Mix Triangle, mélanger les trois sons jusqu'à ce que vous avez trouvé un son que vous voulez.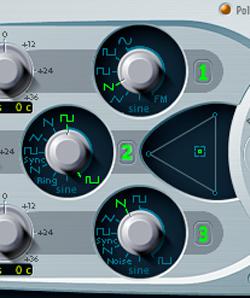 Figure 5 - Triangle Mixer
Exemple audio d'analogique Scie oscillateurs supplémentaires:
[Audio id = "2213"]
03 - Automatisation Ajout d'obtenir ces Wobbles Moving
Maintenant il est temps d'ajouter quelques automatisation pour le LFO pour accentuer ces «vacille».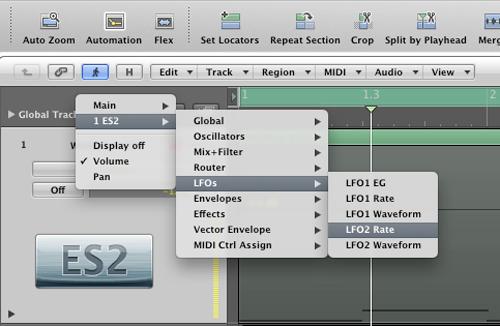 Figure 6 - Sélectionnez LFO2 Rate
Ouvrir la voie d'automatisation (Voir
Exemple audio du LFO2 Wobble avec Automation:
[Audio id = "2216"]
04 - Maintenant, nous allons automatiser le pitch
Vous pouvez le prendre un peu plus loin et même automatiser la hauteur de la basse-vous pour créer un intérêt encore plus avec le son. Dans la fenêtre de modulation, nous avons choisi le menu Pitch123 cible à la hauteur de tous les oscillateurs (1,2 et 3), et nous avons choisi LFO1 cette fois comme la source de moduler le pitch. Vous pouvez également aller fou avec cela. Utilisez le mode d'automation Touch et déplacez le curseur dans la matrice de modulation de dessiner dans l'automatisation alors que la piste est jouée. Jetez un oeil à Volans Mo 'article pour obtenir une meilleure adhérence des modes Logic automatisation différents .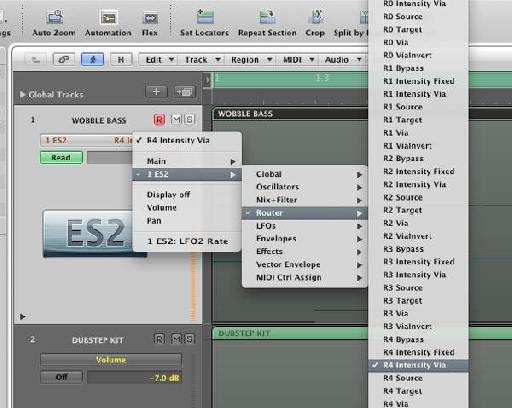 Figure 8 - Intensité R4 Via
Cela modifie le routeur ES2 Intensité R4 Via domaine de l'automatisation:
Exemple audio de Bass avec Automation Pitch:
[Audio id = "2219"]
05 - Double et Dirty place que Bass Wobble
Pour sale jusqu'à ce son de basse plus, dupliquer la bande de canal de la basse avec les mêmes paramètres. Ensuite, ajoutez quelques pédales pédale de distorsion conseils, l'effet Overdrive, et Shifter Anneau de plug-in pour vraiment la saleté jusqu'à ce son. Mélanger les deux sons de basse ensemble jusqu'à ce que les niveaux de chaque bon son.
Exemple audio d'Doublement ES2 Bass:
[Audio id = "2221"]
06 - Maintenant, nous allons ajouter dans un Beat Dubstep
Bat Dubstep sont assez simples. Les pièges sont plus souvent qu'autrement sur les 3ème et 7ème. Voici le beat que j'ai créé. Ces battements peuvent être simples, mais elles permettent les lignes de basse wobble d'être occupé et fou, et ils ouvrent un espace dans le mix de ces lignes Dubstep.
Exemple audio de boucle dubstep:
[Audio id = "2222"]
Et maintenant, voici la boucle Dubstep et Line Grimey Basse Wobble ensemble.
Exemple audio du dubstep en boucle
[Audio id = "2223"]
07 - Vérifiez aussi le didacticiel ES2
Si vous souhaitez obtenir plus profondément dans l'ES2, consultez le tutoriel Horlick Steve sur les tenants et les aboutissants de l'ES2 . Ce tutoriel explique toutes ses fonctions.
Si vous souhaitez peaufiner vos productions électroniques également consulter des tutoriels Olav Basoski est le produit de la musique de danse électronique.

Alors entrer là et vaciller et la saleté jusqu'à ces lignes de basse. Amusez-vous!