Erstellen Glitch Stil Stutter FX in Logic - Teil 1
One of the most famous experimental glitch artists today is BT. His album "This Binary Universe" is a favorite in my collection and features carefully crafted microsounds that stutter in and out of ti
Einer der bekanntesten experimentellen glitch KünstlerInnen ist heute BT. Sein Album "This Binary Universe" ist ein Favorit in meiner Sammlung und verfügt über sorgfältig ausgearbeitete microsounds, dass Stottern in die und aus der Zeit - manchmal zu beschleunigen und zu anderen Zeiten zum Erliegen. In der Zwischenzeit die anderen klanglichen Elemente und Rhythmen weiterhin eine faszinierende und bunte musikalische Landschaft zu formen.
Künstler wie BT haben die Verwendung von aus gewissen Verlangsamung (oder stottern Bearbeitungen) ein Grundnahrungsmittel der Glitch-Genre. In der Tat viele nennen würde diese Art von Effekt BT Unterschrift Sound. In dieser Serie von Tutorials werden wir uns, wie man diese allmähliche Verlangsamung stottern bearbeiten Wirkung in Logic oder DAW Ihrer Wahl neu aussehen.
01 - Finding Inspiration
Dieses Thema wurde für mich zu den vorgeschlagenen
Hier ist, was es klingt:
[Audio-id = "386"]
03 -, Audio-Bounce
Nach der Aufnahme eines sehr kurzen Notiz über die Skulptur track, ist es Zeit, die Region um Audio-Bounce. Rendering der Klang von Audio macht es einfacher zu schneiden oder die Größe der Sound, wie wir die Wellenform sehen können und Entscheidungen zu treffen entsprechend.
Wählen Sie Region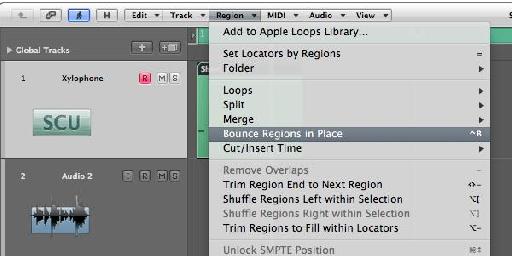 04 - Bearbeiten der Audio Region
Let's resize the region to make the sound even shorter in duration. Preferably as short as possible while retaining enough of the sound itself...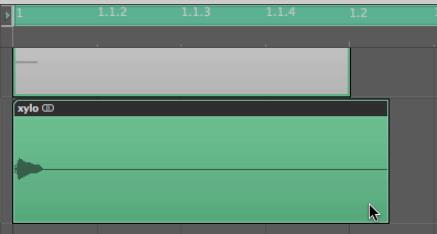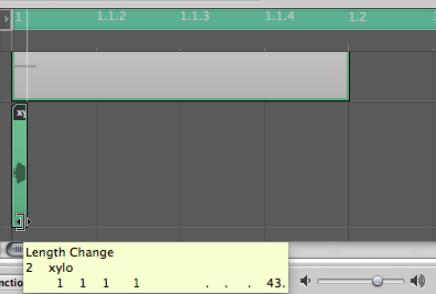 Wie Sie aus dem Taktlineal in den Bildern oben sehen kann, habe ich die Länge des Bereichs verkürzt drastisch. Sie könnten es vorziehen, führen Sie diese Änderungen in den Sample-Editor. Hier ist mein Beispiel-Sound. Blink und Sie könnten es verpassen!
[Audio-id = "390"]
05 - Zoom rechts in und Platzierung der Zugriffe
Zoom wie in den Arrange-Bereich zu schließen, wie Sie bequem mit bist. In meinem Fall sehe ich die ganze erste bar. Jetzt kommt die Zeit, zu experimentieren.
Die Idee ist, eine Verlangsamung Effekt zu erzeugen (wie ein umgekehrter springenden Ball), so werden wir diesen Regionen zu kopieren, um ein Muster, das nicht direkt in Logic das Timing Netz fit zu schaffen.
Wahltaste der Region, um eine Kopie zu erstellen sehr nah an der ersten Region zu schließen. Wiederholen Sie den Vorgang nach und nach Platz jeder Region weiter auseinander. Hier ist, was meiner Gegend in Logic sieht Ordnen:

Hören Sie zurück zu ihm und zu experimentieren, bis Sie zufrieden mit dem Abstand zwischen den einzelnen betroffen sind. Vielleicht möchten Sie weiter experimentieren und ein Stottern zu bearbeiten, die langsamer nach unten und dann beschleunigt den allmählich oder schneller. Die einzige Regel zu befolgen ist, was passt am besten in Ihre Kompositionen und schafft den gewünschten Effekt.
[Audio-id = "392"]
06 - Hinzufügen von Bewegung
Ich habe einige Pan Automation, indem Sie Ansicht hinzugefügt

[Audio-id = "394"]
07 - Automatisieren Sie die Reverb
Meine letzte Schritt ist hier Reverb auf den letzten Hit hinzuzufügen, um ihm mehr Wirkung. Dies würde dazu beitragen, eine interessante füllen ein Musikstück sowie add Raum und bringen
Ich habe einen Space Designer auf den Insert-Slot der Spur hinzugefügt und bin mit 0,7 Sekunden klaren Gesang mit dem Reverb Output gesetzt zu 35.0dB. Von der Automation im Parameter-Menü auf der Spur-Header habe ich gewählt, um die Reverb Output zu automatisieren. Ich habe in zwei Knoten vor dem letzten Hit gezogen und erhöht den Wert auf-22.0dB.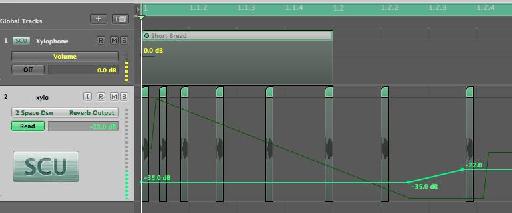 Hier ist, was es klingt.
[Audio-id = "396"]
Vielleicht möchten Sie weiter experimentieren, indem Sie einige der Besucher auf verschiedenen Spuren und verarbeiten jeden Track mit seinen eigenen Satz von Effekten, und fügen Sie eine weitere Automatisierung, um die Spuren.
In Teil 2 werden wir uns, wie man das Stottern Verlangsamung Effekt mit Logic Plug-Ins zu erstellen freuen .