Créer Glitch style Stutter devises dans Logic - Partie 1
One of the most famous experimental glitch artists today is BT. His album "This Binary Universe" is a favorite in my collection and features carefully crafted microsounds that stutter in and out of ti
Un des artistes les plus célèbres pépin expérimentale est aujourd'hui BT. Son album «Cet univers binaire" est un favori dans ma collection et les caractéristiques microsounds minutieusement conçus, bégayent dans et hors du temps - parfois à accélérer et à d'autres moments de broyage pour une halte. En attendant que les autres éléments sonores et des rythmes de continuer à sculpter un paysage envoûtant et coloré de musique.
Des artistes tels que BT ont fait l'utilisation de certain ralentissement (ou bégaie éditions) un aliment de base du genre Glitch. En réalité beaucoup appellent ce type de signature sonore d'effet de BT. Dans cette série de tutoriaux, nous allons voir comment recréer cette progressif ralentissement de bégaiement modifier effet dans la logique ou de toute DAW de votre choix.
01 - Inspiration Trouver
Ce sujet m'a été suggéré sur la
Voici ce que cela ressemble à :
[Audio id = "386"]
03 - Bounce to audio
Après avoir enregistré une note très courte sur la piste de sculpture, il est temps de rebondir dans la région de l'audio. Rendu le son de l'audio, il est plus facile de couper le son ou la redimensionner comme nous pouvons voir la forme d'onde et de prendre des décisions en conséquence.
Choisissez la région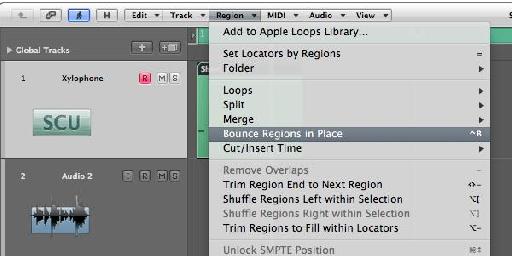 04 - Modification de la région audio
Let's resize the region to make the sound even shorter in duration. Preferably as short as possible while retaining enough of the sound itself...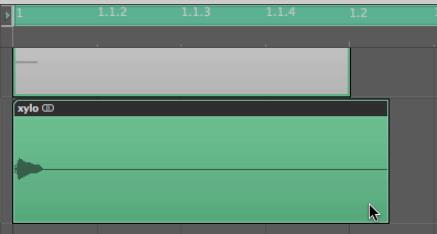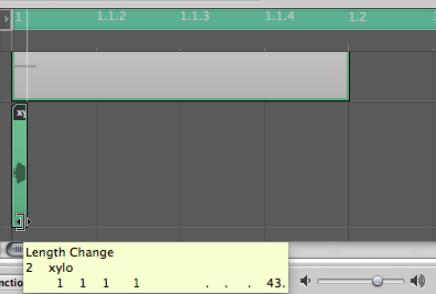 Comme vous pouvez le voir sur la barre des images dans le haut, j'ai raccourci la longueur de la région de façon spectaculaire. Vous préférerez peut-être effectuer ces modifications dans l'Éditeur d'Échantillons. Voici mon son exemple. Blink et vous pourriez le manquer!
[Audio id = "390"]
05 - Droit des zooms avant et de placer les hits
Zoom plus près de la zone Arrangement que vous êtes confortable avec. Dans mon cas, je peux voir la barre toute la première. Maintenant vient le temps d'expérimenter.
L'idée est de créer un effet de ralentir (comme une balle rebondissante inversée), alors nous allons copier ces régions pour créer un motif qui n'est pas directement entrer dans la grille calendrier de Logic.
Option + faire glisser la région pour créer une copie très proche de la première région. Répétez le processus et progressivement l'espace de chaque région plus espacés. Voici ce que mon zone Arrangement dans Logic ressemble à :

Écoutez revenir et continuer à expérimenter jusqu'à ce que vous êtes satisfait de l'espacement entre chaque coup. Vous pouvez essayer d'autres et créer une édition bégaiement qui ralentit vers le bas, puis accélère progressivement ou-plus rapidement. La seule règle d'obéir est tout ce qui convient le mieux dans vos compositions et crée un effet désiré.
[Audio id = "392"]
06 - Ajout mouvement
J'ai ajouté quelques automatisation de Pan en choisissant Affichage

[Audio id = "394"]
07 - Automatiser la réverbération
Ma dernière étape ici est d'ajouter de la réverbération sur le dernier hit de lui donner plus d'impact. Cela aiderait à faire un remplissage intéressant dans une pièce de musique ainsi que d'ajouter l'espace et apporter
J'ai ajouté un Space Designer pour le logement d'insertion de la piste et j'utilise 0,7 s avec la voix claires de sortie Reverb mis à 35.0dB. Dans le menu paramètre d'automation sur la tête de piste, j'ai choisi d'automatiser la sortie de la réverbération. J'ai dessiné deux nœuds avant le dernier hit et l'augmentation de la valeur à 22.0dB.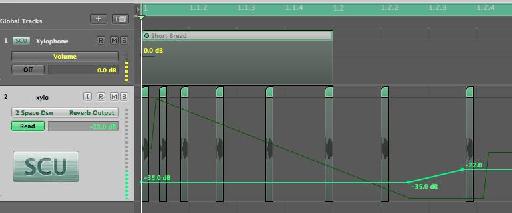 Voici ce que cela ressemble.
[Audio id = "396"]
Vous pouvez souhaiter expérimenter plus loin en déplaçant une partie des hits sur des pistes différentes et le processus de chaque piste avec son propre ensemble d'effets et d'ajouter encore d'automatisation pour toutes ces pistes.
Dans la partie 2, nous allons voir comment créer le bégaiement ralentissement de l'effet en utilisant la logique de plug-ins .