Creazione Glitch Style Stutter FX in Logic - Parte 1
One of the most famous experimental glitch artists today is BT. His album "This Binary Universe" is a favorite in my collection and features carefully crafted microsounds that stutter in and out of ti
Uno degli artisti più famosi problema tecnico sperimentale oggi è BT. Il suo album "Questa Binary Universe" è una delle preferite della mia collezione e le caratteristiche microsuoni cura artigianale che balbettare dentro e fuori del tempo - a volte l'accelerazione e altre volte il blocco totale. Nel frattempo gli altri elementi sonori e ritmi continuano a scolpire un paesaggio affascinante e colorato musicale.
Artisti come BT hanno fatto l'uso di alcune rallentare (o balbettare modifiche) un punto fermo del genere Glitch. In realtà molti chiamano questo tipo di suono firma effetto di BT. In questa serie di tutorial vedremo come ricreare questo graduale rallentamento effetto balbettare modificare in qualsiasi DAW Logic o di vostra scelta.
01 - Trovare ispirazione
Questo argomento mi è stato suggerito sul
Ecco quello che suona come:
[Audio id = "386"]
03 - Rimbalzo per l'audio
Dopo la registrazione di una nota molto breve in pista Scultura, è il momento di rimbalzo della regione per l'audio. Rendendo il suono audio rende più semplice per tagliare o ridimensionare il suono come si può vedere la forma d'onda e prendere decisioni di conseguenza.
Scegli Regione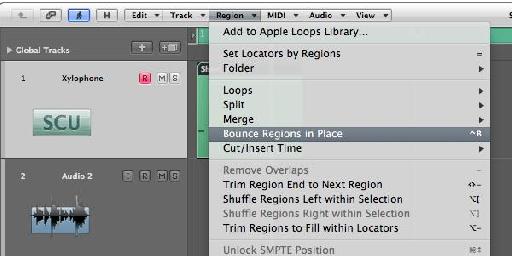 04 - Modifica della regione audio
Let's resize the region to make the sound even shorter in duration. Preferably as short as possible while retaining enough of the sound itself...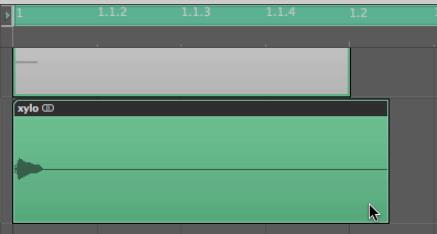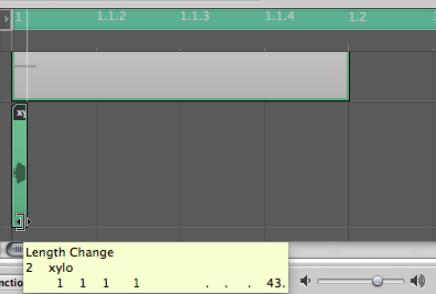 Come si può vedere dal righello Bar nelle immagini qui sopra, ho accorciato la lunghezza della regione in modo drammatico. Si potrebbe preferire di eseguire queste modifiche nel Sample Editor. Ecco il mio suono esempio. Lampeggiare e si potrebbe perdere!
[Audio id = "390"]
05 - diritto Zoom in e mettere i colpi
Zoom più vicino al Disponi zona come si sta bene con. Nel mio caso vedo la barra di tutto il primo. Ora arriva il momento di sperimentare.
L'idea è quella di creare un effetto di rallentamento (come una palla che rimbalza invertita), per cui andremo a copiare queste regioni per creare un modello che non si adatta direttamente in griglia tempi Logic.
Opzione-trascinare la regione per creare una copia molto vicino la prima regione. Ripetere il processo e gradualmente spazio ogni regione più lontani. Ecco cosa la mia zona Arrange in Logic si presenta così:

Riascoltare ad esso e continuare a sperimentare fino a quando si è soddisfatti con la distanza tra ogni colpo. Si potrebbe desiderare di ulteriori esperimenti e creare un edit balbuzie che rallenta-down e poi velocità , gradualmente o in modo più rapido. L'unica regola da rispettare è ciò che meglio si adatta al tuo composizioni e crea l'effetto desiderato.
[Audio id = "392"]
06 - L'aggiunta di movimento
Ho aggiunto un po di automazione Pan scegliendo Vista

[Audio id = "394"]
07 - Automatizzare il riverbero
Il passo finale è quello di aggiungere riverbero sulla ultimo colpo per dare più impatto. Questo contribuirebbe a rendere interessante un riempimento in un pezzo di musica così come aggiungere spazio e portare
Ho aggiunto un Space Designer allo slot inserimento della pista e sto usando 0.7s Voce trasparente con l'uscita Reverb impostato-35.0dB. Dal menu di automazione dei parametri sulla intestazione traccia che ho scelto per automatizzare l'uscita Reverb. Ho disegnato in due nodi, prima dell'ultimo hit e aumentato il valore a-22.0dB.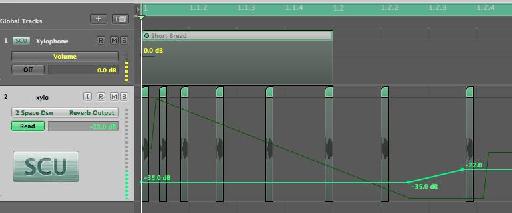 Ecco quello che sembra.
[Audio id = "396"]
Si potrebbe desiderare di sperimentare ulteriormente spostando alcuni dei colpi di diverse tracce e di processo ogni traccia con il suo set di effetti e aggiungere ulteriore automazione per le tracce.
Nella Parte 2 vedremo come creare il rallentamento effetto balbettare con Logic plug-in .